#IvankaResign Trends on Twitter As Criticism Continues Over G20 Role, Investigation Into Email Use
The hashtag #IvankaResign calling on first daughter and senior White House adviser Ivanka Trump to step down from her role was trending on Twitter Tuesday following criticism over her appearances and role in the G20 summit and an investigation into her email use.
Trump faced fierce blowback after a video went viral over the weekend of her appearing to interject herself into a conversation with world leaders who looked less than enthused about her contributions. That video together with photos of Trump with diplomats seemed to spark #IvankaResign, orchestrated by The Democratic Coalition, which got #LindseyGrahamResign trending in May after the South Carolina Republican advised first son Donald Trump Jr. to ignore a congressional subpoena.
"The fact remains that Ivanka shouldn't be working in the White House," Scott Dworkin, co-founder of The Democratic Coalition, told Newsweek. "And the list of reasons why is endless."
Dworkin on Sunday shared the viral video from the summit in which Trump seemed to try to participate uninvited in a talk with French President Emmanuel Macron, British Prime Minister Theresa May, Canadian Prime Minister Justin Trudeau and International Monetary Fund Director Christine Lagarde.
"Ivanka Trump did THIS at G20," Dworkin commented. "Gross."
On Monday, Dworkin commented on photos of Trump among diplomats and other career officials, though she had no prior government experience, with the hashtag #unwantedivanka. The Democratic Coalition did not start that hashtag "but our tweets helped amplify it," Dworkin said.
By Tuesday morning, Dworkin and The Democratic Coalition launched #IvankaResign, with Dworkin tweeting, "Ivanka Trump needs to resign. Retweet if you agree. She should never have had the job in the first place." The hashtag quickly began trending nationally on Twitter.
Dworkin tweeted #IvankaResign with multiple reasons, including House Democrats' request to expand a probe of White House personal email use to include Trump and her husband and fellow senior White House adviser Jared Kushner. Dworkin also said Trump "let refugee kids get locked in cages after separating them from their families," that she never spoke out against migrant family separations, and that she "believes that the 24 women who have accused Donald of sexual assault and misconduct are all liars."
There is no evidence that Ivanka Trump advocated for the "zero immigration" policy that led to family separations although she was widely criticized for not speaking out against it. On the subject of the more than 20 women who have accused her father of sexual misconduct, Ivanka Trump said last year that it was "inappropriate" to ask her about it but that she believed her father's denials.
@TheDemCoalition quote tweeted several of Dworkin's posts and commented, "Ivanka needs to resign."
#IvankaResign had more than 43,000 tweets by early afternoon Tuesday and Dworkin said he expected at least 100,000 tweets on the hashtag by that night, "which we consider an amazing success."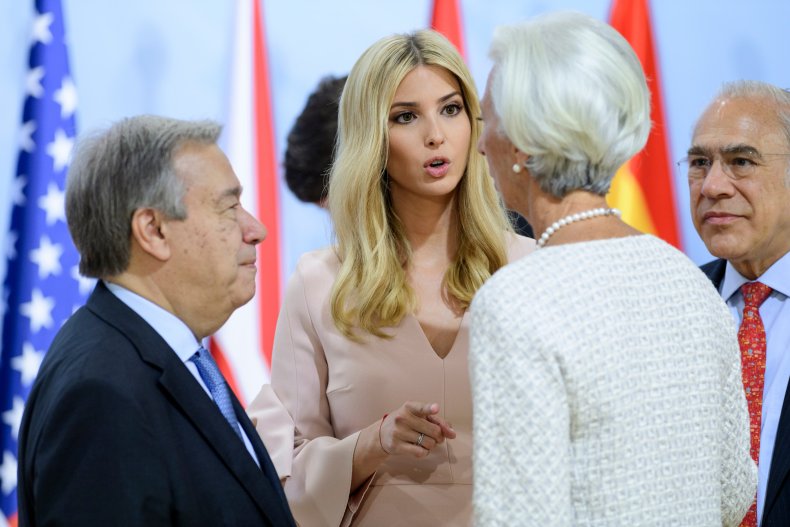 Dworkin and the coalition also pegged the hashtag with Democratic Representative Alexandria Ocasio-Cortez's remark that "being someone's daughter actually isn't a career qualification," and Democratic 2020 presidential candidate Eric Swalwell's comment that "the American people deserve to be represented by a qualified diplomat ... not the President's daughter."
Criticism of the president's daughter, who had no previous diplomatic or political experience before entering the White House, also came from former government officials.
A former U.S. ambassador to Russia, Michael McFaul, told The New York Times that Trump's presence "undermines the professional look of the Trump delegation, both to other countries and to national security professionals in the Trump administration," because she is not on the National Security Council.
Ned Price, a former special assistant to President Barack Obama for national security affairs, told the Guardian that "it reflects poorly on Trump that he would place her in that context and poorly on Ivanka Trump that she lacks the self-awareness to recognize how out of her depth she is."
The White House did not immediately respond to a request for comment from Newsweek on Tuesday.