Ivanka Trump Accused of Trying to Bring Low-Rise Back: 'Just No'
Ivanka Trump caused a stir with one of her recent Instagram posts, and it had nothing to do with the politics of her father, former President Donald Trump.
On Friday, the former senior White House adviser, 41, took to the platform to share a mirror selfie that showed her in a cowgirl-inspired ensemble. In the photo, Trump sported a plunging sleeveless top and a rhinestone-encrusted belt.
Aptly, Gene Autry's classic hit "Back in the Saddle Again" served as the soundtrack. The erstwhile first daughter rounded out her look with a pair of low-rise bell-bottom pants.
The style of the bottoms prompted a flood of comments. They accused the mom-of-three of attempting to bring back the low-rise fashion trend of yesteryear.
"You are flawless... but please don't bring hip huggers back for the rest of us," one Instagram user commented on the post.
"No just no," wrote another in reaction to the style on display, while another posted: "The fashion is backwards, I remember that belt was 20 years ago."
Amid comments asking for her and her father to run for office in 2024, Ivanka Trump was also praised by a large number of her followers.
"It's giving 2002 CMA awards and I'm 100% here for it," wrote one of Trump's outfit.
"STUNNING! I'm sorry insecure people have to make negative comments," commented another. "You're beautiful and I love the outfit."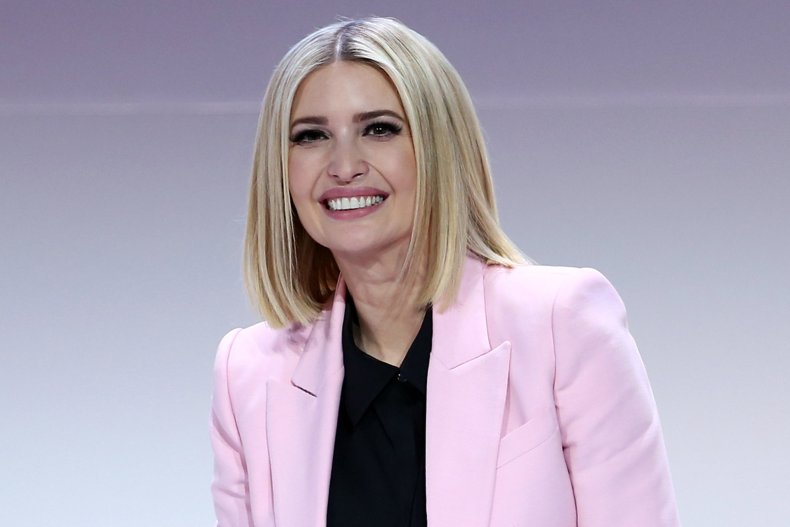 Despite the comments from detractors, some celebrities have embraced the early 2000s fashion statement and have been flaunting it all over social media since 2022.
Low-rise jeans were hugely popular throughout the 2000s. Celebrities who defined pop culture in the start of the new millennium such as Lindsay Lohan, Britney Spears, Paris Hilton, Christina Aguilera, Destiny's Child, Rihanna and more were spotted wearing the denim out and about—and even on red carpets.
Yet, over the last 20 years, waistlines have crept upward, and belly buttons have gone back into hiding. Now, nostalgic clothing has been making a serious comeback—including the low-rise look.
Famously known for a brief romance with Kanye "Ye" West and her role in the Adam Sandler movie Uncut Gems, model Julia Fox has been photographed in low-rise pants. In a tutorial posted to her Instagram, the 33-year-old showed her followers how to cut their high-waisted jeans to make them low-rise.
Other stars who have posed in low-rise looks over the past year include Dua Lipa, Kendall Jenner, and Bella Hadid.
Ivanka Trump, who is married to Jared Kushner, has had a relatively low profile since her father's 2021 departure from the White House. However, she has been keeping her 7.5 million Instagram followers updated on her life.
Earlier this week, she revealed on the platform that her youngest child Theo, 6, broke his wrist while playing soccer.
"Since I was over an hour's drive away, an ambulance took Theo, accompanied by the school nurse, to the closest hospital. Jared and I raced to meet him, Jared arriving at the same time as the ambulance and me getting there a few minutes later," Trump wrote.
She described the injury as a "bad break." But she said the paramedics and medical staff at Joe DiMaggio Children's Hospital in Hollywood, Florida, "cared for Theo tenderly and professionally."
Trump added: "Theo's visit culminated with two ice pops, which led to him declaring 'this is the best day ever!' The nurse turned to me and said, 'This is why I'm in pediatrics! No adult in the emergency room has ever said something like that when given an ice pop.'
"Jared and I are so grateful to the doctors, nurses, EMTs, and hospital staff who cared for our son. With gratitude in our hearts, we have made a donation to the Joe DiMaggio Children's Hospital," Trump added.
She then encouraged her followers also to donate to the hospital and shared a direct link to its website—a move that prompted a flood of criticism.