Ivanka Trump Says, 'Ignore the Trolls' After Controversy Over Photo With Son
President Donald Trump's daughter and senior adviser Ivanka Trump tweeted, "Ignore the trolls" after she was criticized for a photo she posted Sunday.
The photo that earned Ivanka Trump's critics' ire was of her holding her son Theodore with a caption that said "my" followed by an emoji of a heart and the hashtag "SundayMorning."
The photo came amid an ever-tightening immigration policy including plans to separate children from their families if caught attempting to cross the border illegally. A news story about the Department of Health and Human Services losing track of more than 1,475 unaccompanied minors that came to the U.S. illegally had also gained steam online around the time as Ivanka Trump's photo.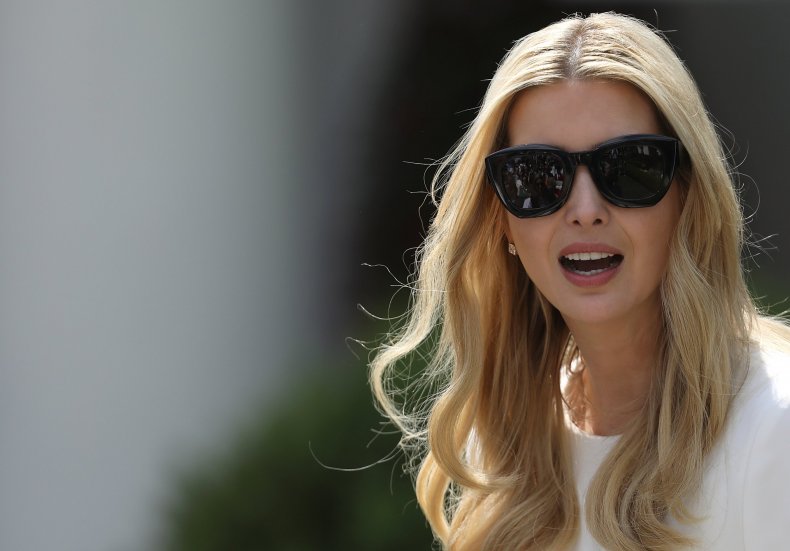 Ivanka Trump on Tuesday tweeted a three-part message that included a quote from a Roman emperor.
"'If thou workest at what is before thee, following right reason seriously, vigorously, calmly, without allowing anything to distract thee. If thou holdest to this, expecting nothing, fearing nothing, but satisfied with thy present activity according to nature...thou wilt live happy. And there is no man who will be able to prevent this.' —Marcus Aurelius, Meditations," wrote Ivanka Trump. "Focus on what is before you, on what you can control and ignore the trolls! Have a great week!"
Ivanka Trump has shared various photos and notes about her three children on social media before. Ivanka Trump's husband, Jared Kushner, also serves the White House as a senior advisor.
Between the "trolls" tweet and the photo of her son, Ivanka Trump shared several tweets about Memorial Day.
President Donald Trump, despite the policy coming from his administration, blamed Democrats for the separations on Twitter last week.
"Put pressure on the Democrats to end the horrible law that separates children from there [sic] parents once they cross the Border into the U.S. Catch and Release, Lottery and Chain must also go with it and we MUST continue building the WALL! DEMOCRATS ARE PROTECTING MS-13 THUGS," tweeted the president.
Attorney General Jeff Sessions announced the new strict policy earlier this month.
"We don't want to separate families, but we don't want families to come to the border illegally and attempt to enter into this country improperly," said Sessions.