Ivanka Trump and Jared Kushner Blessed by Rabbi Who Compared Black People to Monkeys in Jerusalem
Ivanka Trump and Jared Kushner received a blessing in Jerusalem from a controversial rabbi who once compared black people to monkeys.
The pair received a blessing from Sephardic Chief Rabbi Yitzhak Yosef on Sunday (May 11) during a visit to Israel ahead of the controversial opening of the new U.S. embassy.
As reported by Forward, Yosef was criticised earlier this year for calling black people monkeys as he appeared to specifically attack African Americans during a sermon.
During the talk, Yosef used the word "kushi"—a word used by the Talmud but considered a pejorative term for a black person in Modern Hebrew—before comparing the hypothetical man to a monkey.
"You can't make the blessing on every 'kushi' you see—in America you see one every five minutes, so you make it only on a person with a white father and mother," the chief rabbi said, reported the Times of Israel. "How do would you know? Let's say you know. So they had a monkey as a son, a son like this, so you say the blessing on him."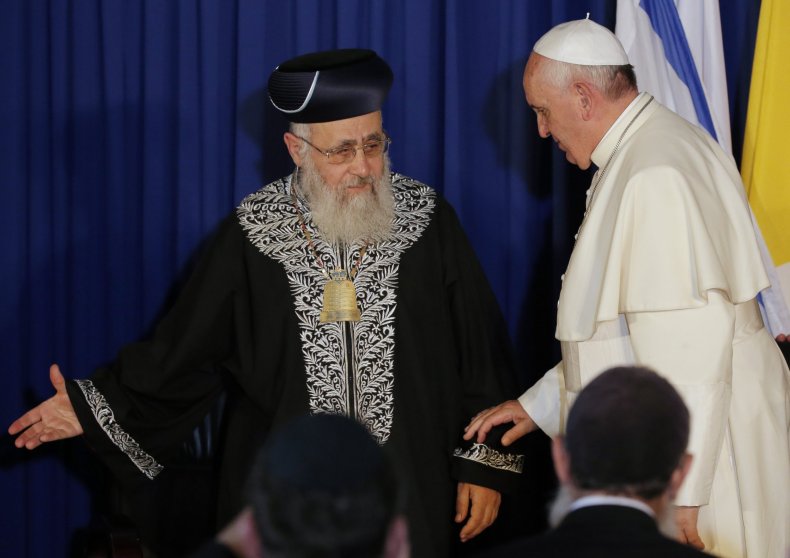 The Anti-Defamation League (ADL) condemned the chief rabbi's comments as "utterly unacceptable."
Responding to the outcry, Yosef's office said there was a religious context to the comparison made in the rabbi's weekly sermon, adding he was merely citing the Talmud.
Yosef has made controversial comments in the past. In 2016, he described how "non-Jews shouldn't live in the land of Israel" and that the only reason non-Jewish people should remain in Israel was to serve Jews as slaves.
"It is unconscionable that the Chief Rabbi, an official representative of the State of Israel, would express such intolerant and ignorant views about Israel's non-Jewish population—including the millions of non-Jewish citizens," Jonathan Greenblatt, ADL CEO, and Carole Nuriel, acting Director of ADL's Israel Office, said in a joint statement at the time.
He also used his weekly sermon to describe secular women as "animals" because they do not dress modestly.
His father, Ovadia Yosef, who died in 2013, was also a chief rabbi known for making controversial statements during his sermons, including describing Holocaust victims as the "reincarnations of the souls of sinners."
In Pictures: U.S. Embassy Move to Jerusalem Sparks Violent Clashes Between Israeli Troops and Palestinian Protesters
Ivanka Trump and Jared Kushner are among five U.S. officials who will attend the ceremony to open the U.S. embassy in Jerusalem after its move from Tel Aviv, along with Treasury Secretary Steven Mnuchin, U.S. Ambassador to Israel David Friedman, and Jason Greenblatt, special representative for international negotiations.
President Donald Trump will not be in attendance in Jerusalem.