Ivanka Trump and Jared Kushner, Both White House Advisers, Are on Vacation in Florida During Government Shutdown
While President Donald Trump and first lady Melania Trump were at the White House because of the government shutdown, the president's daughter Ivanka Trump and son-in-law Jared Kushner, both senior White House advisers, appeared to be in full-on vacation mode at the family's Mar-a-Lago resort on Christmas.
Ivanka Trump donned a green spaghetti-strap dress and a straw hat with a black ribbon, along with sunglasses and flip-flops, while walking around the "Winter White House," photos obtained by the Daily Mail on Tuesday show. Kushner also wore sunglasses and sandals, along with a white T-shirt, blue shorts and a white baseball cap. They were accompanied by a Secret Service agent in shades.
The partial government shutdown entered day five on Wednesday, with no sign of a resolution in sight. On Tuesday, the president said he would not back down from his demand for funding for a border wall. The first lady flew to Mar-a-Lago for the family's traditional holiday celebration at the Palm Beach, Florida, resort, but returned to Washington so she and her husband "can spend 'Christmas together," White House press secretary Sarah Huckabee Sanders said.
Ivanka Trump held a stack of books as the couple crossed a street in Florida, though it was not clear whether the reading matter related to the shutdown in any way. The couple's decision to go on vacation was somewhat surprising, given that Kushner spent much of last week negotiating with Vice President Mike Pence and Office of Management and Budget Director Mick Mulvaney to avert a shutdown.
The couple's holiday getaway comes on the heels of what may be their most successful week since entering the West Wing. Congress passed a criminal justice reform bill that Kushner had worked for since his earliest weeks at the White House.
Ivanka Trump had a win of her own last week with the passage of the Women's Entrepreneurship and Economic Empowerment Act, aimed at eliminating gender-related barriers and helping women entrepreneurs around the globe.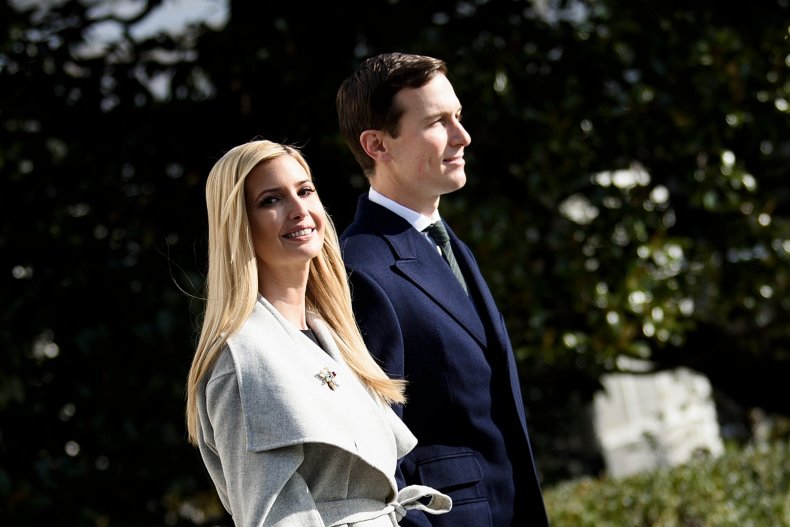 Also reportedly at Mar-a-Lago were the president's oldest son, Donald Trump Jr., who does not work in the White House, with his five children, and the first couple's son, Barron.
Earlier on Christmas Day, Ivanka Trump was captured jogging in a gray tank top and multi-colored leggings with a Secret Service agent following along. Kushner was not with her.