Ivanka Trump Brand: Which Stores No Longer Carry First Daughter's Merchandise?
First daughter Ivanka Trump took another hit to her fashion empire on Friday after Canada's largest department store chain announced it will no longer carry her clothing, shoes or accessories. Hudson's Bay joined a growing list of stores that have cut ties with Ivanka Trump's products.
The department store giant, which also owns Saks Fifth Avenue and Lord & Taylor, pulled all Ivanka Trump products from its website Friday, The Washington Post reported. It also announced that it would stop selling Ivanka Trump's products in its physical stores.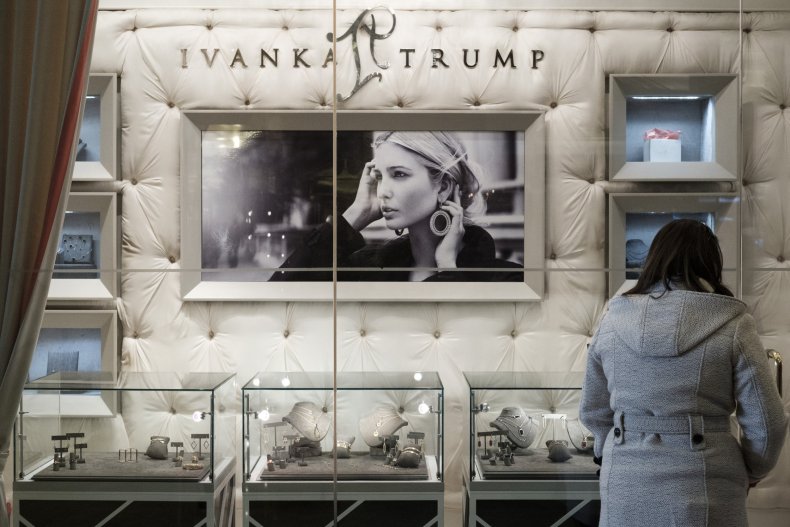 Hudson's Bay said in a statement that the decision to yank the products was based on the brand's "performance." The first daughter's company had been notified of the decision last fall, it added.
The company is not the first to part ways with Ivanka Trump since her father, President Donald Trump, took office.
In February 2017, Nordstrom confirmed that it had stopped carrying the brand due to "brand performance." Nordstrom had been a target of the #GrabYourWallet campaign, which aims to boycott stores selling Trump family products. The department store is no longer listed on #GrabYourWallet.
Neiman Marcus initially pulled the brand's jewelry from its website after Nordstrom announced it was cutting ties with the line. The jewelry reappeared briefly in March 2017 but no longer appears on the store's website.
Saks Fifth Avenue, which is owned by Hudson's Bay, does not offer Ivanka Trump merchandise online, according to The Washington Post. However, the company continues to sell the brand's shoes online at Saks Off 5th and at Saks Off 5th brick-and-mortar stores.
In an April 2017 statement to Elle magazine, a representative for Saks Off Fifth said, "Across our banners, we aim to deliver a strong assortment of fashion. We respect our customers' right to choose the brands that work for them. In turn, our customers' choices inform our decisions on which merchandise we offer. The Ivanka Trump line is available in Saks Off 5th stores."
It is unclear if Bed, Bath & Beyond continues to carry Ivanka Trump products in its stores. The company no longer lists any of her merchandise online, but #GrabYourWallet does list the company as one carrying Trump products. Bed, Bath & Beyond did not immediately respond to Newsweek's request for comment.
Belk and Burlington Coat Factory appear to have removed Ivanka Trump brand items form their websites but both remain on #GrabYourWallet's boycott list. Belk announced in February 2017 that it would remove items from its website but would continue to sell the brand at its 22 flagship stores, The Charlotte Observer reported. Burlington Coat Factory, however, has made no public statements about whether it continues to carry the brand at brick and motor locations.
Due to declining sales, the company has opted to switch gears and rely on its own website to sell to consumers, Bloomberg reported in April.
Ivanka Trump stepped down from overseeing her company's day-to-day operations after joining her father's administration but continues to profit from the company. According to The Washington Post, disclosures revealed Trump made about $5 million last year from the brand.
Ivanka Trump Brand: Which Stores No Longer Carry First Daughter's Merchandise? | U.S.