President Donald Trump's daughter Ivanka Trump believes she is "brilliant at public relations," claims the author of a book on Ivanka and her husband Jared Kushner, as the senior White House adviser polls better than the president in some swing states.
According to author Vicky Ward, Ivanka Trump approaches public relations unlike any other top official in the president's administration. One example, Ward told The Daily Beast, was the first daughter's reaction to an article she wrote for Esquire about Kushner in August 2016 when she allegedly called the magazine's then-editor-in-chief and "literally started crying, pleading with him to take down the story."
Ward told The Daily Beast that Jay Fielden, then Esquire's editor-in-chief, saw through Trump's "crocodile tears" and that the piece stayed online and was later sent to print with minimal changes. Trump also texted Ward to say that her article, which outlined Kusher as a submissive son-in-law to Donald Trump, was an inaccurate reflection of her husband.
"Every reporter knows they will be on the phone to Rupert Murdoch. Their guiding credo is PR above everything else. Ivanka thinks she is brilliant at public relations," Ward, author of the 2019 book Kushner, Inc.: Greed. Ambition. Corruption. The Extraordinary Story of Jared Kushner and Ivanka Trump, told The Daily Beast.
Ivanka Trump's unorthodox PR strategy appears to be working, at least by one measure. A June Firehouse Strategies and 0ptimus poll showed that Trump has higher net favorability ratings than her father in three critical 2020 swing states. Compared to the president, Ivanka Trump holds a 38-35 advantage in Pennsylvania and 37-36 in Michigan. Though she had a net disapproval rating of 35-39 to her father in Wisconsin, her favorability among likely 2020 voters exceeded his.
"While not by overwhelming margins, Ivanka Trump maintains better net favorability among likely voters in these three states than her father does," the poll report said. It added that her higher net favorability ratings mean she "could also be an asset to him on the campaign trail."
Donald Trump beat Hillary Clinton in the 2016 election by a margin of less than 2 percent in Pennsylvania, Michigan and Wisconsin, as well as Florida, Minnesota and New Hampshire. Pennsylvania, Michigan and Wisconsin together accounted for 46 electoral votes.
A Survey USA poll conducted right after the fourth Democratic debate in mid-October showed Donald Trump losing the 2020 election to five Democrats: Joe Biden at 52 percent to 41 percent, Bernie Sanders at 50 percent to 42 percent, Elizabeth Warren at 48 percent to 44 percent, Kamala Harris at 47 percent to 44 percent and Pete Buttigieg at 44 percent to 43 percent.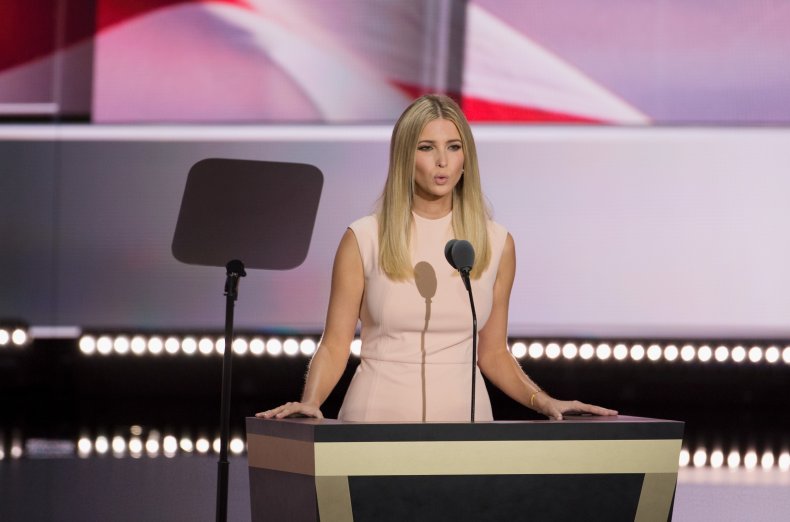 Ward, now a senior reporter at CNN, did not immediately respond to a request from Newsweek on Monday to elaborate on her comments to The Daily Beast.
In Kushner, Inc., Ward quoted former White House economic adviser Gary Cohn as saying that Trump "thinks she's going to be president of the United States" and that "she thinks this is like the Kennedys, the Bushes and now the Trumps."
The president's daughter brought her own public relations team to the White House and Josh Raffel, who worked communications operations in the West Wing until last year, spent hours talking to reporters by phone, according to The Daily Beast, defending her and Kushner.