Ivanka Trump Calls NYC Democrats 'Ruthless' and 'Motivated By Politics' for Trump Tax Write-Off Inquiry
Ivanka Trump, daughter of President Donald Trump, has accused New York City Democrats of being "simply ruthless" in response to reports that fraud investigators are looking into tax deductions reported as consulting fees that may have gone to her.
In a Thursday night tweet, Ivanka Trump posted a link to a New York Times article detailing two investigations into the Trump Organization's taxes: a criminal investigation by Manhattan district attorney Cyrus R. Vance Jr., and a civil investigation by state Attorney General Letitia James. Both are Democrats.
"This is harassment pure and simple," Ivanka Trump wrote. "This 'inquiry' by NYC democrats is 100% motivated by politics, publicity and rage. They know very well that there's nothing here and that there was no tax benefit whatsoever. These politicians are simply ruthless."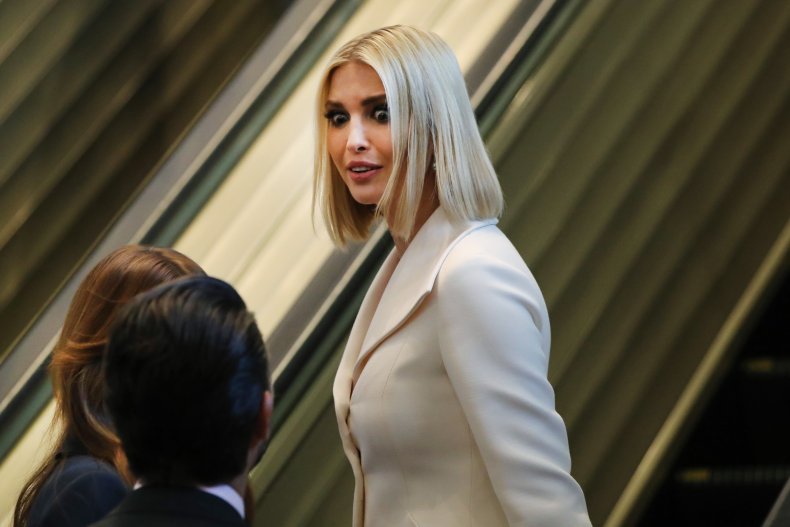 The article Ivanka linked to states that Donald Trump is suspected of reducing his taxable income between 2010 and 2018 with nearly $26 million in deducted fees to unidentified consultants written off as business expenses. Some of the fees may have been paid to Ivanka Trump.
A 2017 financial disclosure when she became a White House presidential adviser shows that Ivanka Trump received $747,622 in payments from TTT Consulting L.L.C., a consulting company she co-owned. That financial figure exactly matches consulting fees paid to the same firm and claimed as tax deductions by the Trump Organization for advising on hotel projects in Hawaii and Vancouver, Canada.
The payments also raise suspicions as Ivanka Trump also worked as an executive officer of the Trump Organization at the time, meaning that the company was, in fact, paying one of its own leaders to serve regularly as a consultant and then writing off the fees as tax-deductible expenses, something forbidden by the IRS.
Because the Trump organization filed both federal and state taxes in New York, the investigations could yield federal and state charges, if they uncover any wrongdoing.
James is investigating claims that Donald Trump "inflated his assets in financial statements to secure bank loans and understated them elsewhere to reduce his tax bill," the Times reports.
Donald Trump has previously accused James and other Democratic investigators of having a political vendetta against him. James, in particular, has referred to Donald Trump as an "illegitimate president" who "can't go a day without threatening our fundamental rights," something she cited as a motivation to get her to run for Attorney General in the first place.
"Donald Trump is desperately trying to turn everything into a hyperpartisan issue, including criminal justice," Daniel S. Goldman, a fellow at the Brennan Center for Justice and a former assistant U.S. attorney in Manhattan, told the publication. "It's essential that prosecutors maintain their neutrality and an objective view of the facts and the evidence, no matter the politics involved."
Newsweek contacted the Trump campaign for comment.