Ivanka Trump, who has faced frequent criticism for her prominent role in her father's administration, is considerably less popular than former first daughter and friend Chelsea Clinton, according to a poll released Monday.
Related: Ivanka Trump Keeps Sharing Pictures of Her Children as White House Takes Immigrant Kids Away from Parents
Trump is viewed favorably by just 43 percent of Americans, according to an Ipsos/Daily Beast poll. By comparison, Clinton has a favorability rating of 50 percent. There is also bad news for Trump when it comes to unfavorability, with 46 percent having a negative impression of the current president's eldest daughter, compared to just 32 percent for Clinton.
Trump may well be paying the price for the fact that, unlike Clinton, who was a teenager when her father Bill Clinton was president during the 1990s, she has taken on an official role within the White House. Despite having no political experience, Trump, along with her husband Jared Kushner, was handed the title of senior adviser by her father, President Donald Trump.
While she faced cries of nepotism, there was hope among many on the left that Ivanka Trump, who has previously donated to Democrats, would act as a check on some of her father's more hardline policies. Instead, she has been slammed as the Trump administration has backed out of the Paris climate deal, instigated a ban on some transgender people serving in the military and implemented a series of restrictive immigration policies.
Most recently, she has been accused of insensitivity after posting photos on social media of her with her children amid a furor over a Trump administration policy that has led to parents and children being separated as they cross the border.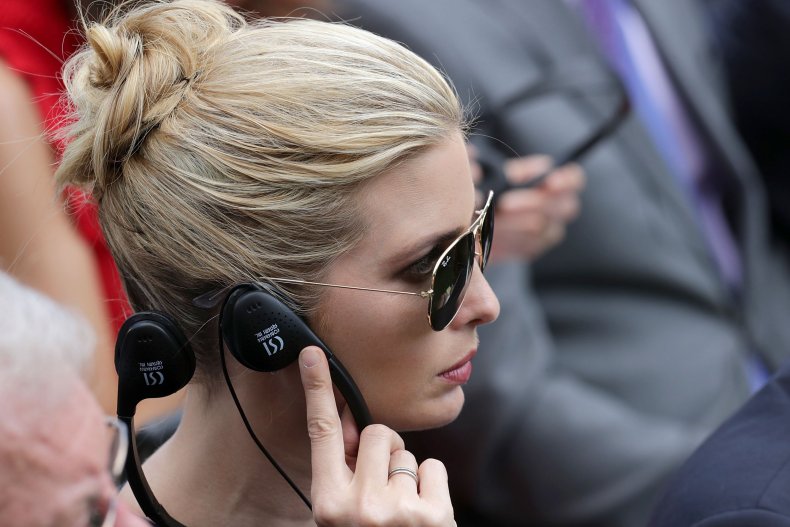 In an interview last September, Ivanka Trump sought to defend herself from claims that she is not doing enough to rein in her father.
"Some people have created unrealistic expectations of what they expect from me," she told the Financial Times. "That my presence in and of itself would carry so much weight with my father that he would abandon his core values and the agenda that the American people voted for when they elected him. It's not going to happen. To those critics, shy of turning my father into a liberal, I'd be a failure to them."
She added: "Whether my contribution ultimately lives up to the expectations of some of the harshest critics? Only time will tell. But I will not be distracted by the noise."
Those critics have included Clinton herself. While thw two have been longtime friends, Clinton revealed last month that they hadn't spoken in "a long time."
And she has declared that she has no sympathy for Trump or Kushner receiving criticism as part of the Trump White House.
"They're adults who've made the decision to work in this administration," she told The Guardian.
She has also insisted that she would never have been offered or taken on an official role in the White House had her mother, Hillary Clinton, been elected president instead of Trump.
After President Trump defended his decision to have his daughter sit in for him during a G20 summit last year by claiming that the media would praise Chelsea Clinton had her mother done the same, Chelsea Clinton wrote back: "Good morning Mr President. It would never have occurred to my mother or my father to ask me. Were you giving our country away? Hoping not."