Lock Her Up? Ivanka Trump Claims She Didn't Know Private Email Use Was Bad, Despite Trump Regularly Slamming Hillary Clinton
First daughter Ivanka Trump apparently did not know that using her private email as a White House official was problematic and could violate federal records rules—even though her father Donald Trump spent his whole presidential campaign slamming his opponent Hillary Clinton for her private email scandal.
Ivanka Trump last year used a personal account to send emails—numbering in the hundreds—to Cabinet officials, White House aides and her assistants, relating to government business, people in tune with an internal examination of her emails told The Washington Post in a report published on Monday.
Her email account is with a domain that her husband and fellow senior White House adviser Jared Kushner also uses, and was discovered by White House ethics officials who reviewed her emails, which five Cabinet agencies gathered in response to a public records lawsuit.
Peter Mirijanian, a spokesman for Ivanka Trump's attorney Abbe Lowell, confirmed that the first daughter used her private email on some occasions before she was briefed on the White House rules.
"While transitioning into government, after she was given an official account but until the White House provided her the same guidance they had given others who started before she did, Ms. Trump sometimes used her personal account, almost always for logistics and scheduling concerning her family," Mirijanian said in a statement to the Post.
Mirijanian's statement implies that Ivanka Trump did not know better, despite her father constantly criticizing "Crooked Hillary" on the campaign trail for using a private email account as secretary of state.
Austin Evers, executive director of the liberal watchdog group American Oversight, which made the public records requests, found it hard to believe that Ivanka Trump was not aware that personal email use for government business raises ethics issues.
"There's the obvious hypocrisy that her father ran on the misuse of personal email as a central tenet of his campaign. There is no reasonable suggestion that she didn't know better," Evers told the Post. "Clearly everyone joining the Trump administration should have been on high alert about personal email use."
Ivanka Trump's defense is similar to that of Clinton's. The former secretary of state said she was not aware of or did not understand the rules.
Mirijanian downplayed Ivanka Trump's private email usage compared with Clinton's.
"Ms. Trump did not create a private server in her house or office, no classified information was ever included, the account was never transferred at Trump Organization, and no emails were ever deleted," he stated.
Newsweek first reported that Ivanka Trump used her private email in early 2017 to get in touch with Cabinet members before taking on her senior adviser role, based on emails that American Oversight obtained.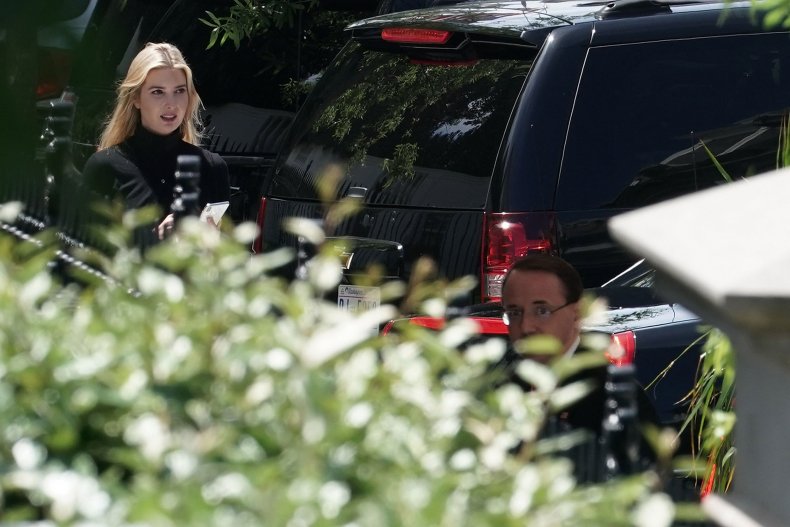 President Trump has continued to attack Clinton about her private emails more than a year after he beat her in the election.
"Big story out that the FBI ignored tens of thousands of Crooked Hillary Emails, many of which are REALLY BAD," the president tweeted in August. "Also gave false election info. I feel sure that we will soon be getting to the bottom of all of this corruption. At some point I may have to get involved!"