Exclusive: Ivanka Trump's Security Clearance Must Be Reviewed, Senator Says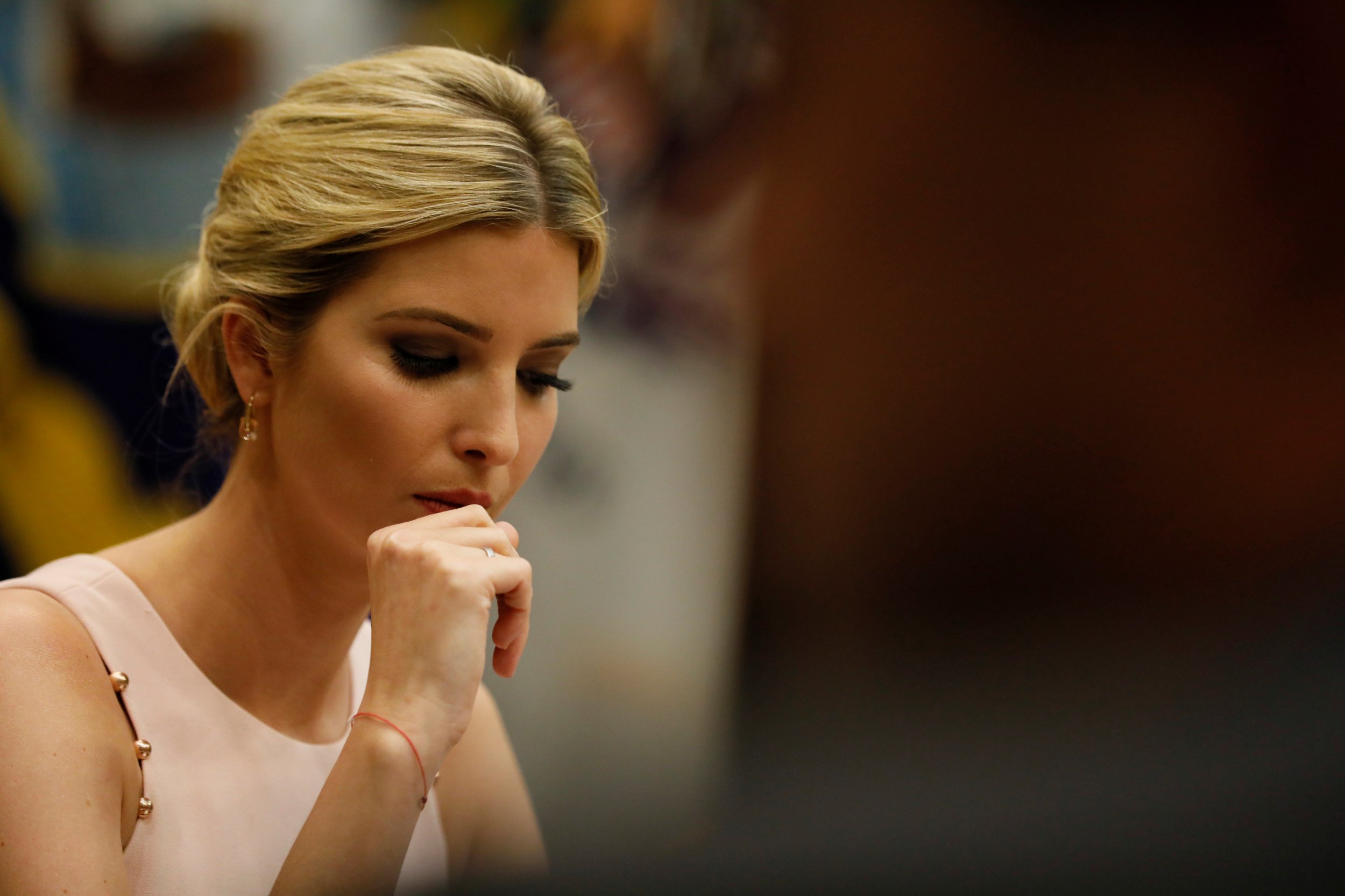 Updated | A key member of the Senate Foreign Relations Committee has joined a chorus of congressional Democrats calling for Ivanka Trump's security clearance to be reviewed because her failure to fully divest herself from her business empire poses serious potential for conflicts of interest.
Democratic Senator Ben Cardin of Maryland, the ranking member of the GOP-controlled committee, is the first senator to demand the review and call for the first daughter to lose her security clearance if she's found to be in violation of conflicts of interest statutes. Cardin's comments came after he expressed concern with Trump's involvement in the World Bank's new Women Entrepreneurs Finance Initiative (We-Fi), which will provide millions to help women entrepreneurs in developing countries.
"I don't question Ivanka Trump's sincerity to advance a cause she feels deeply about while making money—that's great, that's America," Cardin tells Newsweek. "What is not allowed is for anyone to profit off holding a public position. We should have full disclosure of all her financial interests, and when you don't have that, it raises serious questions. Does that involve her security clearance? Absolutely."
Cardin's comments on Friday follow a letter he wrote to Secretary of the Treasury Steve Mnuchin earlier this week, in which the senator said foreign governments could use the women's finance fund to curry favor with Trump, a White House senior adviser whose women's fashion brand could profit off her relationship with the World Bank.
Related: Jared Kushner hid one of his companies on a disclosure form—then profited
The new initiative promoting women's businesses and Trump's involvement in its successful launch (the organization already announced $340 million in donor commitments, well surpassing its $100 million target) come at a time when her fashion brand is continuing a global expansion it's been eyeing for years. The first daughter, who did not put the Ivanka Trump company in a blind trust upon joining the Donald Trump administration but has separated herself from its day-to-day operations, has raised concerns over her possible mixing of business and international diplomacy. The first daughter sat in on a meeting between her father and Japanese President Shinzo Abe at the same time her company was reaching a licensing deal in Tokyo with Sanei International, a company in which the Japanese government owns a majority of shares.
Her brand also secured three new trademarks from the Chinese government on April 6, the same night Trump and her husband, Jared Kushner, enjoyed a steak and Dover sole dinner at Mar-a-Lago with Chinese President Xi Jinping and his wife.
The Ivanka Trump brand, meanwhile, profited mightily at home and overseas since last year's election. Sales hit record levels in 2017, and U.S. exports of her products, primarily to China, shot up 166 percent in 2016. Representatives for the brand did not respond to requests for comment, but the company's new president, Abigail Klem, has said she talks with Trump "as little as possible" after the first daughter relinquished her responsibilities in the company.
"The climate in the White House is that you can have business interests in your official capacity that will clearly have implications on your own business. But as long as there is no official connection of the dots, it's considered OK," Cardin says. "It's not OK."
Ivanka Trump has no official position in the World Bank fund, but world leaders praised her for spearheading the initiative during the G-20 summit in July, when the fund was announced. The United States has pledged $50 million to the fund, joining partner countries including Russia, China, Japan, Saudi Arabia, the United Arab Emirates, Australia, Canada, Denmark, Germany, the Netherlands, the United Kingdom and Norway.
Cardin says he's concerned the growth of women's businesses may not be the sole reason for current or future nations partnering with We-Fi, but that governments could instead use their funding to get closer to Trump, one of the president's closest advisers.
"You will never know for certain, but it raises the high visibility of Ivanka Trump and the U.S.'s participation in the fund," he says. "It's impossible to determine whether she has violated—directly or indirectly—conflict laws of the U.S. or the security of this country. There are questions that cannot be answered, which does go to back to her access of classified intelligence."
Members of Congress have also called Kushner's security clearance into question, as he may have profited from his own business dealings while serving in the White House. Democratic Representative Ted Lieu of California previously told Newsweek the 36-year-old senior adviser and son-in-law to the president "enriched himself" by failing to disclose his business interests in a startup he co-founded on initial financial disclosure forms with the Office of Government Ethics, as the budding company was accruing millions in venture capital funding from billionaire investors.
Unlike Kushner, however, Trump's businesses remain shrouded in secrecy, as the Ivanka Trump fashion brand has limited public information it used to provide about international companies working with the business throughout 2017.
Cardin joins 22 House Democrats who have called on the FBI to examine potential discrepancies in Trump's government disclosure forms in July, writing in a letter to the agency, "As a member of the White House staff and close adviser to the president, (Ivanka) Trump applied for a security clearance, and, as a result, was required to disclose her own foreign contacts as well as those of her spouse and siblings.... Since his first filing, Mr. Kushner has had to update his SF-86 multiple times to reflect over 100 meetings or phone calls."
"We are concerned that Ivanka Trump may have engaged in similar deception," the letter continued.
Before Trump joined the new White House administration, her representatives stressed she was finding ways to avoid the appearance of conflicts of interest.
"It's not clear what role she will play with the Trump Organization, and she clearly wants to separate the commercial interests of her own business from her issue advocacy," one of her reps told Vanity Fair in December 2016.
Representatives for the Ivanka Trump brand, as well as the senior adviser, did not respond to requests for comment.
Trump herself said she would likely avoid mixing business and politics in public office, telling 60 Minutes days after her father's election that women's issues "are important to me, really promoting opportunities for women...but not in a formal capacity."
In an ironic twist, the first daughter wore one of her own gold and diamond bracelets during that interview, priced at over $10,000. The Ivanka Trump brand sent emails to fashion writers the following day promoting the bracelet, noting its appearance on the segment featuring the future White House senior adviser.
Correction: An earlier version of this story referred to the Women Entrepreneurs Finance Initiative as the Women Finance Entrepreneurs Finance Initiative.