Ivanka Trump, a Convert, Is the World's Most Influential Jew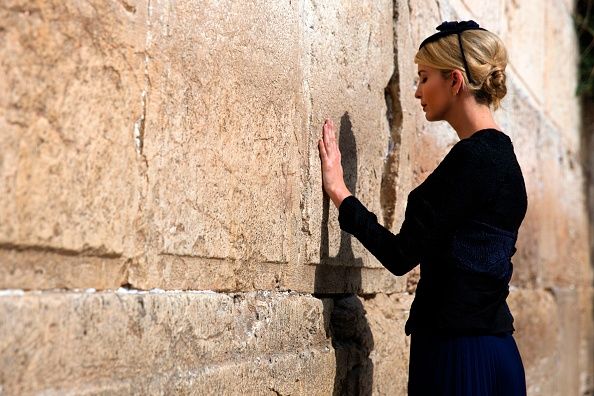 After marrying Jared Kushner in 2009 and converting to Judaism, Ivanka Trump is now the world's most influential Jew, surpassing other famous figures such as Wonder Woman Gal Gadot and Israeli Prime Minister Benjamin Netanyahu, who have taken the remaining top two spots in a list of the 50 most influential Jews published this week by The Jerusalem Post.
The newspaper released its annual ranking highlighting "those who share one unifying bottom line: someone who has the power to shape his or her community and surrounding communities." Named the "ultimate Jewish power couple," Trump tops the list alongside Kushner, who was raised in an Orthodox family.
"In their first six months as presidential advisers, Ivanka and Jared led a resistance within the West Wing against forces they considered too far right of the American political consensus—and won," the Post opens a full article dedicated to the couple. The piece goes on to say that "they are not natural public servants. Neither Ivanka nor Jared sought roles in the government… But so long as they remain, they will continue to advise [Donald] Trump on every policy issue."
The Post concludes by citing Kushner's remarks to a group of Jewish leaders on the eve of the High Holy Days this year. "Anyone that knows the president understands that he takes great pride in having a Jewish daughter and Jewish grandchildren. His love and respect for the Jewish people extend way beyond his family, and into the heart of Jewish American communities," Kushner said, adding later that the U.S.'s bond with the State of Israel "has never been stronger" with Donald Trump at the helm.
The Post, however, recognizes Kushner has become less visible and vocal in the months since Donald Trump moved into the White House and added that the couple has made a choice "to express their indignation and disapproval quietly" amid the turmoil the president has faced within the White House. Most recently, Trump's daughter and Kushner have been under scrutiny for their use of private email domains for government business during their time in the White House, according to a report by Politico.
Last year, Ivanka Trump and Kushner reached the fourth spot on the annual list. At the time, the Post described the couple as "the most important advisers to Republican presidential nominee Donald Trump."
In a 2015 interview with Vogue, Ivanka Trump opened up about her conversion to Judaism. "It's been such a great life decision of me. I am very modern, but I'm also a very traditional person, and I think that's an interesting juxtaposition in how I was raised as well," she said. "I really find that with Judaism, it creates an amazing blueprint for family connectivity."