Video: Ivanka and Donald Trump Booed by Protesters in London While Leaving 10 Downing Street
First daughter Ivanka Trump and her father President Donald Trump did not get the reception they had hoped for during their U.K. visit as they left 10 Downing Street on Tuesday for a news conference.
Both Trumps were booed as they exited the building separately.
Senior White House adviser Ivanka Trump emerged from U.K. government headquarters first and was immediately greeted by boos as she walked across the street with national security adviser John Bolton. Ivanka Trump smiled only momentarily.
The reaction from the British crowd did not mesh with Ivanka Trump's positive tweets about the visit.
"Thank you for a warm welcome to the United Kingdom," the first daughter tweeted on Monday, along with emojis of the American and British flags.
On a Fox News live broadcast of Ivanka Trump's walk out, host Brian Kilmeade acknowledged the boos but claimed they were not directed at her.
"It's not for Ivanka, it's for John Bolton and he loves it," Kilmeade said. "He pretty much is looked at as somebody, as the tough guy in the administration, and he loves that label."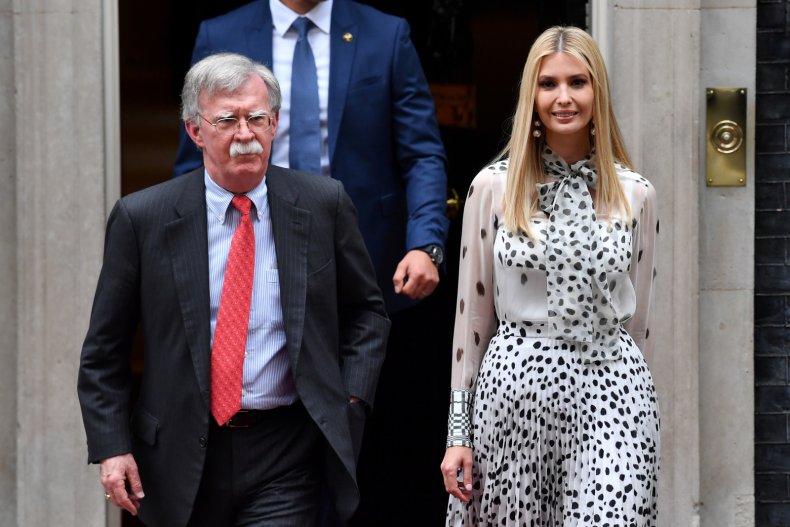 Minutes later, President Trump left 10 Downing Street alongside British Prime Minister Theresa May, with first lady Melania Trump and May's husband Philip May trailing behind. The crowd of a few hundred people booed him as well and chanted "Donald Trump, go back home!" The president waved several times and, during the joint press conference that ensued, denied the disapproval from the crowd.
"Coming over today, there were thousands of people cheering. And then I heard that there were protestors, I said where are the protests? I didn't see any protests," the president said.
He then clarified: "I did see a small protest today when I came, very small, so a lot of it is fake news, I hate to say it."
The president again stressed that the crowd reaction was great, and blamed the media for reporting otherwise.
"But you saw the people waving the American flag, waving your flag. It was tremendous spirit and love. It was great love, it was an alliance," he said. "And I didn't see the protestors until just a little while ago and it as a very, very small group of people put in for political reasons so it was fake news. Thank you."
Thousands of people attended protests against the president in London which included a "Trump baby" blimp that surfaced last year, depicting him in diapers and holding a smartphone.