Ivanka Trump New Book: Presidential Campaign Left No Time for Massage and Self Care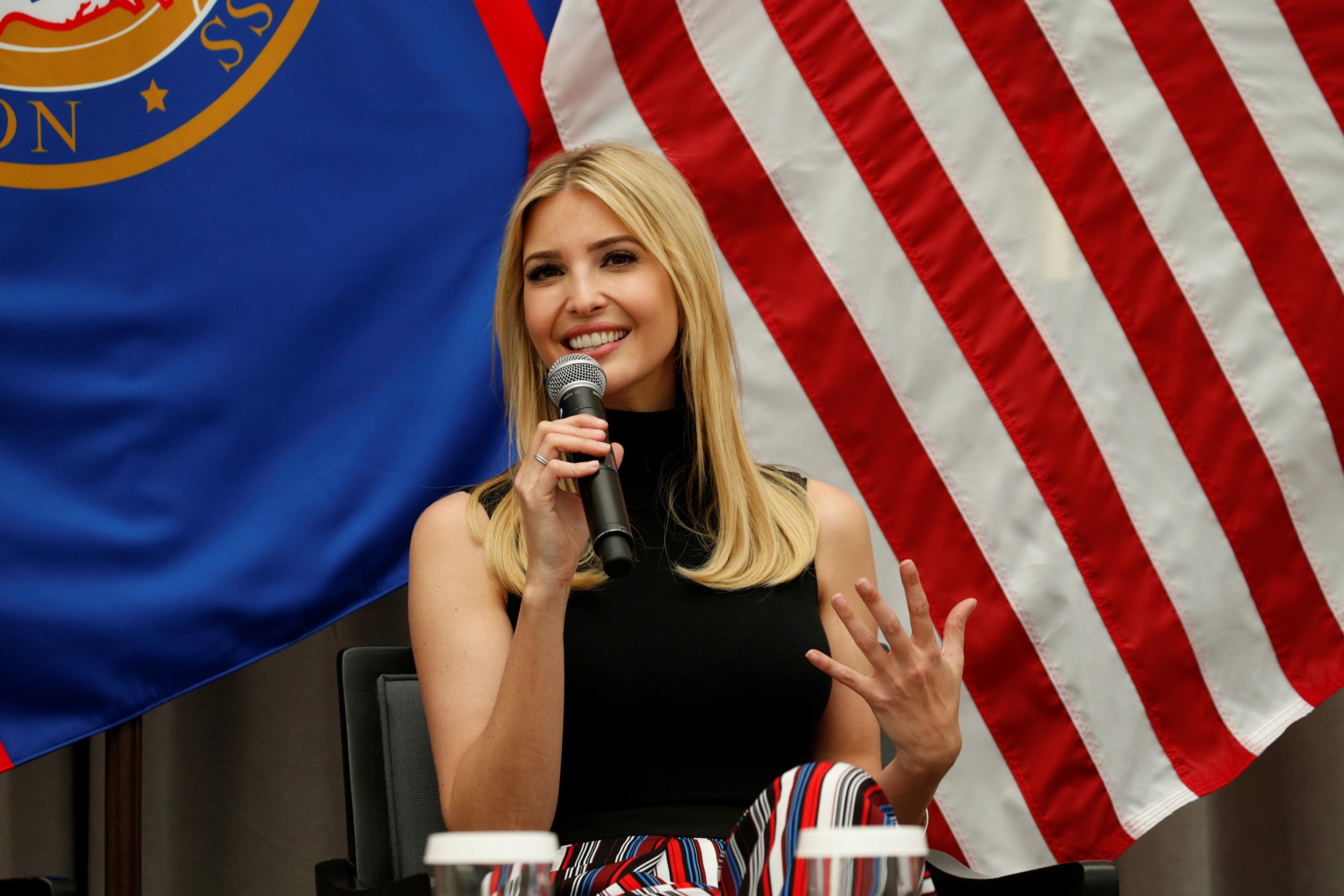 Ivanka Trump has revealed in a new book that the pressures of her father's presidential election campaign were such that she went into "survival mode" and did not have time for massages or meditation.
Trump, who has been appointed as a White House adviser by President Donald Trump and founded an eponymous fashion business, said she wrote the book, Women Who Work , because she wanted to "debunk the superwoman myth."
"During extremely high-capacity times, like during the campaign, I went into survival mode: I worked and I was with my family; I didn't do much else," Trump writes, according to an excerpt published by Fortune .
"Honestly, I wasn't treating myself to a massage or making much time for self-care. I wish I could have awoken early to meditate for 20 minutes and I would have loved to catch up with the friends I hadn't seen in three months, but there just wasn't enough time in the day," she continues.
Trump and her husband, Jared Kushner, played key roles in Donald Trump's presidential campaign, and have both been appointed to official advisory positions. Neither has any prior experience of government.
Trump still owns her fashion business but has transferred its assets into a trust and the couple own real estate and assets valued at $240 million, according to official disclosure documents. In March, Norman Eisen, the chief ethics counsel for Barack Obama, told CNN that he considered her appointment as adviser to the president was a violation of nepotism laws. Former adviser to the president Jason Miller said that because Trump receives no salary for her White House role, it does not violate nepotism rules.
German Foreign Minister Sigmar Gabriel echoed criticism of Trump's role on Sunday, who told the Funke newspaper group in an interview "the mix of politics with family and business reminds us instead of nepotism and would be unimaginable here."
In her book Ivanka talks about sharing pictures of her children on social media, saying that originally she feared it could dent her credibility in the business world.
However, she decided that she would post family photos to show the reality of family life, and considered she might have been "doing women who work a disservice by not owning the reality that, because I've got an infant, I'm in my bathrobe at 7 a.m. and there's pureed avocado all over me."
She writes: "I realized that it might be helpful in changing the narrative—even in a small way—to, for example, debunk the superwoman myth by posting a photo that my husband candidly snapped of me digging in the garden with the kids in our backyard, my hair in a messy ponytail, dirt on my cheek. I've been careful not to pretend it's easy because it is not."
Trump had written much of her second book before her father's presidential victory. Her first book, Trump Card: Playing to Win in Work and Life, released in 2009, made the New York Times bestseller list.
Since her father took office Trump has held high-profile conferences for women in business, including one in Germany last week when she was booed for defending her father against sexual harassment allegations.