Ivanka Trump Says 'Women Deserve Equal Pay for Equal Work'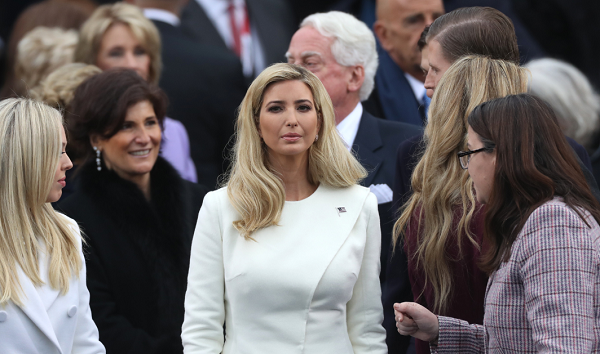 Since her father first joined the campaign for the presidency, Ivanka Trump has advocated for women's rights including better health care options, paid maternity/family leave and child care tax breaks. So it's not so surprising that the first daughter would advocate for closing the pay gap on Equal Pay Day Tuesday, a holiday aimed at highlighting and closing the gap between men's and women's wages.
Trump took to her Twitter on the holiday, which was launched by the National Committee on Pay Equity in 1996, to remind her 3.5 million followers that "women deserve equal pay for equal work."
"We must work to close the gender pay gap!" she wrote.
Although women make up about half of the college-educated workforce, females are still underpaid in comparison to men. In most cases, women earn about 82 percent of the amount a man grosses based on a full-time weekly pay scale, according to "The Gender Wage Gap 2016: Earnings Differences by Race and Ethnicity" report from the nonprofit organization Institute for Women's Policy Research.
When women of color are taken into consideration, the pay gap increases significantly. Black women earn about 68 percent of what white men typically make while Latino women earn 62 percent compared to white men.
Ivanka Trump, who recently was named an assistant to her father President Donald Trump, gathered a group of female CEOs to meet with Canadian Prime Minister Justin Trudeau as they launched the United States Canada Council for the Advancement of Women Business Leaders-Female Entrepreneurs. During the Ivanka Trump-led meeting, Trudeau and group members discussed ways to promote education, entrepreneurship, equal pay and paid leave for female workers.