Marco Rubio Family Leave Plan Would Ask New Parents to Pick Between Retirement or Maternity Leave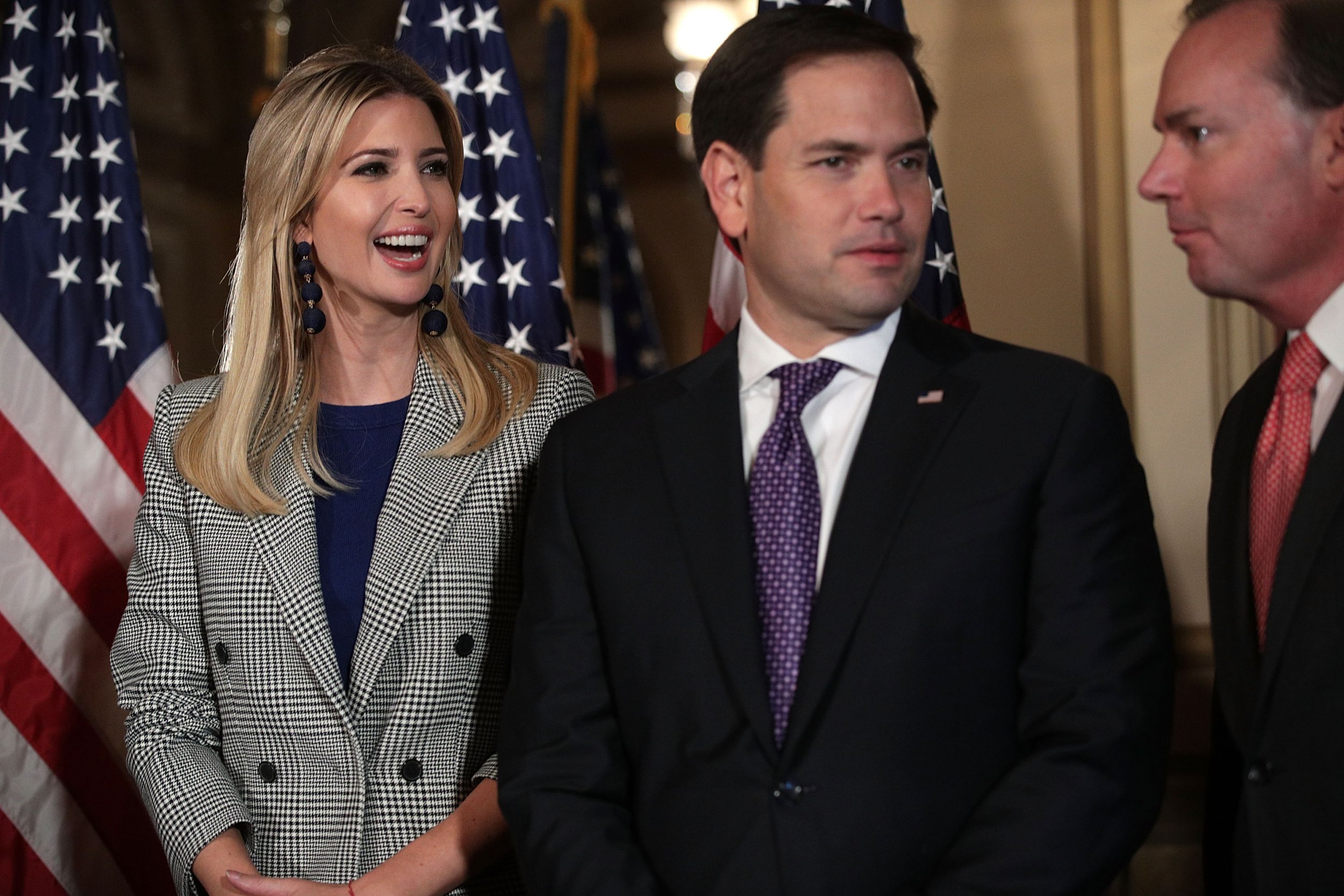 Senator Marco Rubio unveiled a family leave plan Thursday that would require new parents to pay for time spent with their infant children by borrowing from their Social Security retirement benefits early.
The Economic Security for New Parents Act would allow parents to use their retirement benefits for up to 12 weeks, and would be paid back by delaying retirement for three to six months per child. In two-parent households, benefits are transferable among spouses.
"There's nothing we can do for our children that's better than allowing their parents to spend more time and be more involved in their lives, especially from their early days," Rubio said in an interview with CBS.
But critics of the bill say that it unfairly penalizes families by making them chose between retirement or spending time with their infant children. If a woman has three children over the course of her life, her retirement could be delayed by a full year and a half.
"It's Important to realize that retirement security is already precarious in this country, especially for women," said Andrea Flynn, a fellow at the liberal think tank The Roosevelt Institute. "It's ridiculous to put people in a position of deciding to spend time with their newborn children or to retire on time with savings they deserve. It sets up the idea that we can't afford to do better and that's incorrect. Every other developed country manages to do both of these things well."
On average, women receive lower pension and Social Security benefits upon retirement than men because they earn 80 cents per dollar their male counterparts earn and spend around seven years out of the workforce caring for family members. These factors put them on unequal footing when it comes to retirement savings. To end up with as much money at retirement as a man, a woman needs to save twice as much of her earnings while working.
"This is a way for Senator Rubio and the Republican party to get credit for caring about women and families without truly investing in a way to address a major problem," said Flynn. "We're starting in a dismal place, with no family leave program to speak of but that doesn't mean we can't have a bill that actually helps families and that doesn't exacerbate inequality."
Senator Rubio's communications director, Olivia Perez-Cubas defended the bill and told Newsweek that the bill emphasizes work and allows parents to take time off without dropping out of the labor force or using welfare programs to survive. "Paid leave programs increase the likelihood that women return to the workforce. Going back to work means women's earnings will likely increase over time, meaning they'll have more to save with."
Rubio's plan offers "new parents paid leave with no new taxes, no mandates, or no additional government bureaucracy," wrote Patrice Lee Onwuka, senior policy analyst at the Independent Women's Forum in an opinion piece. The Independent Women's Forum worked with Rubio to craft the bill.
"If workers are willing to make the tradeoff for taking Social Security benefits for parental leave in exchange for delaying retirement, then the government should not prevent them from making that choice," wrote the Independent Women's Forum in a statement. "We need Social Security Parental Leave."
President Donald Trump's daughter and senior adviser Ivanka Trump has emphasized the need for paid family leave and asked members of Congress to draft and present bills on the topic. She has been working with Rubio on the issue for several months, although a White House official said she was "looking forward to reviewing Senator Rubio's legislation."
On Thursday, however, she admitted that it was highly unlikely anything would be passed during this session of Congress.
Democrats have also drafted legislation to allow new parents paid time off. Senator Kirsten Gillibrand's bill, the Family And Medical Insurance Leave (FAMILY) Act, would partially compensate new parents for up to 12 weeks with employee and employer payroll contributions.
There is currently no paid leave in the United States for new parents, making it the only major economic power without a plan in place.
This story has been updated to include comment from the White House that Ivanka Trump is still reviewing the legislation and has not yet endorsed it.