Ivanka Trump Calls Family Separations a Low Point of Her Father's Presidency: 'I Am a Daughter of an Immigrant'
Ivanka Trump said Thursday that her father's policy of separating immigrant children from their parents was a low point in his presidency and that she is "vehemently" against it.
"That was a low point for me.... I feel very strongly about that, and I am very vehemently against family separation and the separation of parents and children," she said during an Axios interview. "I think immigration is incredibly complex as a topic; illegal immigration is incredibly complicated. I am a daughter of an immigrant."
The first daughter, did, however, hedge her views while trying to explain her father's policy that led to forcibly removing nearly 3,000 children from their parents.
"We have to be very careful about incentivizing behavior that puts children at risk of being trafficked, at risk of entering this country with coyotes or making an incredibly dangerous journey alone," she said. "These are not easy issues, these are incredibly difficult issues, and like the rest of the country, I experience them in a very emotional way."
The White House senior adviser further distanced herself from her father when defending the news media and rebutting the president's attacks. "I've certainly received my fair share of reporting on me personally that I know not to be fully accurate," she said. "So I've had some sensitivity around why people have concerns and gripe, especially when they feel targeted. But, no, I do not feel that the media is the enemy of the people."
President Donald Trump tweeted in July on his way to meet with Russian President Vladimir Putin that "much of our news media is indeed the enemy of the people."
Ivanka stayed quiet when asked about the ongoing investigation into Russian meddling in the 2016 presidential election. But she did say that she has not spoken to special counsel Robert Mueller or his team and that she had no prior knowledge of the June 2016 meeting at Trump Tower attended by Donald Trump Jr., Jared Kushner, Paul Manafort and Russian lawyer Natalia Veselnitskaya.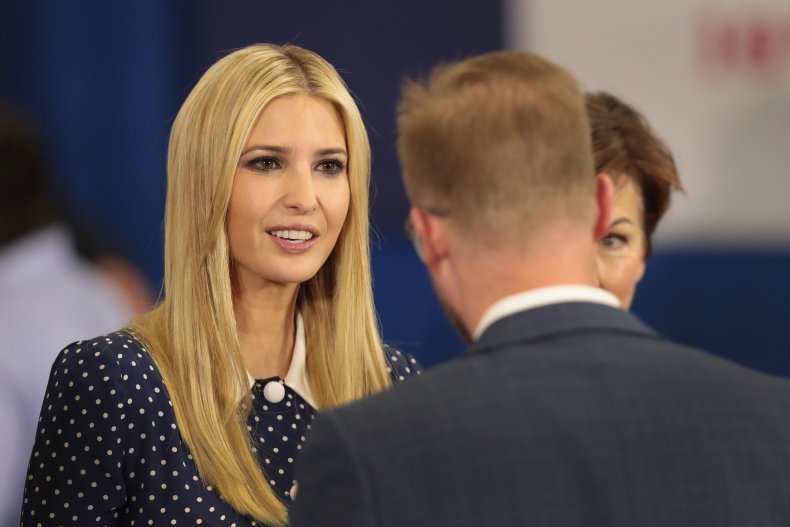 Ivanka was at the Axios conference to announce that companies like MasterCard and United Airlines have agreed to participate in a new White House initiative to add new apprenticeships and jobs and retrain workers for those jobs. She did, however, concede that another workforce initiative she's worked for, paid family leave, would not happen with "this Congress."
Ivanka tackled a question regarding her father's increased tariffs hurting employment in the U.S. by telling an anecdotal story about visiting a recently reopened steel mill, and by focusing on national security. "God forbid if there's a war," she said, "we need to be able to produce our steel and be able to support ourselves and build our ships and equipment."
Farmers will receive a $12 billion bailout under a Trump plan, but they have also been hurt by the ongoing trade wars. "[Agricultural Secretary] Sonny Perdue, who's amazing, is doing a great job, and he's out there every single day with our farmers, and they've seen their business, they know what's been happening," Ivanka said.
"Yes, there's some certainty to the decline they've been experiencing," she continued. "But they've been seeing the trend, and the trend is not good but it's predictable, and there's some comfort in predictability. But they're patriots and they know that there's some temporary pain, but the president's fighting for them and that he's going to fix it."