President Donald Trump's daughter and senior adviser Ivanka Trump skirted questions on her father's immigration record in an interview this month, saying his notorious "family separation" policy was not part of her "portfolio."
In a pre-taped interview that aired on Face The Nation Sunday, CBS' Margaret Brennan pressed Ivanka on her father's immigration record, pointing out that hundreds of immigrant children still had yet to be reunited with their parents after being separated under Trump's "zero tolerance" family separation policy.
While the interview was focused on paid leave and child care, Brennan said that "whenever anyone hears you talk about the importance of being with your children," they "also think about" Ivanka's personal opposition to the family separation rule, which saw more than 2,500 families separated at the U.S.-Mexico border.
Ivanka acknowledged that she has been vocal in her opposition to the family separation policy in the past, however, she said that the matter was not part of her "portfolio."
"We went and looked and Homeland Security says there are still around 900 children who remain separated from their families," Brennan said. "Is that something you continue to remain engaged on when it comes to immigration?" the journalist questioned.
"Well, immigration is not part of my portfolio, obviously," Ivanka responded.
"I think everyone should be engaged. And the full force of the U.S. government is... is committed to this effort to border security, to protecting the most vulnerable," she said. "That includes those being trafficked across our border, which this president has committed to countering and combating human trafficking in an incredibly comprehensive, aggressive way."
"So, the full United States government has been focused on this issue, starting with the president," the senior adviser added.
While Ivanka sought to distance herself from her father's immigration policies, the senior adviser has repeatedly faced backlash for promoting family values while not doing more to address the fallout of her father's family separation policy.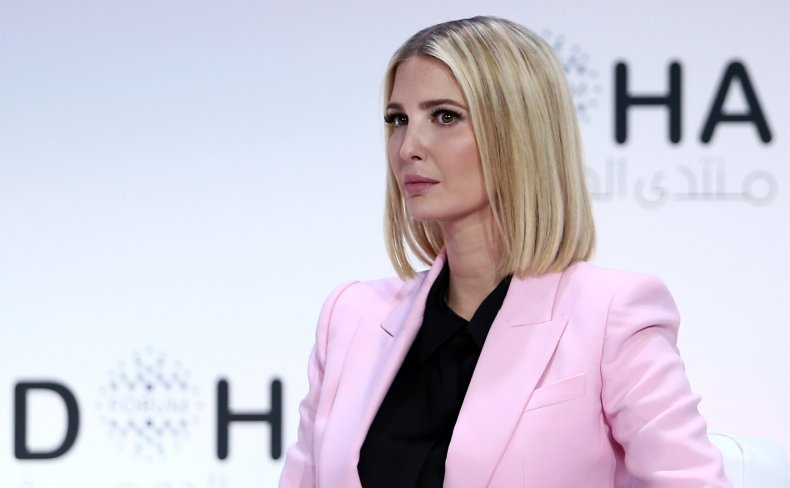 Speaking at an Axios News Shapers event in August 2018, Ivanka had admitted that the policy itself was a "low point" for her.
"That was a low point for me," she said at the event. "I felt very strongly about that and I am very vehemently against family separation and the separation of parents and children."
"Immigration is incredibly complex as a topic," she added, however. "Illegal immigration is incredibly complicated."
The Department of Homeland Security had been warned against separating families at the U.S.-Mexico border months before President Trump even took office.
In late 2016, a Homeland Security advisory committee issued a report outlining the negative impact family separation has on children.
"Recent evidence suggests that some families are separated and adults detained and placed in expedited removal or reinstatement proceedings while children are sent to the Office of Refugee Resettlement," the report flagged.
"Family separation in these circumstances raises serious concerns and violates the best interests of the child—which requires prioritizing family integrity and the maintenance of emotional ties and relationships among family members," it said.
The report warned that "the best interests of the child should be paramount in all custody decisions regarding family members apprehended by DHS." Family separation, it made clear, was not in the best interest of the children arriving at the border.