Ivanka Trump Fan Accounts on Instagram Obsess Over First Daughter's Beauty and Leadership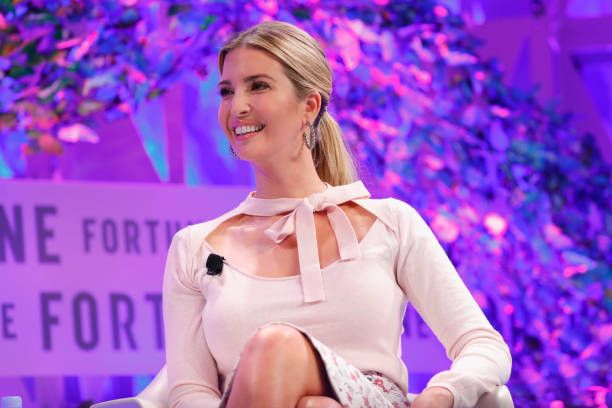 Out of all of President Donald Trump's children, first daughter Ivanka Trump is perhaps the most publicly involved in his life and in the U.S. government. As an advisor to the president, Ivanka spends most of her days in Washington D.C., in a loosely defined, unpaid role where she reportedly influences her father's political decisions. But for tens of thousands of followers on Instagram, it's her poise, beauty and entrepreneurship that make her a star.
Dozens of dedicated fan accounts follow the first daughter's every move, praising her fashion choices and hailing her as a leader for women all over the world. The accounts have fervent followers, some posting to around 50,000 followers who comment things like "Queen!!!" and "drop dead gorgeous" on every photo.
The young Instagrammers who create these accounts are, as profiled in Cosmopolitan, true superfans.
"She's just so classy," says Paige, a 14-year-old in Indiana who runs @ivankatrumpsbiggestfan. "She's really poised, and she's such a good business woman."
The fans who run the accounts, along with their followers, keep tabs on Ivanka as carefully as the thousands of accounts dedicated to other celebrities like singers Selena Gomez or Ariana Grande. Regardless of what Ivanka is up to politically, they post shot after shot of her selfies, her outfits, and her public appearances. Captions range from gushing praise to inspirational quotes from the first daughter throughout the years.
Ivanka was criticized plenty during her father's first year in office. She's been accused of hypocrisy for touting her self-proclaimed feminism, both in speeches and in her book Women Who Work: Rewriting the Rules for Success, while abandoning efforts to create tax cuts for child care and expand federal maternity leave policies. Critics question what her role really is in the White House, or whether it's necessary.
But young fans place all this aside, lavishing praise on the entrepreneur for remaining cool and collected in the face of pressure. They applaud her business acumen and her #WomenWhoWork efforts, saying she has inspired them to pursue their own entrepreneurial goals. The teens behind @weloveivanka were inspired while watching Ivanka on The Celebrity Apprentice, and decided to enroll in an entrepreneurship class at their high school.
"You see someone who loves what she does and she's very successful at it and she's so well-composed, she's very well-spoken, and she's passionate about the causes that she believes in," said Sara, the 16-year-old who runs the account with 14,000 followers in an interview with Cosmopolitan. "She definitely was a reason for provoking that interest."
Sara now takes accounting classes and hopes to study international business when she gets to college. And she credits her ambition to Ivanka, despite the fact that she doesn't care for Donald Trump.
Ivanka follows around 40 of these accounts, according to Cosmopolitan, and often likes the posts or comments things like "Thank you for your support" or "You made my day!"
For superfans like Suman Choudhary, a 24-year-old in Jaipur, India, the ultimate goal is to meet Ivanka. Choudhary, much like some American fans, doesn't care much about what politics Ivanka is involved in. But she doesn't understand how anyone could dislike the graceful first daughter.
"She makes an amazing role model. She has all the qualities a woman should have. She's an amazing woman," said Choudhary in a Cosmopolitan interview.
"She's perfect in everything."