Ivanka Trump Poses As a Feminist Icon, Gets Called Out for Undermining Women's Rights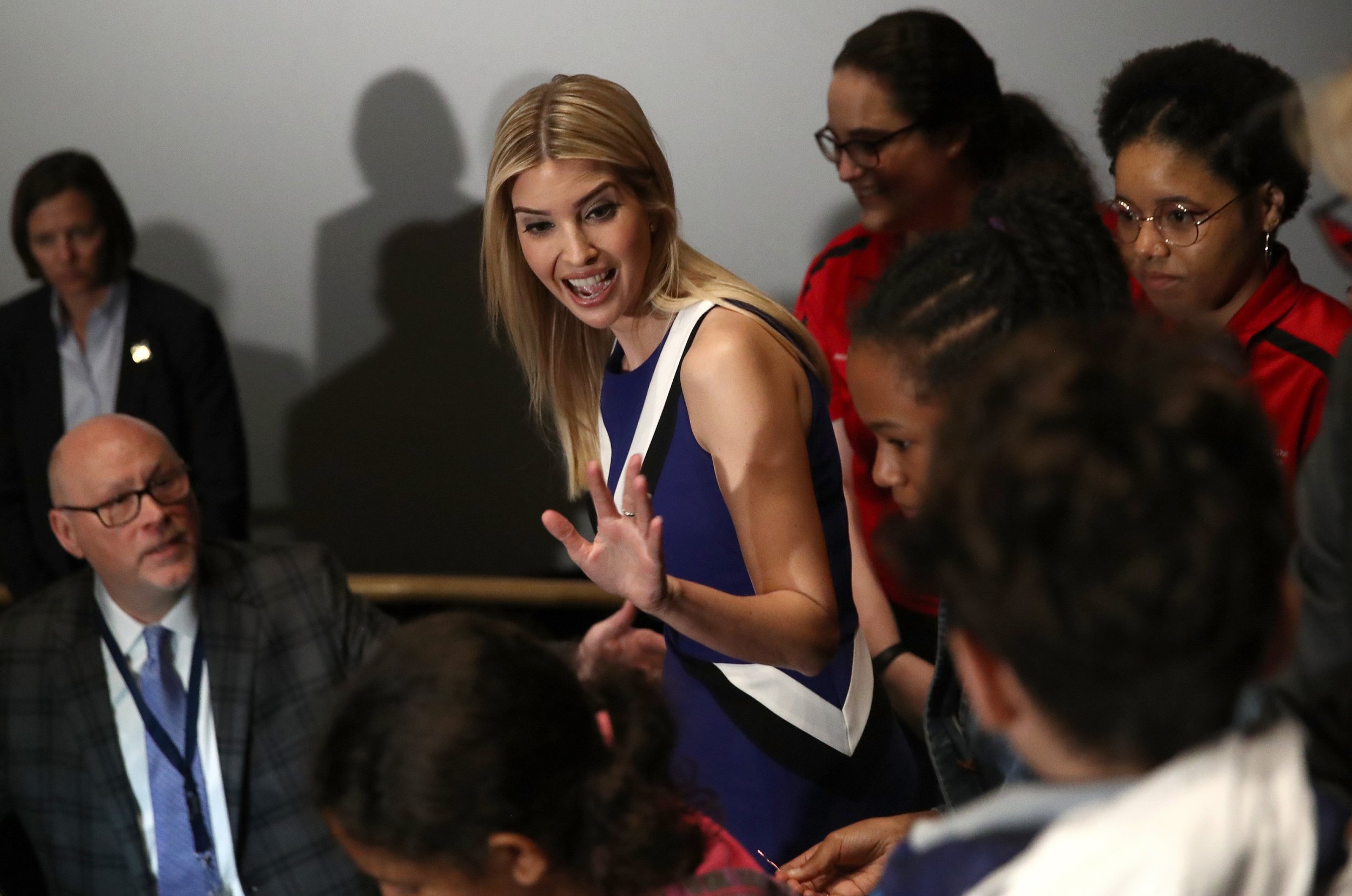 First daughter Ivanka Trump struck a Rosie the Riveter pose with a girls robotics team she met with Tuesday to promote a new White House initiative around workforce development. The act of imitating the feminist icon was not popular among Instagram users who feel the first daughter has failed to keep her promises to women.
Trump posted a boomerang video on Instagram of herself flexing like the woman in the famous "We Can Do It!" World War II poster that became known as Rosie the Riveter, and that the Girls of Steel robotics team has adapted for their logo.
"These impressive young women from across the state of Pennsylvania are working to expand their knowledge and develop new innovations that will one day change our world!" Trump captioned the video in which she posed with five of the girls. "I look forward to celebrating their future achievements in robotics and #STEM fields."
While the first daughter received comments supportive of her visit to the Pittsburg lunar logistics company Astrobotic, she was also slammed by other Instagram users who did not appreciate her imitating the cultural icon who represented women manning factories and shipyards during the war to produce munitions.
"Is this in support of your father's false claims that 7 steel plants have opened as a result of his tough tariffs? I bet you didn't even know who Rosie The Riveter was before these contrived photo ops," one Instagram user commented.
"Pathetic. Did you ever break your nails warning minimum wage? Probably not. And appropriating an idea comic image of women sacrificing while men were off dying during WWIII?" another Instagram user commented. "GIRL, ain't you got no pride? Or sense of history? Or struggle?"
Girls of Steel, a K-12 robotics team based in Carnegie Mellon University's Field Robotics Center, also posted on Instagram photos of Trump posing like Rosie, holding their Rosie-inspired logo and an image of Trump's signature on their logo with the message: "Girls of Steel Rock!"
"Hey did you get to ask her how not to be complicit in the undermining of women' rights?" an Instagram user commented. "Because I feel like that's pretty important to the future of women in STEM."
As a senior White House adviser, Trump said she would advocate for women, children and families and push issues like equal pay and paid family leave. She has made various visits to schools to promote science, technology, engineering and mathematics (STEM) education, but has appeared to back off the equal pay effort. Paid family leave legislation has yet to get to the floor of Congress.