Ivanka Trump is Frustrated 'All the Time' That the Media Doesn't Cover Her Work More
First daughter Ivanka Trump this week admitted she gets frustrated "all the time" that the media does not devote more coverage to her work as a senior White House adviser.
The president's eldest daughter made the confession in a sit-down interview with Cheddar on Tuesday from the SelectUSA forum aimed at boosting foreign investment in the United States. Trump said she and the administration were "working really, really hard" to expand affordability through the double child tax credit and other initiatives.
Cheddar's Washington D.C. bureau chief J.D. Durkin said that he has occasionally heard Democrats on Capitol Hill give the Trump administration credit for those efforts.
"Do you ever experience any kind of frustration," Durkin asked, "That perhaps these issue are not talked enough about or given enough attention considering the fact that..."
"All the time," Trump interjected, and laughed.
"So talk to me about that, what is that like to devote so much of your work to this," Durkin continued. "And perhaps there is so much of a focus on other parts of the administration as opposed to things where hey, you're getting stuff done and from time to time you have Democrats saying hey, I may not really want to admit it but I've got to give the White House credit."
Trump said that she was on the Hill the prior day advancing bipartisan legislation and that the U.S. has become the first country in the world that requires women to be at the negotiating table on peace agreements.
"So we should be really excited about that fact, 25, 20 years after the U.N. Security Council passed resolution 1325, we're the first country to codify it into law," Trump said, adding that she was with bipartisan members pushing to get it done.
"But at the end of the day, what matters to me isn't the amount of coverage," Trump said, going back to Durkin's question. "Except the fact that we want (people) to know what options are available to them, to the point of this branding campaign around multiple pathways to career success."
Trump added: For the most part, what I get the most enjoyment out of is just the work itself." She said she has traveled across the country and visited most states and "met with real Americans who are benefitting."
"I think I am most proud that not only are there more people working today in America than ever before," she said, but that 900,000 of the 6 million new jobs created since her father became president involved people who previously were not working.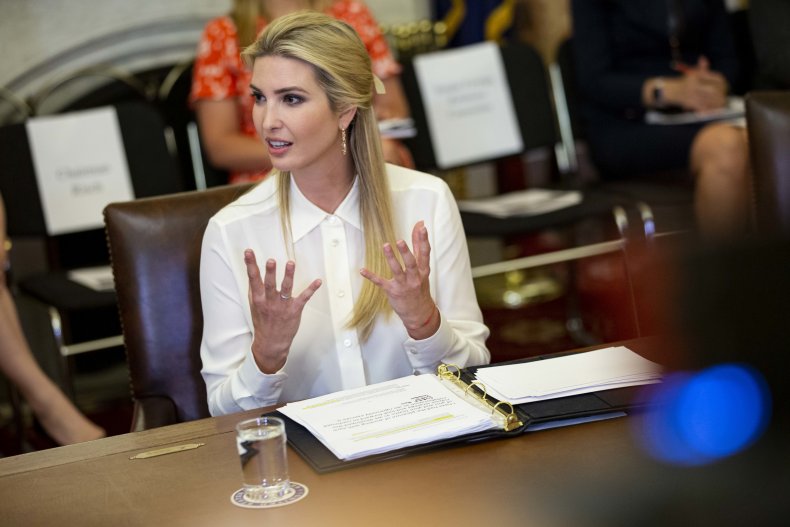 Trump also advised young Americans just getting into the workforce to "discover what it is that you love" and not be afraid to change their path.
"If it's not working, be bold," she said.
Trump on Tuesday spoke at a Senate Foreign Relations subcommittee roundtable on the U.S.'s strategy for implementing the the Women, Peace, and Security Act, which seeks to increase women's leadership in politics by giving them resources to participate in conflict negotiations and other issues.
Critics have wondered what the first daughter, who had no prior government experience, has really accomplished in the West Wing.