Alexandria Ocasio-Cortez Mocks Ivanka Trump G20 Video Showing Her Failing to Mingle With World Leaders
New York Congresswoman Alexandria Ocasio-Cortez joined Trump administration critics in ridiculing video appearing to show Ivanka Trump awkwardly trying and failing to join world leaders in conversation at the Group of 20 (G20) Summit over the weekend.
Ocasio-Cortez remarked that "being someone's daughter isn't actually a career" after video surfaced showing Trump's oldest daughter, who is a White House advisor, trying to get a word in at the summit with British Prime Minister Theresa May, Canadian Prime Minister Justin Trudeau and French President Emmanuel Macron. International Monetary Fund Chair Christine Lagarde can be seen dismissing a smiling Ivanka as she fails to join the circle of world leaders talking in Osaka, Japan Saturday.
The first-term Democrat wrote on Twitter Saturday evening that, "It may be shocking to some, but being someone's daughter actually isn't a career qualification. It hurts our diplomatic standing when the President phones it in & the world moves on. The US needs our President working the G20. Bringing a qualified diplomat couldn't hurt either."
Foreign and U.S. journalists mocked Ivanka Trump for trying to make a comment about "the defense side of things" as Lagarde appeared to roll her eyes and turn back away from the president's daughter.
The brief video clip surfacing from the G20 meeting Saturday shows Macron speaking about "social justice" as Trump tries and fails to insert her first comment.
Trudeau can then be seen turning his head in the circle over to May who says "as soon as you begin talking about the economic aspect of it, though, a lot of people start listening who otherwise wouldn't listen." This prompts one of several "yeah" reactions from Ivanka as she continues trying to get a full comment into the discussion.
Trump dramatizes her hand motions and begins interjecting about "defense" as Lagarde, who is standing next to her in the circle, looks over at the president's daughter, appears to roll her eyes, and then re-engages with the circle of world leaders other than Trump. At one point, Ivanka can be heard saying the phrase "male dominant."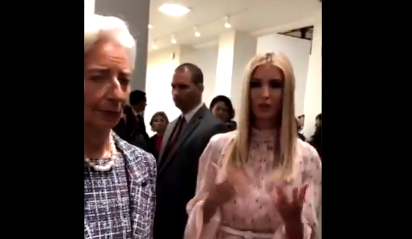 New York congresswoman Alexandria Ocasio-Cortez joined critics in ridiculing video appearing to show Ivanka Trump awkwardly trying and failing to join G20 Summit leaders in conversation.
Parham Ghobadi/Screenshot: Twitter
Both Ivanka and her husband Jared Kushner were present at the table of negotiators Saturday as Chinese President Xi Jinping met with the president about restarting trade talks. Political analysts from both the U.S. and China suggested the Trump family will begin having more influence on trade discussions between the two countries.
"It is likely that Ivanka Trump may play a role in Washington's China policy," said Pang Zhongying, an international relations expert at Ocean University in Qingdao, China, in an interview with the South China Morning Post Saturday. "And if she is to take part in politics in the future, her ties with China and understanding of China will be an important asset."
However, Trump's future political career was not on the minds of most U.S. journalists Saturday and Sunday as they ruthlessly mocked what appeared to be a very awkward video of Ivanka trying to mingle with the world leaders.
Ocasio-Cortez, a favorite target of vigilant and frequently pernicious right-wing critics, is often ridiculed by Trump supporters for her previous job working as a bartender in New York City. But she was joined by thousands of others this weekend in making light of the billionaire president's daughter's attempts to insert herself into conversation among international leaders.
"Amazing video of @IvankaTrump trying to butt in to actual world leaders' conversation and their unconcealable irritation," remarked TIME editor at large Anand Giridharadas via Twitter.
Democrat Representative Ted Lieu noted on Twitter that he wanted an explanation from the first daughter, but that it would likely be difficult to obtain.
"I would like to hear Ivanka Trump's explanation about this video. Oh wait, Senior White House Advisor @IvankaTrump blocked me. Can you forward the below video to her and ask for her response? Thanks."
Lieu added: "P.S. Can you also ask her why Jared Kushner still has a security clearance?"