Ivanka Trump's Silence on Human Trafficking Victims Fund Halt After Touting Efforts is 'Beyond Complicit,' Watchdog Says
A watchdog group suing the Trump administration for not providing documents on a sudden halt to funding for housing and services for human trafficking victims is accusing senior White House adviser Ivanka Trump of being "beyond complicit" since she recently touted the administration's efforts on ending the scourge.
On Tuesday, watchdog Democracy Forward filed a lawsuit related to a September Freedom of Information Act request for records from the Department of Housing and Urban Development (HUD), the Department of Justice (DOJ) and the Interagency Council on Homelessness (USICH). The complaint says HUD announced on September 4 that grant funds would serve "minor and adult foreign national victims" of human trafficking.
On September 8, five days after announcing non-citizens would be eligible, the grant was "cancelled without explanation," Democracy Forward's complaint states. The FOIA also says that sometime after September 13, the grant was changed from "cancelled" to "postponed."
The complaint does not name President Donald Trump's daughter, Ivanka Trump, but Democracy Forward spokeswoman Charisma Troiano noted that just four days prior to the watchdog filing its lawsuit, Ivanka Trump touted a new effort by the administration to end human trafficking.
"This week @POTUS 's Interagency Task Force to combat #humantrafficking met and announced investments totaling $75M in the Program to End Modern Slavery, making it @statedept 's largest anti-trafficking program," Ivanka Trump tweeted on November 1, along with a video. "We are committed to ending human trafficking, in all its evil forms."
Troiano told Newsweek on Wednesday that "Ivanka repeatedly turns her back on the women and children she claims to support and has remained silent as the Trump administration cancels grant funding for human trafficking victims."
"That's beyond complicit," Troiano said, adding that the requested documents could shed light on whether Ivanka Trump had a say in halting the grant funding.
"We'll see if Ivanka's interest in helping human trafficking victims is reflected in email communications on this grant," Troiano said.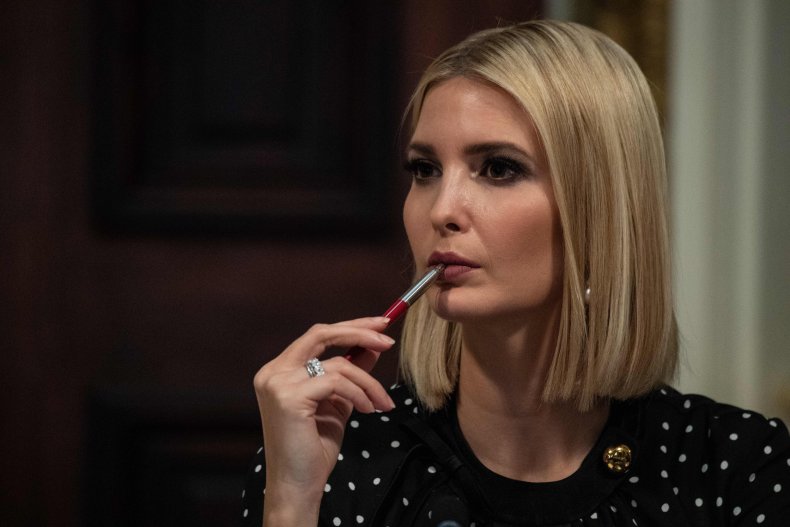 A HUD spokesman told Newsweek in an email on Thursday: "The funds were postponed due to the fact that the responsibilities for the program have been delegated to the Department of Justice, where money for the program was appropriated by Congress."
The White House, DOJ and USICH did not respond to requests for comment from Newsweek on Wednesday and Thursday.
Democracy Forward submitted its FOIA requests on September 16 and did not receive any documents. The complaint states it requested a search for records of in the offices of officials including HUD Secretary Ben Carson, USICH Policy Director Lindsay Knotts and a DOJ assistant attorney general.
"The public deserves to know what motivated the leaders of President Trump's agencies to suddenly cancel a grant supporting human trafficking victims," Troiano said.
In the video she tweeted last week, Ivanka Trump was shown speaking in a room filled with leaders about a new "first of its kind" public-private partnership to end human trafficking. The partnership, she said, will give recommendations to the administration's Interagency Task Force and "use of the most proven methods in the private sector and civil society to combat this evil scourge."
Troiano criticized Ivanka Trump for not speaking out about the funding postponement.
"Ivanka has a unique platform," Troiano said, "Yet refuses to speak out when her own administration yanks support for human trafficking victims."