Ivanka Trump Keeps Ignoring Donald's Racist Tweets About Congresswomen While Promoting Her Women's Initiative
First daughter Ivanka Trump has ignored President Donald Trump's recent tweets — in which he told four Congresswomen of color to "go back" to places they came from — all the while promoting her efforts around empowering women economically as if her father's tweets were not the biggest talk of the week.
Ivanka Trump on Monday declined to comment on her father's tweets from Sunday —directed at progressive Democratic Representatives Alexandria Ocasio-Cortez, Rashida Tlaib, Ilhan Omar and Ayanna Pressley—telling them to "go back and help fix the totally broken and crime infested places from which they came." The president's tweet also implied that these congresswoman were all immigrants to the U.S., when only one of the four was born abroad.
As of late afternoon Thursday, the first daughter — who also works as an adviser in the White House — remained silent on her father's tweets, instead writing multiple tweets on her work around the administration's Women's Global Development and Prosperity initiative, which seeks to help 50 million women economically in developing countries by 2025.
"Women globally face significant barriers to accessing financing. At home and abroad we're working to help women entrepreneurs thrive," Ivanka Trump tweeted Thursday morning, sharing a Wall Street Journal story on a new investment by the Overseas Private Investment Corporation (OPIC), which worked closely with her.
Later on Thursday, the first daughter retweeted OPIC's post on the same story about the initiative "led by @WhiteHouse & @IvankaTrump."
On Wednesday, Ivanka Trump quote tweeted Iowa Governor Kim Reynold's post that she was "Excited to welcome @IvankaTrump back to Iowa to talk workforce, showcase our strong work-based learning and apprenticeship programs that are benefiting Iowans!"
"See you Friday @IAGovernor in Des Moines!" Ivanka Trump commented.
Ivanka Trump also recently retweeted Republican Representative Liz Cheney's post from Friday stating that the Women's Global Development and Prosperity initiative was "producing real results and economic opportunity for women around the world."
Cheney had quote tweeted Ivanka Trump's in case you missed it tweet that the administration 14 new activities in 22 countries and that "through WGDP's 3 core pillars we are committed to delivering real results that create transformational change for women in developing countries."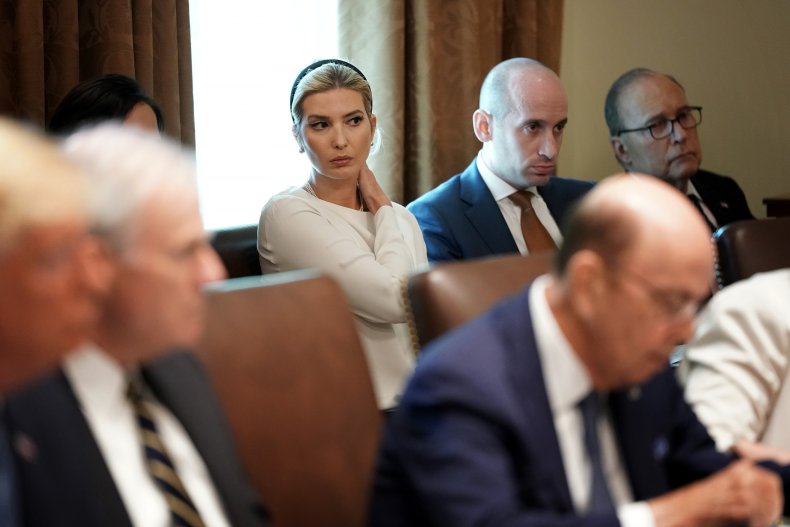 The Democratic Coalition's co-founder Scott Dworkin told Newsweek on Thursday that the first daughter's silence on her father's controversial tweets about women while simultaneously pushing to empower women "exposes Ivanka to be a complete hypocrite."
"You can't be working in an administration as an adviser to the president and act like you live in an alternate reality as if you're doing something noble," Dworkin said, adding that Ivanka Trump is letting "one of the worst human rights abuses this generation has ever seen play out in front of us."
Dworkin compared the matter to Ivanka Trump's long silence on migrant family separations at the border that were caused by a Trump administration immigration policy.
"Refugee children are being ripped from their mothers and thrown into cages," Dworkin said. "She hasn't ever said a word about it. Silence is complicity."
On The View in February, Ivanka Trump objected when told she did not speak up about the family separations and said she is "not president of all women's issues."
The View co-host Meghan McCain on Thursday called on Ivanka Trump and her husband, fellow White House adviser Jared Kushner, to denounce her father for criticizing Omar during his campaign rally Wednesday night.
"The Trump administration—all of you—Ivanka, Jared, because you're around my age range," McCain said, "Where are you in this?