Ivanka Trump Supported 'Illegal Action That Hurt Women' and Families, Watchdog Says After Judge Reinstates Equal Pay Rule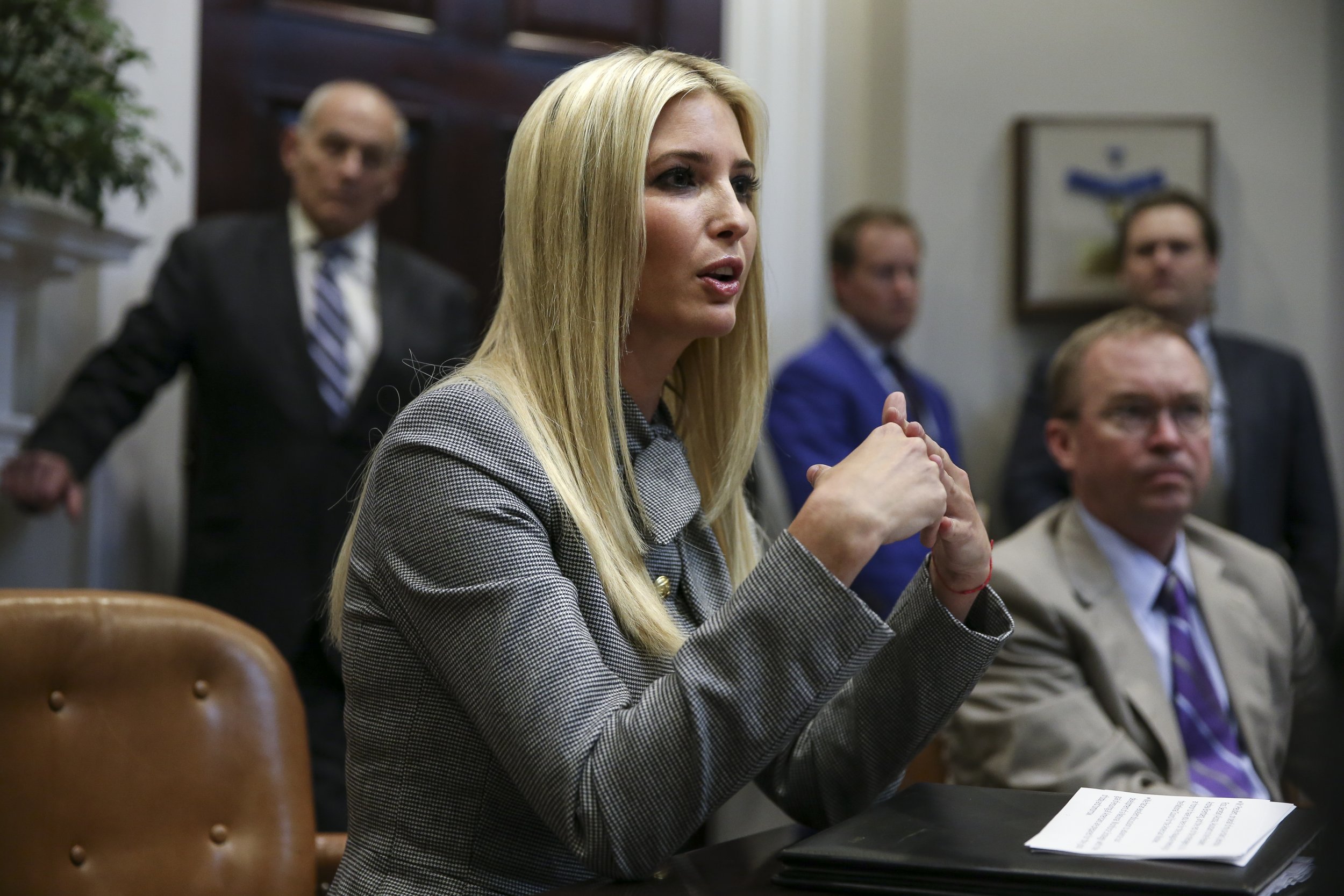 After a federal court late Monday struck down the Trump administration's rollback of Obama-era equal pay protections, a watchdog group that sued on the matter reiterated that first daughter Ivanka Trump was "complicit" and claimed that she backed an "illegal action that hurt women and that hurt American families."
The District of Columbia's U.S. District Court ruled that the Trump administration's Office of Management and Budget (OMB) broke the law by rolling back a tool the Obama administration set up to enforce equal pay rules and combat wage discrimination. The watchdog Democracy Forward sued the Trump administration in August 2017, on behalf of the National Women's Law Center and the Labor Council for Latin American Advancement, for doing away with the requirement.
The court ruled that the Trump administration violated the Administrative Procedure Act, which forbids policymaking that is "arbitrary and capricious." President Barack Obama's equal pay rule, which required large employers to collect pay data by gender, race and ethnicity and report it to the government, was fully reinstated.
Democracy Forward has been particularly critical of the first daughter because she assumed her role as a senior White House adviser promising to advocate for women, children and families. (On Equal Pay Day in April 2017, she tweeted that it was "a reminder that women deserve equal pay for equal work.") But five months later, she backed her father's decision to hold and review the equal pay rule that was slated to go into effect later that year. She was silent on Equal Pay Day last year.
"She was complicit in this rollback in equal pay, and with court's ruling late yesterday, we now know that was not only wrong but it was illegal," Democracy Forward spokeswoman Charisma Troiano told Newsweek on Tuesday.
In August 2018, Democracy Forward obtained emails and calendar entries showing that Trump's chief of staff worked with the OMB and the Equal Employment Opportunity Commission (EEOC) to rearrange meetings on equal pay to accommodate her schedule. At the time, Troiano said that was proof that Ivanka Trump and her staff "were instrumental in the administration's decision to actually go forth with the rollback."
After the court's decision Tuesday, Troiano said that "essentially, Ivanka Trump supported an illegal action that hurt women and that hurt American families, and I think that it's pretty plain and simple."
Obama's rule was reinstated thanks to the efforts of equal pay advocates "and with no help of Ivanka Trump despite the image that she put forth," Troiano concluded.
A lawyer for Ivanka Trump declined to comment to Newsweek on Tuesday. The White House did not immediately respond to a request for comment.
In September 2017, when Ivanka Trump backed the rollback, she said, "Ultimately, while I believe the intention was good and agree that pay transparency is important, the proposed policy would not yield the intended results."
Her statement continued: "We look forward to continuing to work with EEOC, OMB, Congress and all relevant stakeholders on robust policies aimed at eliminating the gender wage gap."
The new ruling means that safeguard tools against pay discrimination are once again available to nearly 63 million American workers, according to Democracy Forward Executive Director Anne Harkavy.
"This is a major victory for equal pay advocates and the rule of law," Harkavy said. "The court's judgment was clear: the Trump administration broke the law when it rolled back these critical equal pay protections."
The Trump administration could appeal the court's decision, but Troiano said the ruling was "very pointed."
"We will keep our eyes open should the administration appeal," Troiano said, "and assess our legal options at that time."