Ivanka Trump and Jared Kushner Once Fundraised for Democrats but Are Now Raising Money for Ultra-Conservatives
First daughter Ivanka Trump and her husband Jared Kushner, senior White House advisers, are raising money for ultra-conservative allies of President Donald Trump, a sharp departure from their pre-West Wing days when they raised funds for Democrats.
Ivanka Trump and Kushner are expected at Ohio Republican Representative Jim Jordan's fundraiser on July 18, according to the Politico Playbook on Tuesday. Jordan's event is being organized by the American Conservative Union PAC and taking place at the home of the PAC's president Matt Schlapp. The couple's attendance at Jordan's upcoming fundraiser reflects his importance to the president. Jordan is one of the president's biggest supporters in the House.
In 2017, Kushner raised funds for Jordan's colleague and chairman of the conservative Freedom Caucus Representative Mark Meadows.
But in 2013, Ivanka Trump and Kushner hosted a fundraiser at her Manhattan home for New Jersey Democrat Cory Booker, who at the time was running for Senate and is now a Democratic 2020 presidential candidate. The future senior White House advisers reportedly raised more than $40,000 in the first quarter of 2013 for Booker's Senate campaign.
Booker in August 2017, more than six months after Ivanka Trump and Kushner assumed roles in the Trump administration, said no one at the time of the fundraiser foresaw where the couple would land four years later.
"Listen, I wouldn't take a dime from them now, but this was a time when they were Democrats," Booker said. "I mean, they were supporting Hillary Clinton, uh, and the Kushner family were big New Jersey Democrats, and really helped to fight against [Republican Governor] Chris Christie and a lot of other folks."
Booker added that he is not the only Democrat who has accepted money from the couple before they switched political parties.
Ivanka Trump has also donated to Democrats. She gave Kamala Harris, now a senator and 2020 presidential candidate, $2,000 for her California attorney general reelection campaign in 2014. And the president's eldest daughter gave another 2020 presidential candidate Kirsten Gillibrand, who has been a New York senator since 2009, $2,000 in 2014.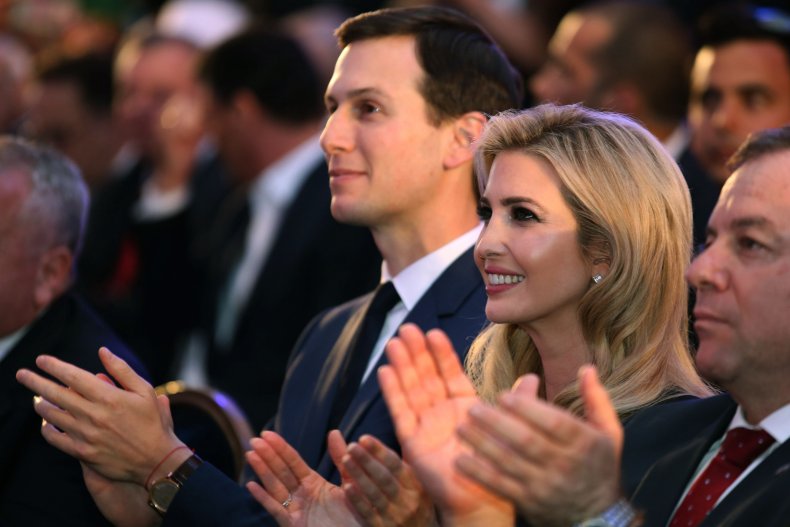 Ivanka Trump was a registered Democrat until her father began seriously pursuing the presidency. She claimed in late 2016 that she was an independent and that her political views were not exactly like her father's.
Kushner was a lifelong Democrat until he joined his father-in-law's 2016 presidential campaign.
President Trump has brushed off complaints from senior staff that his daughter and son-in-law are constantly at meetings by joking that "they're Democrats," according to the book Fear: Trump in the White House by journalist Bob Woodward.