Ivanka Trump and Jared Kushner made at least $82 million in outside income while working as White House advisers for the Trump administration last year, according to new financial disclosures released on Monday.
Although Kushner and Trump are not paid a salary for their adviser roles at the White House, ethics experts have criticized the couple's large income flow from their investments and family-related businesses as something that could easily create conflicts of interest.
According to the Washington Post and Politico, Trump earned $3.9 million from her share in the Trump International Hotel, $5 million from her clothing brand, $2 million in income and severance from the Trump Organization and $289,000 from Penguin Random House as an advance for her new book Women Who Work. Trump reportedly donated the proceeds from the book to the Ivanka M. Trump Charitable Fund.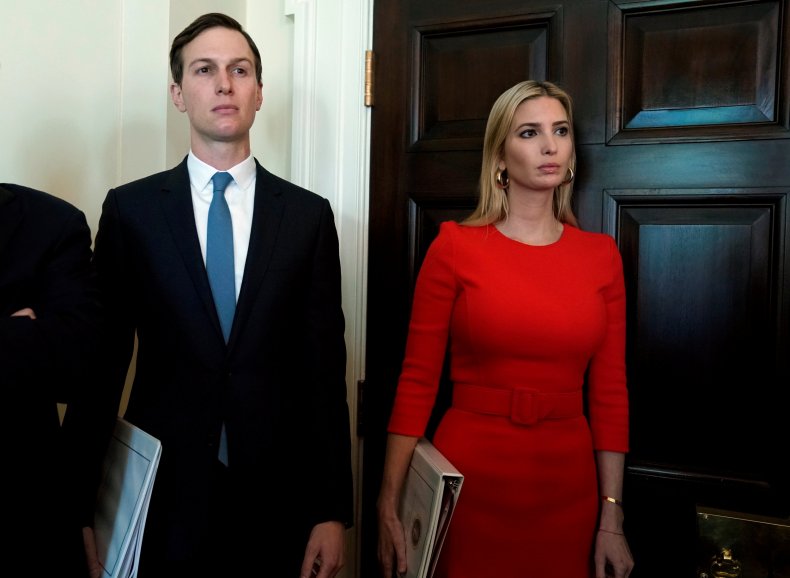 Kushner pulled in at least $70 million from his shares in his family's real-estate companies, including $5 million from Quail Ridge, a New Jersey apartment building that Kushner Cos. acquired last year.
Kushner's real-estate business has an overarching portfolio containing thousands of apartments in states across the country while Trump's clothing line is produced exclusively by factories in foreign countries, including Bangladesh, China and Indonesia.
In 2017, Trump's assets were estimated to be valued between $55.3 million and $75.6 million and Kushner's between $179 million and $735 million, reported the Washington Post. According to the news organization, the exact figure is difficult to calculate as the Office of Government Ethics uses "broad ranges for assets and liabilities."
Peter Mirijanian, a spokesperson for the couple's attorney Abbe Lowell, told the Washington Post that Kushner and Trump's net worth has not substantially changed during their time at the White House and confirmed that they have both complied with all the ethical rules.
"Since joining the administration, Mr. Kushner and Ms. Trump have complied with the rules and restrictions as set out by the Office of Government Ethics," he said. "As to the current filing which OGE also reviews, their net worth remains largely the same, with changes reflecting more the way the form requires disclosure than any substantial difference in assets or liabilities."