Ivanka Trump and Jared Kushner Will Stay Because President Is 'Not Going to Fire a Family Member,' Book Author Says
Senior White House advisers Ivanka Trump and Jared Kushner will, contrary to speculation, be staying put because President Donald Trump "is not going to fire a family member," according to the author of a new book on the administration.
Related: Melania Broke Up With Donald Trump But He 'Wooed Her Back,' Book Author Claims
Ronald Kessler, a former Washington Post reporter, said that his book, The Trump White House: Changing the Rules of the Game, released last week refers to the first daughter and president's son-in-law as "'the teflon aides' because they have been behind the most disastrous and most foolish decisions of the Trump presidency."
"Trump is aware of the problem, he has told them maybe they should go back to New York," Kessler said on The Domenick Nati Show on iHeartRadio Monday. But, he added, "they're not going to go anywhere because he is not going to fire a family member."
Ivanka Trump and Kushner, who had no prior government experience before entering the West Wing, have been reported to be close to getting the boot for some time.
The president told the couple they should continue serving, but also privately asked chief of staff John Kelly for help in moving them out of the White House, The New York Times reported last month. The president sees Kushner as a liability due to investigations into his family-owned real estate company, his legal entanglements and the downgrade of his security clearance, people familiar with his views told the newspaper.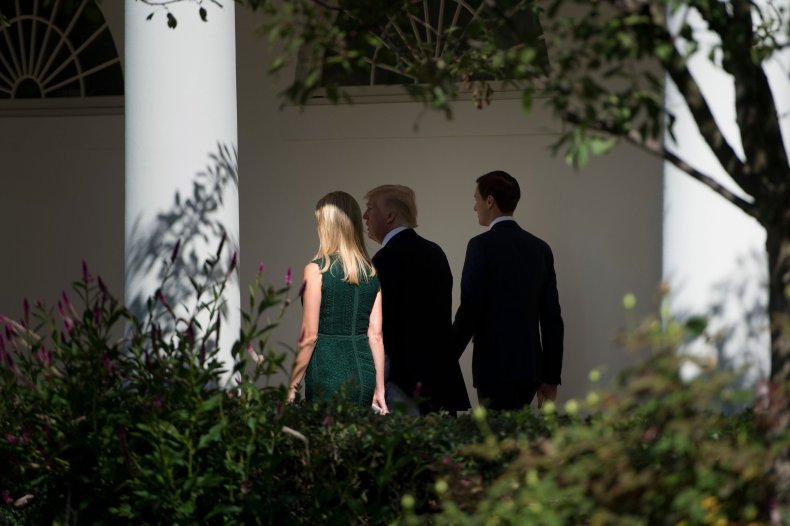 Donald Trump reportedly previously said that the couple should not have come to Washington D.C. because they have been slammed by media and critics. He told his daughter in front of other staffers, "Baby, you're getting killed, this is a bad deal," Politico reported in September.
Another theory is that the couple may stay in Washington, D.C. through May or June when the school year ends, then pack their bags for New York, as Vanity Fair reported earlier this month.
But that may not materialize, as the president has continued to tout his eldest daughter's work and the couple continue working and making public appearances.