Ivanka Trump and Jared Kushner Were Partying in Washington As the President Went to War With Steve Bannon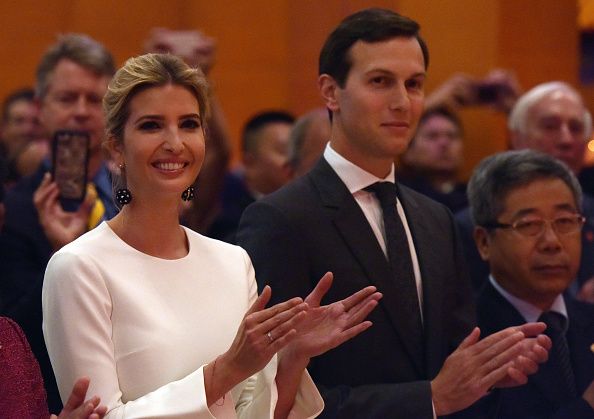 Ivanka Trump and husband Jared Kushner were both seen at a party Thursday night at the Trump hotel in Washington while the president was battling it out with former White House chief strategist Steve Bannon over his remarks in Michael Wolff's book Fire and Fury: Inside the Trump White House.
"Meanwhile, Kushner and Ivanka Trump are doing a party at the Trump hotel tonight, as the Bannon book rages on," tweeted Maggie Haberman of The New York Times.
In the book, Bannon was quoted saying that Donald Trump Jr.'s meeting with a Kremlin-linked Russian lawyer during the 2016 campaign was "treasonous" and "unpatriotic." He also said the president likely met later with participants from the meeting.
"The three senior guys in the campaign thought it was a good idea to meet with a foreign government inside Trump Tower in the conference room on the 25th floor—with no lawyers. They didn't have any lawyers," Bannon reportedly said. "Even if you thought that this was not treasonous, or unpatriotic, or bad shit, and I happen to think it's all of that, you should have called the FBI immediately."
Trump took to Twitter on Thursday night and said the book was "full of lies." He also said Wolff did not have access to the White House.
"I authorized Zero access to White House (actually turned him down many times) for author of phony book! I never spoke to him for book. Full of lies, misrepresentations and sources that don't exist. Look at this guy's past and watch what happens to him and Sloppy Steve!" Trump tweeted.
Trump has also said his former strategist is unstable and threatened to sue both Bannon and Wolff over the book.
Bannon sharply criticized Ivanka Trump, according to Wolff. He is quoted in the book as describing the president's daughter as "dumb as a brick." According to a previous report, he called her the "queen of leaks," to which she responded by calling him a "fucking liar." After the attacks, the bot account @TrumpsAlert said she either unfollowed or blocked Bannon.
Trump's lawyers sent Bannon a cease and desist letter after details from the book emerged this week before it was published. Bannon left the White House in August.
"Steve Bannon has nothing to do with me or my presidency," Trump said Wednesday in a statement. "When he was fired, he not only lost his job, he lost his mind."