'Tell Daddy, Enough!': Ivanka Trump and Jared Kushner's Neighbors Protest Immigration Policy Outside Their Home
Neighbors of first daughter Ivanka Trump and her husband Jared Kushner made known Wednesday their displeasure with President Donald Trump's failure to meet a deadline to reunite all separated migrant families.
Related: Trump immigration policy: From separating families to H-1B visas, here are his restrictions so far
More than a dozen people from the upscale Kalorama neighborhood in Washington, D.C., stood outside the couple's house holding signs declaring, "Tell Daddy, enough!" "Love thy neighbor" and "Reunite," photos from the Daily Mail show.
The protest, apparently the first by the senior White House advisers' neighbors, was staged a day after the Trump administration failed to reunite all migrant families separated as a result of its "zero-tolerance" immigration policy.
By Tuesday afternoon, four of 102 children identified for the first reunification deadline had been returned to their parents, and 34 were scheduled to be reunited by the day's end, CNN reported. That fell short of the 54 that the federal government stated would be reunited.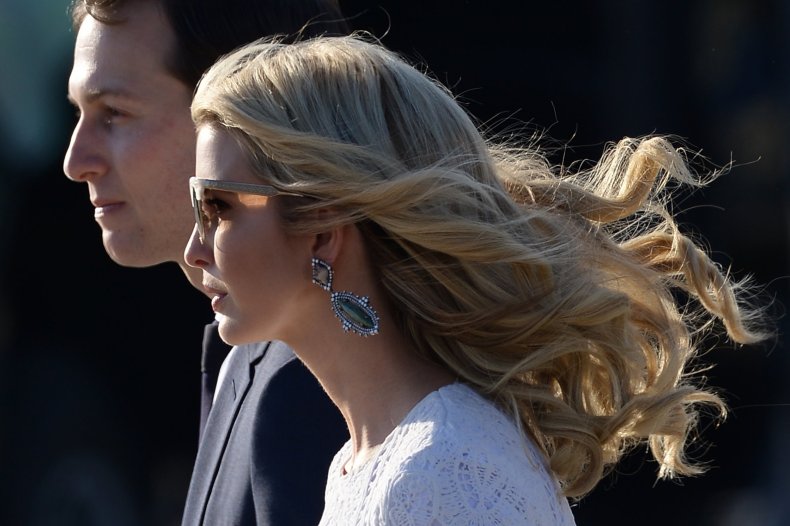 Riley Temple, 69, who lives just a couple of blocks away from the White House couple, said the protest was a response to extraordinary circumstances.
"This is a first. These were all Kalorama neighbors. Under normal circumstances we would never protest outside a home," Temple, a retired lawyer and theology teacher, told the Daily Mail. "But these are not normal circumstances. We shattered the custom because they have shattered civility."
Temple called Trump's policy "crimes against humanity" and said, "We didn't want our customary silence and customary respectful distance to be seen, in any way, as assent to these policies."
Ivanka Trump reportedly arrived home around 6:30 p.m. but left 45 minutes later and did not return until 9 p.m., after the neighbors had dispersed. Meanwhile, Kushner got home around 7 p.m. and was present when the protest started shortly before 8 p.m.
The first daughter also drew heat about her father's immigration policy during a visit to a school in Syracuse, New York, on Monday afternoon. About 100 protestors yelled, "Shame!" and "What about the children?" as she arrived to a roundtable discussion on education and workforce development.
Ivanka Trump has largely supported her father's claim that Democrats in Congress are to blame for family separations.
"Thank you @POTUS for taking critical action ending family separation at our border," she tweeted on June 20. "Congress must now act + find a lasting solution that is consistent with our shared values; the same values that so many come here seeking as they endeavor to create a better life for their families."
Ivanka Trump and Kushner appear well aware they are unpopular among some Americans and have reportedly adjusted their daily life accordingly. The couple attend spin classes close to their home early in the morning at a studio that holds sessions in the dark, to go unseen, according to a report from The Washington Post this week.