Ivanka Trump and Jared Kushner Were 'Reckless' and 'Omnipresent' in White House Says Former Donald Trump Legal Spokesman
Further revelations from a forthcoming book about President Donald Trump's daughter Ivanka Trump and his son-in-law Jared Kushner, both senior White House aides, have cast the pair as out of touch because of their privileged upbringings.
In an extract from Kushner, Inc. by Vicky Ward, published by ABC News, Mark Corallo, a former legal spokesman for Donald Trump, and other unnamed sources in and around the president's legal team explained various difficulties they encountered while dealing with the first daughter and her husband.
The extract also details Corallo's own interactions with the president and his family members and their various legal representatives as they dealt with the messy circumstances surrounding a meeting with Kremlin-linked lawyer Natalia Veselnitskaya, at which Kushner was present, during the 2016 presidential campaign.
Ivanka Trump and Kushner seemed to be perennially interfering with the president's meetings. Ward wrote that Corallo believed the pair failed to grasp the seriousness of the Russia investigation.
"Corallo explained to me that Kushner and Ivanka appeared not to have any understanding of the difference between a regular PR issue and a federal criminal investigation, and how you cannot get between the president and his lawyers without becoming witnesses and ruining the privilege of the conversations. 'They were reckless,' said Corallo. 'They were omnipresent,'" the extract reads.
"The lawyers noticed that the couple, one or the other of them, mostly Ivanka, interrupted pretty much every meeting they had with the president. One member of the group said Ivanka would just 'mysteriously' happen by for every meeting. 'We'd just be sitting there awkwardly, like, Okay, well, we can't really talk until she leaves,'" Ward wrote.
Another anonymous source told Ward that the pair were difficult to deal with because of their privileged upbringings. "They talk to you as if they grew up in an ivory tower, which they did—but they have no idea how normal people perceive, understand, intuit," an unnamed individual close to Trump's legal team told Ward.
"The type of people who, if you don't pretty much indicate quickly that you're happy to shove your head up their ass, you're immediately a threat," the source told Ward.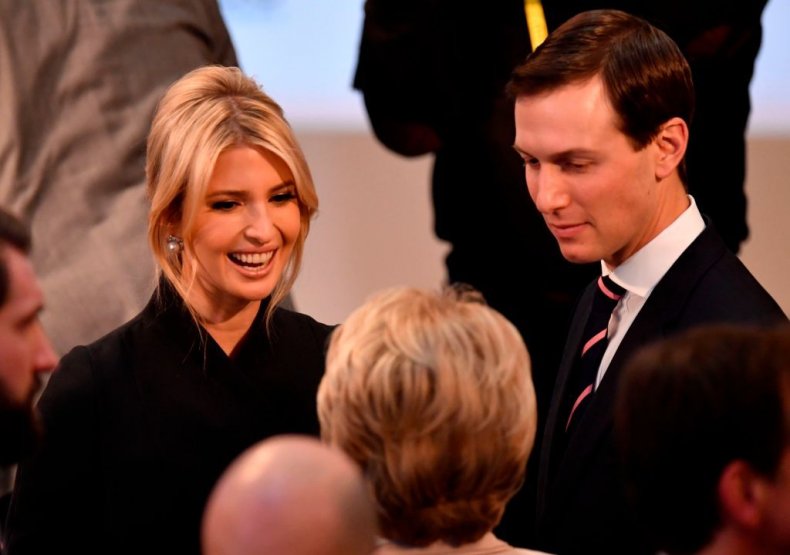 The White House has dismissed the claims made in Kushner, Inc., with a representative for Kushner flatly denying the allegations made. "It seems [Ward] has written a book of fiction rather than any serious attempt to get the facts," Kushner's lawyer, Abbe Lowell, told The New York Times.
"Every point that Ms. Ward mentioned in what she called her 'fact checking' stage was entirely false," Lowell said. "Correcting everything wrong would take too long and be pointless."
According to another book full of alleged insider information, Fire and Fury: Inside the Trump White House, by author Michael Wolff, Corallo left the White House because he felt that a statement, dictated by the president from Air Force One over the meeting with Veselnitskaya, may have been an obstruction of justice.
Initially it was claimed the meeting between Kushner, Donald Trump Jr., former campaign manager Paul Manafort and Veselnitskaya concerned a Russian adoption program. Later leaked emails revealed this explanation was false and the Trump campaign officials held the meeting to discuss digging up dirt on Trump's presidential rival Hillary Clinton.