Ivanka Trump, Jared Kushner Have Secret Email Account Hosted by Trump Organization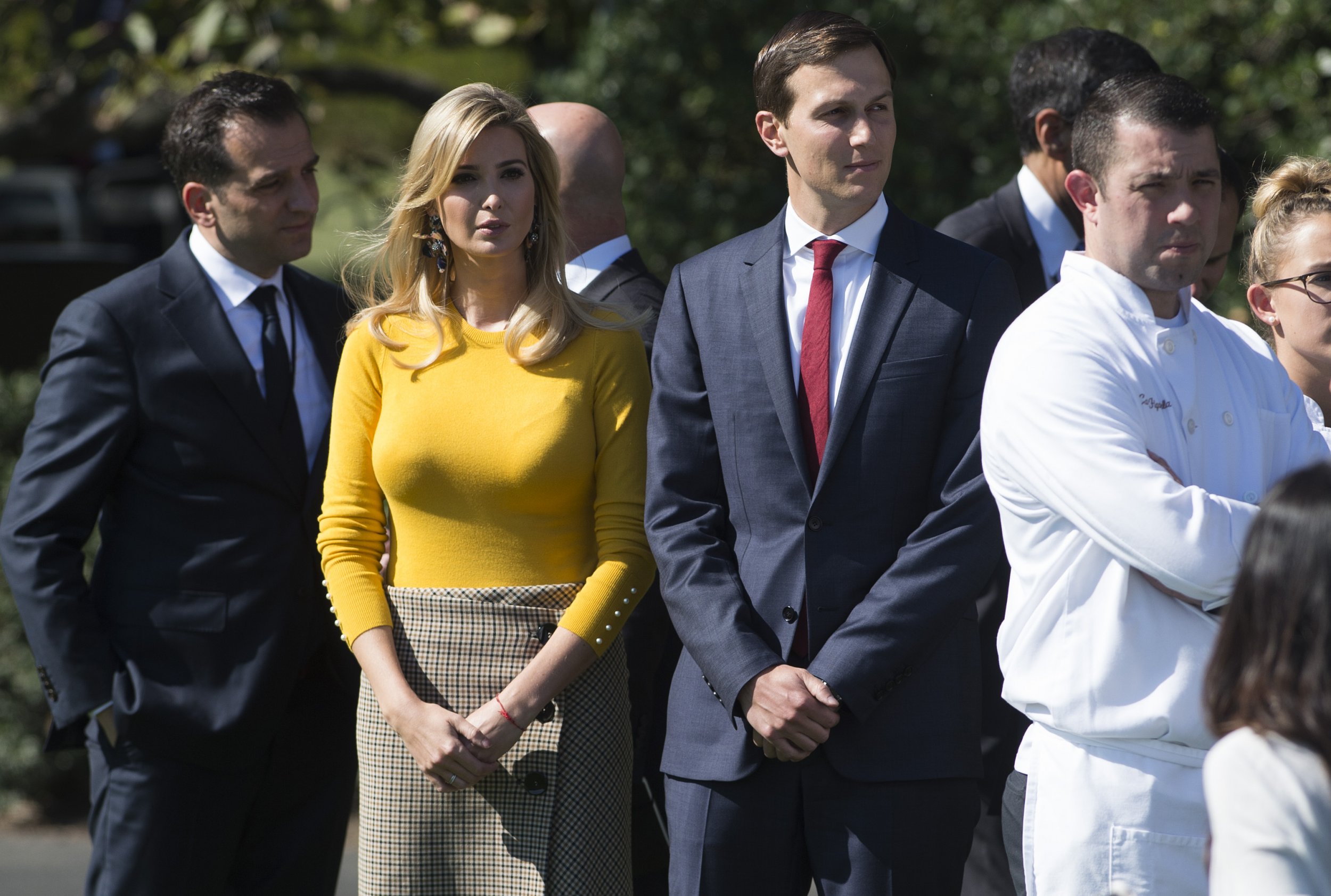 Updated | A spokesperson for Ivanka Trump and Jared Kushner denied reports indicating the couple had an email account that used Trump Organization servers in a statement emailed to Newsweek Tuesday afternoon. "Mr. Kushner's and Ms. Trump's personal family email account does not reside and never has resided in, nor passed through, the Trump Organization email server," they said, noting the account featured a filtering service to block potential viruses and malware and had preserved work-related emails in the White House system. The spokesperson did not explain why multiple public databases connect the email account to Trump Organization servers, nor did they state whether any emails were deleted from the account used to conduct government business after Donald Trump's election.
Original story:
Ivanka Trump and Jared Kushner used another nongovernment private email account for government business after President Donald Trump's election that appears to have been hosted by the Trump Organization.
The married couple registered the domain ijkfamily.com on December 31, just 21 days prior to Trump's inauguration, Politico reported Monday night. Internet sleuths including Arieh Kovler, a communications consultant, responded to the reporting by quickly uncovering a critical component of the story: A joint email account on ijkfamily.com, the Kushner family domain, that was used by two of the president's closest advisers and monitored by their personal household staff was hosted on servers owned by the Trump family's private organization.
The new finding is likely to raise a number of ethics and security concerns, including whether it's appropriate or even legal for members of the White House administration to use email accounts hosted by the first family's private business. There's also the issue of who had access to the couple's private email account during their time in the White House: Anyone from employees of the Trump Organization to the company it uses for IT purposes, BBH Solutions, as well as foreign adversaries and hackers, may have already gained access to the data—or could eventually retrieve the emails if they remain stored on Trump servers.
"This means the Trump Organization's IT people presumably have access to these emails, which widens the circle of nongovernment people who can see what was being sent," Kovler, who made the discovery after Politico broke the news on Monday night of a third nongovernment email account used by Trump and Kushner, tells Newsweek. "And as we learned with Hillary Clinton, emails can sometimes be classified even when they're not initially marked…hackers all over the world would love to get their hands on these, if they haven't already."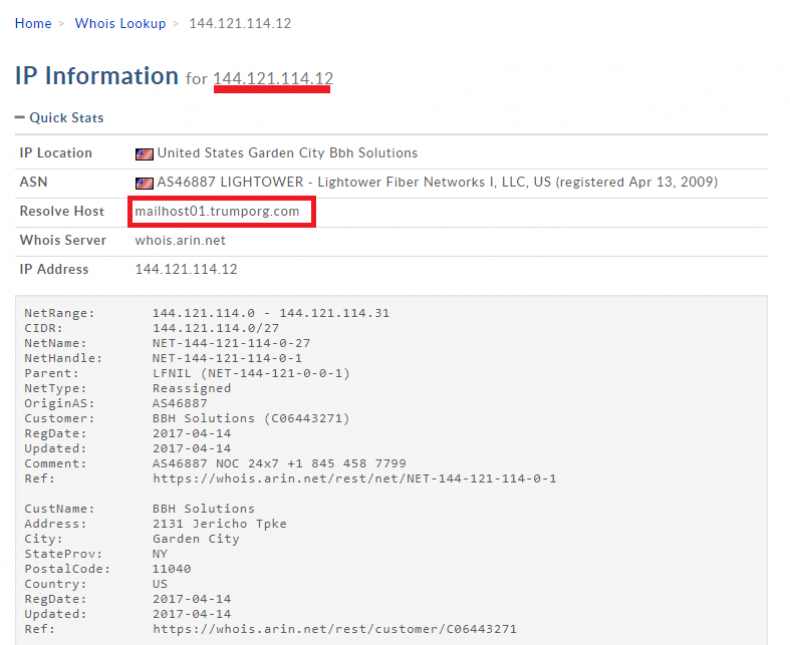 Previous Newsweek reporting indicates Ivanka Trump and Kushner both appeared to maintain their own private email accounts long after the 2016 election, using them to become familiar with government officials and to schedule introductory meetings as new White House officials, as well as to send emails to private persons. Hundreds of emails were also sent from White House email addresses to the Kushner family domain, registered with the web hosting company GoDaddy using Domains by Proxy, a company that hides data about the owners of domains.
An analysis of the mail servers that were responsible for accepting email messages on behalf of the Kushner domain indicates there are two listed servers receiving emails for the ijkfamily.com domain the couple reportedly established just before officially taking on their White House duties. Further analysis using a tool to obtain information about internet servers, called NSLookup, shows two IP addresses that are linked to mail servers owned by the Trump Organization.
A second analysis of those mail servers using NSLookup traces them back to the Trump Organization once again, confirming the emails are in fact hosted by the private organization.
The couple appears to access email through this account using a private Office 365 account, according to screenshots shared on Twitter by Zack Whittaker, security editor at ZDNet. The domain used to send and receive emails appears to have been open for use as recently as Tuesday morning. The domain ijkfamily.com does not appear to be used for a website, but rather as a domain for purposes including private email account ownership.
Founded in 1989, the IT company BBH Solutions bills itself on LinkedIn as a "world class data center for your protection." Newsweek has reached out to BBH Solutions about its relationship with the Trump Organization and the idea that its employees could potentially gain access to the Trump and Kushner emails.
The use of emails hosted by the Trump Organization by White House officials could also be a potential violation of the total blind trust the president claimed to take on after the election, which allows his sons to operate the Trump Organization while he runs the White House.
Another potential issue regarding the Trump and Kushner emails: As with the Hillary Clinton email imbroglio, were any emails deleted from these private servers?
"The White House instructs staff to fully comply with the Presidential Records Act and applicable guidelines for work-related communications," White House Press Secretary Sarah Huckabee Sanders said in a statement emailed to Newsweek Tuesday. "In light of recent congressional inquiries, we have briefed staff on the need to preserve records and working to ensure compliance."
The Trump Organization, BBH Solutions and an attorney for Trump and Kushner did not immediately respond to requests for comment.