Ivanka Trump Helped Republican Raise Over $3 Million From Two California Fundraising Events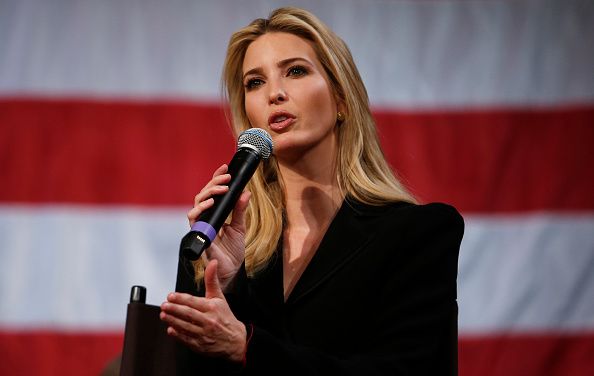 Ivanka Trump has been going strong on the fundraising trail alongside House Majority Leader Kevin McCarthy in an attempt to keep the Republican Party in control of Congress this midterm election cycle.
The duo raised over $3 million in two events on Monday in Los Angeles and Fresno, California. The money will go toward Protect the House, a joint fundraising committee between Paul Ryan and McCarthy that will help vulnerable GOP representatives and senators keep their seats this November.
In May, Protect the House hosted at least eight events in New York, Illinois, Florida, Pennsylvania and Texas. The group raised $5 million from February to May and seemed to be picking up steam with Ivanka Trump's presence. An aide involved in the event said that it raised far more money than was originally expected, according to Politico.
An invitation sent to donors at the luncheon in Fresno listed Ivanka Trump as a "featured guest" and noted that her "participation in the event is not a solicitation of funds."
Ivanka Trump has been slammed by ethics experts for some of her fundraising work in the past, especially when she solicited donations as large as $100 million from foreign countries like Saudi Arabia toward a fund for women entrepreneurs that she had spearheaded. It is generally frowned upon, and in some cases illegal, for a federal employee to solicit donations.
At the luncheon event in Fresno, McCarthy and Ivanka Trump used the fundraising opportunity to also tell GOP donors and political leaders about the new immigration legislation that is slated to hit the House floor sometime this week.
"McCarthy publicly stated that the [congressional] leadership is meeting with the president tomorrow to discuss the bills and see which he favors," Tal Cloud, leader of the Lincoln Club of Fresno County, told the Fresno Bee after the event.
Outside of the event, protesters lined up to rally against the Trump administration's "zero tolerance" policy, which has resulted in children being separated from their families at the border. These children are being held in detention centers across the country while their parents await trial.
Ivanka Trump has largely remained silent on the policy but has continued to post photos of her and her children on social media while children and their parents continue to be dispersed.