Ivanka Trump Lied About Trump Organization Projects to Secure Deals Worldwide: Report
Before becoming first daughter, Ivanka Trump, among other family members within the Trump Organization, deceived real estate investors and buyers and often profited from the deals that materialized, according to a new investigative report.
Ivanka Trump in press conferences and interviews overstated sales numbers for Trump Organization properties in Panama, New York City's SoHo neighborhood and Toronto, and suggested she was a developer of a project in Baja, Mexico, according to ProPublica and WNYC in an investigative report published Wednesday.
"These statements weren't just the legendary Trump hype; they misled potential buyers about the viability of the developments," the report states.
In Panama City, the Trumps were involved in building the Trump Ocean Club tower and hotel complex, and Donald Trump gave his daughter, then in her mid-20s, a leading role in facilitating it.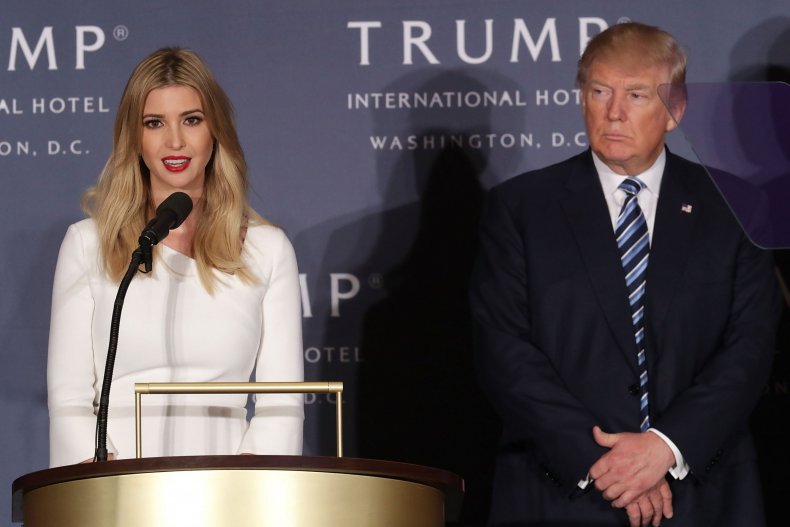 In a November 2008 interview, Ivanka Trump boasted that she had sold 40 units in Panama the previous month. "It's a 1,000-unit building, we've sold over 90 percent of it," she said, adding that the units were going at a "500 percent premium to anything the luxury market has ever experienced prior to our entry."
Three months later, Moody's reported that only 79 percent of the units had been sold. Data filed with Panama securities officials showed that the units went at about a 130 percent premium—not 500 percent—of what comparable luxury buildings got.
Ivanka Trump also hid the fact that ratings for the Trump Ocean Club bonds dropped in February 2009, according to the report.
"Given the global downturn, the fact that sales remain so robust is a testament to the product, the brand and Panama," she told the Latin Business Chronicle. "Our biggest problem is not having enough inventory. We only have a small percent of the building left."
Trump Ocean Club opened in July 2011, close to a year behind schedule due to construction delays and cost overruns. Ivanka Trump is said to have chosen the design finishes and look for the "sky lobby."
She claimed in 2008 that she was involved in "every aspect" of the Trump Organization's new construction projects.
"[A] lot of what I do is get involved in the acquisition process, from sourcing the potential opportunities and then the initial due-diligence process, but then, of course, I follow the deals through to predevelopment planning, design, interior design, architectural design, sales and marketing, and, ultimately, through operations," she said.
Trump Ocean Club went bankrupt and the Trump name was ousted from the property.
With the Trumps's SoHo tower, Ivanka Trump told reporters in June 2008 that 60 percent of the units had sold, when the figure was really 15 percent, an affidavit filed by a partner showed. The Manhattan district attorney's office investigated potential felony fraud charges but ultimately chose not to pursue them after a visit from Donald Trump's personal lawyer, Marc Kasowitz, the report stated. Kasowitz was a donor to Manhattan District Attorney Cyrus Vance, who has denied being influenced by that fact.
Ivanka Trump misled parties in a Toronto property as well, according to the report, claiming it was "virtually sold out," when only 24.8 percent of units had gone off the market, a 2016 bankruptcy filing by the developers indicated.
Like Trump Ocean Club, the SoHo and Toronto projects were built, filed for bankruptcy and rid themselves of the Trump name.
In the Baja project, Ivanka Trump at a sales event in 2007 said the Trump Organization was a developer and reportedly attempted to leverage a unit she purchased to attract other buyers.
"I personally am very excited about it, I actually chose to purchase a unit in the first tower," she said in a promotional video. But, according to the report, she paid less than half of the 30 percent deposit that other investors put in.
The Trump Organization did not immediately respond to a request for comment from Newsweek on Wednesday.
As the first daughter and a senior White House adviser, Ivanka Trump has continued to face problems from her past business. Financial disclosure forms released in June showed that she and her husband Jared Kushner over the last year grew wealthier but also faced more debt.
In July, Ivanka Trump shuttered her namesake fashion brand, apparently out of frustration with the restrictions she had to put on the company to avoid the appearance of conflicts of interest with her government job.