Ivanka Trump May Be First in Family to Interview with Jan. 6 Committee
Ivanka Trump is currently in negotiations to be the first member of the Trump family to be interviewed by the January 6 House committee.
According to a spokesperson, Ivanka is negotiating a deal with the committee to voluntarily be interviewed in relation to her role on January 6, 2021, according to The New York Times. "Ivanka Trump is in discussions with the committee to voluntarily appear for an interview," the spokesperson said.
Previously, Eric Trump and Kimberly Guilfoyle had their phone records subpoenaed but did not testify to the committee, CNN reported.
Ivanka's possible interview date with the House committee has not been confirmed. According to sources in The New York Times report, the date has yet to be agreed upon and a subpoena is not likely to be issued in connection to her.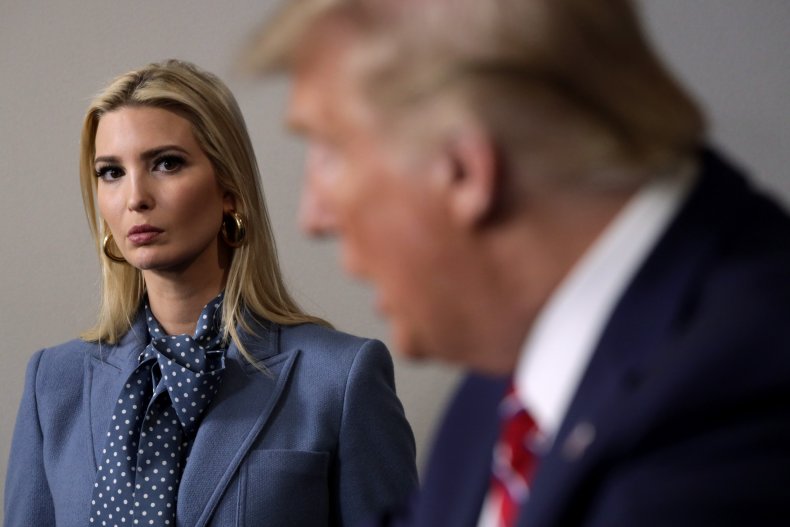 Sources also say that Ivanka is taking the opposite of the approaches taken by her father's allies toward the January 6 committee. One such ally is Steve Bannon, who was charged with contempt of Congress after defying the subpoena issued against him. Whether this means that she will fully discuss her actions on the day of the U.S. Capitol riots is unclear, as she would be "unlikely to take any step that [her father] did not know about and approve of," according to The Times' sources.
The development comes a month after former President Donald Trump fought back against the mounting subpoenas related to his children.
"It's a disgrace, what's going on," Trump told the Washington Examiner in January. "They're using these things to try and get people's minds off how incompetently our country is being run. And they don't care."
Newsweek previously reported that the January 6 committee is interested in everything that Ivanka has to say regarding the Capitol riots, especially what she heard before her father spoke at a rally that many claim sparked the riots.
"The Select Committee wishes to discuss…the conversation you observed between President Trump and Vice President Mike Pence on the morning of January 6," stated the letter addressed to Ivanka. "Similarly, the Select Committee would like to discuss any other conversations you may have witnessed or participated in regarding the President's plan to obstruct or impede the counting of electoral votes."
Ivanka reportedly urged her father to condemn the violence exhibited at the U.S. Capitol, publicly stating that "any security breach or disrespect to our law enforcement is unacceptable. The violence must stop immediately. Please be peaceful."
Update at 2/23/2022 on 4:36 p.m. EST: This story has been updated to include background information.