Ivanka Trump is 'Useless' and a 'Pretty Little Girl,' Michelle Wolf Says in Defense of Samantha Bee
Comedian Michelle Wolf, who provoked criticism for a series of jokes at the expense of White House press secretary Sarah Huckabee Sanders at April's White House Correspondents' Dinner, has now taken aim at another woman in the Trump administration.
Wolf was speaking in defense of fellow comedian Samantha Bee who was widely condemned, and later issued an apology, last month, for referring to President Donald Trump's eldest daughter and senior adviser, Ivanka Trump, as a "feckless c***." Bee's comment came in response to Trump posting a photo on social media of her and her son amid an uproar about a new Trump administration policy of separating children from their parents if they crossed the border without authorization.
"I mean, Ivanka is part of the Trump administration," Wolf told The Daily Beast last week after suggesting that most critics may not have understood the origins of Bee's jibe. "She's fair game. And she is useless. So I think it's very fair to point out that she's doing a terrible job."
Wolf added: "Yeah. Aw, she's one of those worst kind of girls. We're all fooled by her because Eric and Don Jr. aren't attractive, and then we pull that, 'Well, she's just a little girl! She's just a pretty little girl.' And that's why you shouldn't underestimate women: they'll look like a pretty little girl and they'll steal the children right out from under you."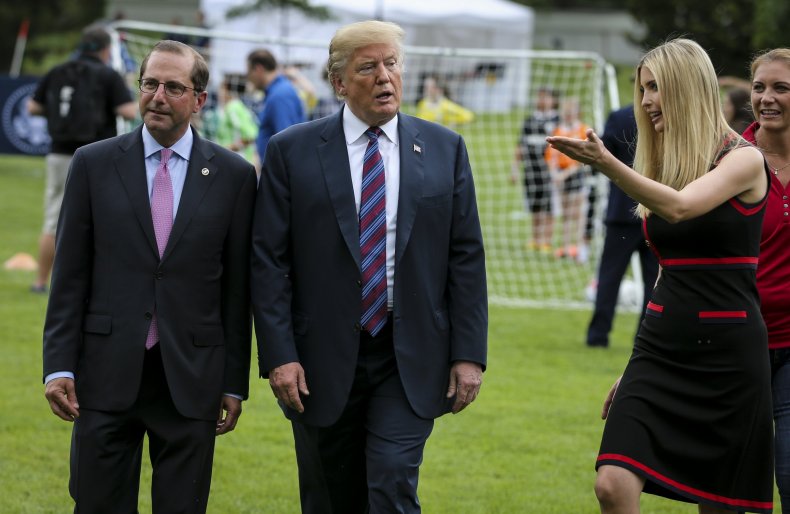 Trump has faced repeated criticism since entering the White House last year without any political experience to her name. As well as cries of nepotism, she has been taken to task for failing to rein in the more hardline urgings of her father, President Donald Trump. Ivanka Trump, who along with her husband and fellow senior adviser Jared Kushner is a former Democratic donor, was hoped by some to be a modifying influence in the White House.
Instead, the Trump administration has cracked down hard on undocumented immigrants, pulled out of the Paris climate deal and signed a ban on some transgender people serving in the United States military.
Ivanka Trump, who has said that she tries to "stay out of politics," has defended herself against critics who say she should have done more to influence her father.
"Some people have created unrealistic expectations of what they expect from me," she told the Financial Times last September "That my presence in and of itself would carry so much weight with my father that he would abandon his core values and the agenda that the American people voted for when they elected him. It's not going to happen. To those critics, shy of turning my father into a liberal, I'd be a failure to them."