Ivanka Trump Tweets 'Thank You, Mr. President!' Gets Hit With 'You Are Toast!'
First daughter and senior White House adviser Ivanka Trump was mocked on Wednesday morning for praising her father, President Donald Trump, with many Twitter users pointing to the formal impeachment inquiry into his actions that was launched the day before.
"Thank you, Mr. President!" Ivanka Trump tweeted, along with a photo of her father standing and holding up his fist victoriously.
Justin Hendrix, executive director of the NYC Media Lab, replied, "... for admitting impeachable high crimes! You are toast!"
Get your unlimited Newsweek trial >
Another Twitter user replied to Ivanka Trump, "He is being impeached. The #TrumpCrimeFamily is going to be indicted. The end is near."
Some Twitter users replied to Ivanka Trump with graphics of her father and brought up insults that his skin appears orange or peach, as in "impeach."
"I'm not orange. #ImPeach," a Twitter user quipped.
Get your unlimited Newsweek trial >
The impeachment chatter on Twitter follows Speaker Nancy Pelosi's announcement Tuesday that the House of Representatives is launching a formal impeachment inquiry into the president. Pelosi long hesitated to begin impeachment proceedings against Donald Trump, but changed her mind after the Trump administration refused to disclose a whistleblower complaint on his communications with a foreign leader.
Trump has acknowledged talking about 2020 Democratic front runner Joe Biden during a phone call with Ukrainian President Volodymyr Zelensky in July. Trump maintains the conversation took place in relation to combating "corruption" in the country. President Trump's personal lawyer Rudy Giuliani has accused then-Vice President Biden of pushing for a Ukrainian prosecutor's ouster to benefit his son, Hunter Biden, who had business dealings in Ukraine. No evidence has surfaced suggesting either Biden committed a crime.
A Twitter user replied to the first daughter by quote tweeting a post by Dan Pfeiffer, a former senior advisor to President Barack Obama, laying out some of the allegations pertaining to the whistleblower complaint.
"Worth noting," Pffeiffer wrote, "Asking Ukraine to investigate Biden is a crime. Lying to Congress about Ukraine aid to cover up a crime is a crime. Conspiring to withhold the Whistleblower complaint is a crime. Utilizing State Department resources to help Giuliani attack Biden is a crime."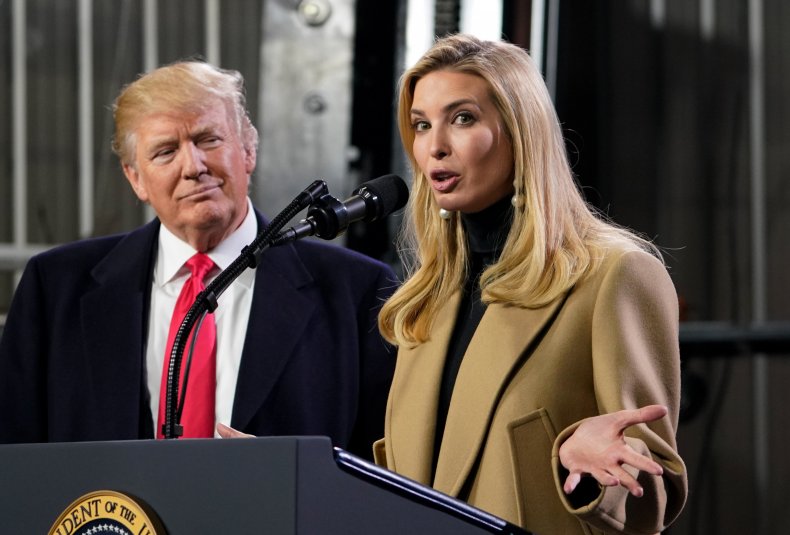 Other Twitter users expressed confusion on what Ivanka Trump had to thank her father for.
"Ummm...for what?" a Twitter user replied to the first daughter. "This post is just bizarre."
"I just got up," another Twitter user wrote. "Did he resign?"
#TrumpImpeachment was trending on Twitter on Wednesday as Ivanka Trump faced criticism for paying tribute to her father.
Ivanka Trump Tweets 'Thank You, Mr. President!' Gets Hit With 'You Are Toast!' | Politics