Ivanka Trump Says She Got Her Moral Compass From Donald in Appeal to Rich Donors
At a recent Trump campaign fundraiser, first daughter and senior White House adviser Ivanka Trump appealed to wealthy donors by sharing that she got her moral compass from her father, President Donald Trump.
She made her confession, something that could be pleasing for the president's supporters to hear, at a fundraiser in Jackson Hole, Wyoming, in mid-August when asked to reveal what personality traits she got from her parents.
The first daughter quickly replied that her mother, Ivana Trump, showed her how to be a successful and powerful woman. Ivanka Trump then said her father gave passed to her his moral compass, two attendees at the fundraiser with about 120 donors told Politico in a report published Friday.
It wasn't the first time that Ivanka Trump has credited her father for her moral compass. At the 2016 Republican National Convention, she said, "my father taught my siblings and me the importance of positive values and a strong ethical compass."
Newsweek subscription offers >
The White House did not immediately respond to a request for comment from Newsweek on Friday. Ivanka Trump declined to comment to Politico through a White House spokesperson.
Newsweek subscription offers >
Ivanka Trump's admission is part of the Trump campaign's strategy to use the family's personal stories to woo donors, which former first families including the Bush's and Clinton's have done before.
During the fundraiser in a lodge in the Wyoming mountains, held by Republican House Minority Leader Kevin McCarthy and moderated by ex-Entertainment Tonight host Mary Hart, Trump called in and said hello on speaker to donors' absolute delight, according to four people who attended. Two attendees said the president implied that his daughter and her husband and fellow senior White House adviser Jared Kushner could speak for him.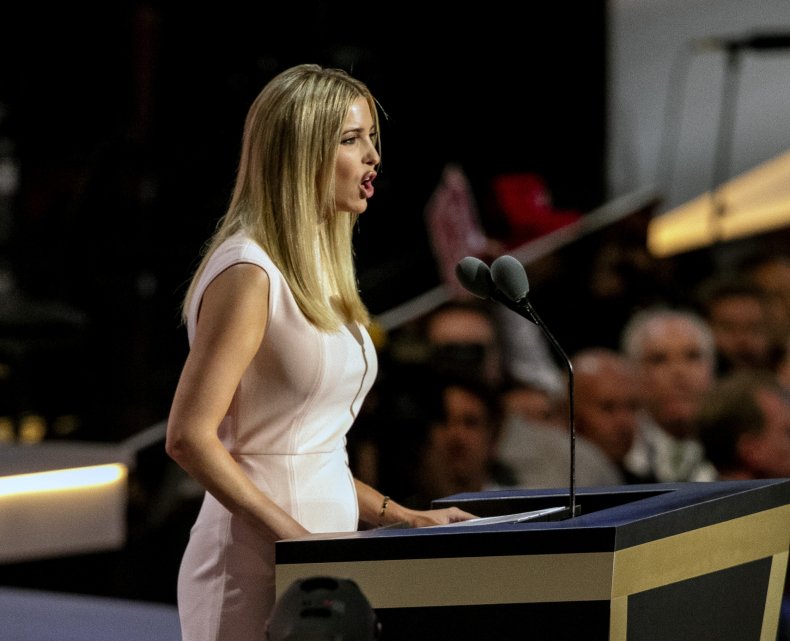 A White House adviser told Politico that Trump, Vice President Mike Pence and first lady Melania Trump if she was willing, are great draws for donors and "the next best things are the kids. You have to fill the program with surrogates the donors want to see."
A Republican operative told the media outlet that much of the major donor class does not know the president and "the kids are very important" for making up ground.
Ivanka Trump has previously said she does not agree with her father on everything.
"Where I disagree with my father, he knows it," she said on CBS This Morning in April 2017. "And I express myself with total candor."
Ivanka Trump Says She Got Her Moral Compass From Donald in Appeal to Rich Donors | News