'Every Teenager's Worst Nightmare': Ivanka Trump Ridiculed by MSNBC Host Over Video With World Leaders
Ivanka Trump has continued to receive negative feedback for an awkward video in which she tried to interject herself into a conversation with world leaders, even as the White House attempted to hit back at the criticism Monday.
A video of Trump, the president's eldest daughter and a senior White House adviser, talking at the G20 summit with British Prime Minister Theresa May, French President Emmanuel Macron, Candian Prime Minister Justin Trudeau and International Monetary Fund chief Christine Lagarde went viral after being shared by the French government. The reaction of Lagarde, in particular, was seen by many as a symbol of the nepotism they argued had granted her a stage with elected world leaders.
"Pretty stunning visual, quite frankly," MSNBC host Kasie Hunt said after Morning Joe aired the video of the interaction Monday. "I think it says a lot about where the president puts Ivanka's council in his own esteem. I mean she walks into oval office meetings at will. She clearly has been elevated by him in this particular case.
"But that video that you showed, it's almost uncomfortable to watch," she continued. "It's like every teenager's worst nightmare, where you're trying to get a word in edgewise with the cooler girls and they're just ignoring you."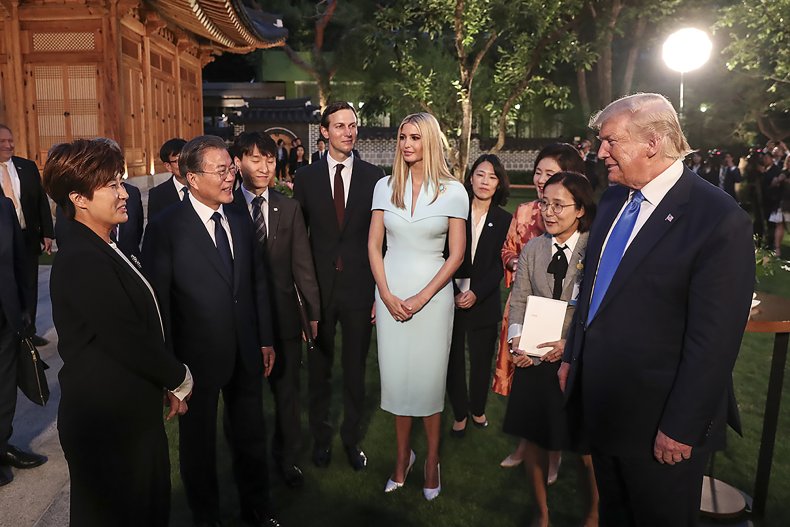 As well as reports of her regularly interjecting herself into meetings involving the president and members of Congress, Trump has also received prior criticism for representing her father on foreign soil.
At a 2017 G20 summit, Trump, who was given a White House role despite no previous political experience, sat in for the president during a meeting with world leaders.
The White House has shot back at the latest bout of criticism, with spokeswoman Jessica Ditto describing it as "absolutely pathetic" and the video clip a "misrepresentation," in an email to The New York Times.
One of the biggest critics of the first daughter was Democratic Representative Alexandra Ocasio-Cortez, who tweeted that "being someone's daughter actually isn't a career qualification."
"It hurts our diplomatic standing when the President phones it in & the world moves on," she added. "The US needs our President working the G20. Bringing a qualified diplomat couldn't hurt either."
Now-former White House press secretary Sarah Sanders fired back at the freshman congresswoman.
"Phoning it in @AOC is wasting your time on Twitter while destroying jobs in NY. @realDonaldTrump & @IvankaTrump actually created millions of new jobs and continue to make the US stronger on the global stage but thank you for reminding Americans everyday why they elected Trump," Sanders tweeted.