Photo Of Ivanka Trump Sitting In For Donald During G20 Meeting On Immigration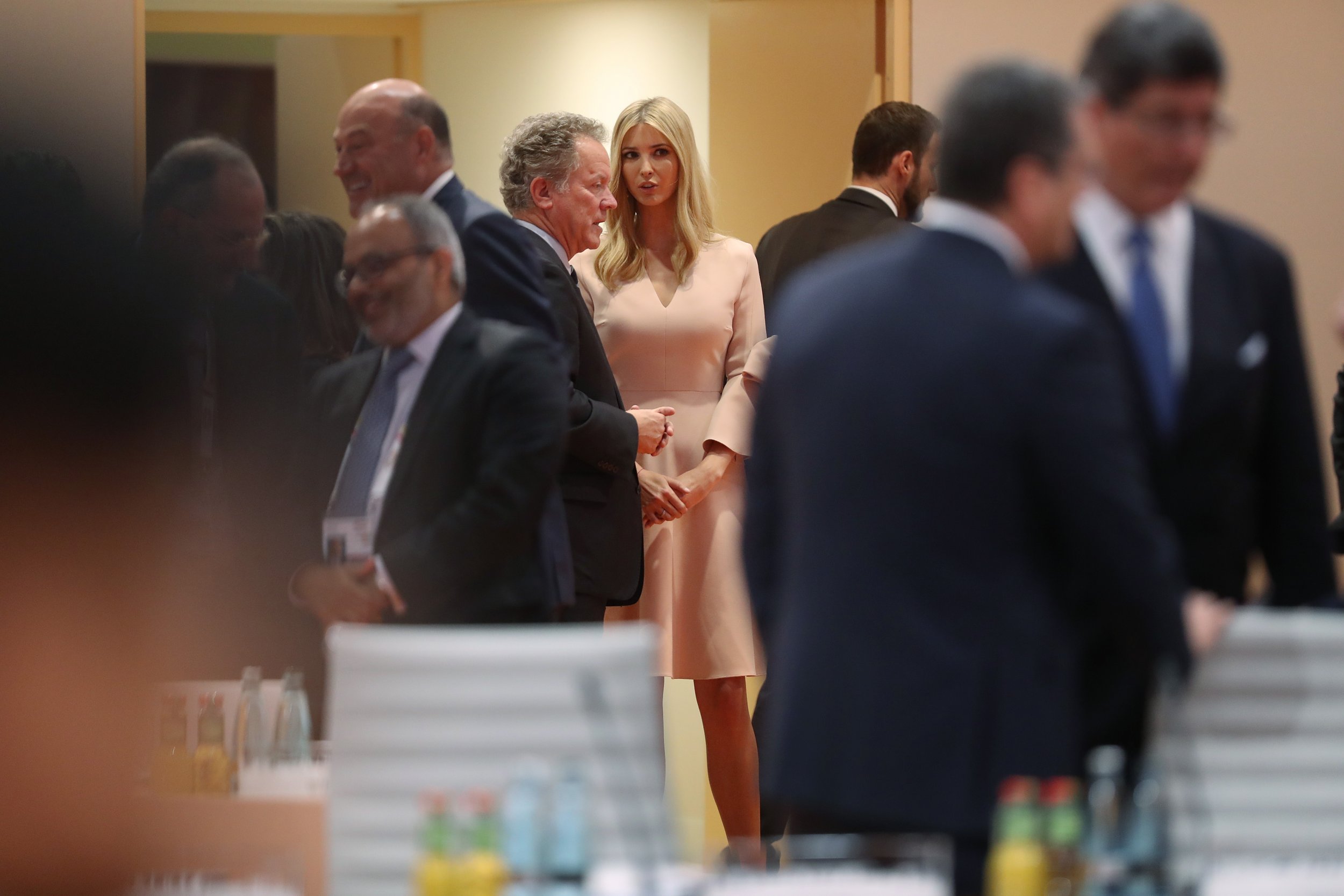 So much for staying out of the politics.
Ivanka Trump, the president's oldest daughter and a White House adviser, was seen sitting in for her father during a Group of 20 meeting Saturday in Hamburg, Germany while the president reportedly switched over to a bilateral meeting.
Ivanka Trump, who famously told Fox News last month in reference to her father's Twitter account that she tried to "stay out of politics," was snapped by a Russia negotiator nestled between Chinese President Xi Jinping and United Kingdom's Prime Minister Theresa May, according to BuzzFeed UK.
The report was later confirmed by BBC News.
Trump was reportedly attending a meeting involving Africa and immigration that was brought to the floor by South Africa, Italy and Turkey.
President Donald Trump did come back to the table with an unnamed source telling BuzzFeed UK: "Ivanka didn't take the floor during her brief 'tenure.'"
Ivanka Trump has sat down before with world leaders since her father assumed. Most famously, she attended a meeting with Canadian Prime Minister Justin Trudeau in February, and days after her father won the election she joined him for talks with Japanese Prime Minister Shinzo Abe.
And despite her stepmother Melania, some have even suggested that Ivanka Trump would be and is the country's true First Lady, especially after the president's wife did not move into the White House with their son Barron until just last month as he finished out the school year.
Along with two of her brothers, Ivanka Trump became a powerful staple at her father's global organization and has been called one of his most trusted and loyal advisers. But what kind of a role she would play in her father's White House remained a contentious point as the Trump campaign transitioned to Washington.
Ivanka was officially named an adviser in March and carved out a West Wing office, though she is not collecting a salary.
She, along with her husband Jared Kushner, played critical roles during last year's successful campaign by hitting the road and appearing with candidate Trump. Ivanka, in tandem with Kushner, were each expected to somewhat bring the president either closer to the middle or the left on social issues pertaining to women, immigration and even climate change.
But that purported effectiveness has yet to come to fruition. President Trump and the Republicans' attempts to repeal and replace Obamacare could involve massive federal cuts to Planned Parenthood, Trump's immigration ban is heading to the U.S. Supreme Court but remains intact for now and he also pulled the country out of the Paris Climate Accord, the last viewed as a major blow to Ivanka Trump's perceived influence on her father.