Ivanka Photo Resurfaces Showing Trump in Istanbul to Open New Luxury Towers
Photos have emerged showing Ivanka Trump with President Donald Trump in Istanbul in 2012 to celebrate the opening of the Trump Towers building in the city, as the president tries to force Turkey to end its invasion into Kurdish-held territory in northeastern Syria.
The image of Ivanka and Trump is among a series of shots from their time in Istanbul. Ivanka's photos also showed her with husband Jared Kushner and included a view of the newly-opened Trump Towers building as seen from the Bosphorus, which runs through the ancient city.
U.S.-Turkish relations have soured in recent weeks due to Turkey's offensive into northeastern Syria. Turkish President Recep Tayyip Erdogan has long sought to clear what he considers Kurdish terrorists from his southern border region, but has been stopped by the presence of U.S. troops stationed there to support Kurdish-led forces in the campaign against Islamic State militants.
But last week following a phone call with Erdogan, Trump abruptly announced that U.S. troops in the border region would be withdrawn, leaving the Kurds open to attack by Turkish forces and their proxies.
Trump's sudden abandonment of the U.S.'s most regional reliable allies earned him scathing criticism from across the political spectrum. It also raised questions about his potential conflicts of interests in Turkey, specifically Trump Towers in Istanbul.
The construction—made up of two conjoined towers—opened in 2012 and is one of seven current Trump Towers locations. Following the ribbon-cutting ceremony in April of that year, Ivanka tweeted, "Thank you Prime Minister Erdogan for joining us yesterday to celebrate the launch of #TrumpTowers Istanbul!"
The Trump Organization does not own the building, but instead Trump gave permission for the project's Turkish owners to use his name in exchange for a fee. Regardless, the president has described Trump Towers Istanbul as "a little conflict of interest" in his dealings with Turkey.
Indeed, Erdogan has used the building to apply pressure on the president. Responding to Trump's proposed Muslim travel ban in 2016, for example, Erdogan called for the president's name to be taken off Trump Towers.
This pressure eased after Trump expressed support for Erdogan's wide-ranging crackdown against political opponents followed a failed coup in 2016, The Wall Street Journal reported.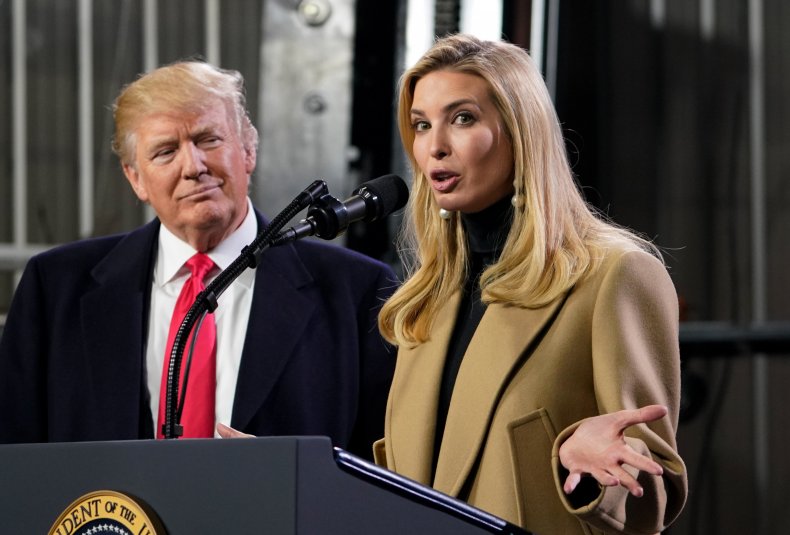 Ivanka's resurfaced Istanbul photographs will exacerbate concerns that the Trump family's Turkish business interests are influencing White House policy. The president has consistently refused to divest himself from his businesses, in violation of the Constitution's emoluments clause.
The president and his family have consistently used Trump's position to enrich their personal enterprises. Foreign governments, the secret service and even the U.S. military have all racked up huge bills at the president's properties since Trump took office.
Trump's Syria retreat gave Turkish forces the green light to advance into Syria, though the White House has consistently denied giving Erdogan implicit permission to do so.
The operation has killed hundreds, driven thousands from their homes, facilitated the escape of ISIS prisoners and forced the Kurdish-led forces to ally with the Russia- and Iran-backed Syrian government army.
Trump is now attempting to ease the domestic criticism levelled at him, ordering new sanctions he claims could "swiftly destroy" the Turkish economy.