Ivanka Trump Almost As Powerful As Queen Elizabeth II but Melania Nowhere on Forbes Most Powerful Women 2018 List
First daughter and senior White House adviser Ivanka Trump made Forbes' World's 100 Most Powerful Women 2018 list on Tuesday at number 24, just one spot behind Queen Elizabeth II. First lady Melania Trump, meanwhile, was nowhere to be seen in the 15th annual ranking.
The Forbes list further snubbed Melania Trump in its description of her husband's daughter.
"The first daughter and advisor to President Trump has become the de facto First Lady as her step-mother Melania prefers to avoid the limelight," Forbes wrote.
"Famously sitting in for her father at last summer's G2 summit, in 2018 she shuttered her fashion business to focus on a public policy career," Forbes continued. The publication states that "it's unclear how impactful her role is," but that Ivanka Trump is focusing on paid family leave, promoting women in science, creating a workforce apprenticeship program and tackling human trafficking.
"On the heels of claiming she didn't know couldn't use personal email for official business, she's going to G2 2018 to discuss the future of work," Forbes states.
While Ivanka Trump topped Melania Trump for the second year in a row, she slipped five spots from last year. The first daughter deubted on Forbes' list last year at number 19. The first lady did not make the cut last year either.
Forbes' explanation for Ivanka Trump's ranking this year was almost identical to last year's: "Ivanka has become the de facto first lady as her step-mother Melania has opted to stay mostly out of the limelight."
Ivanka Trump has been criticized as much as she has been praised for her work in the White House, which she entered with no prior government experience. The first daughter was heavily scrutinized for staying silent on her father President Donald Trump's immigration policy that led to migrant family separations at the border. When Ivanka Trump attended the Summit of the America conference in Lima, Peru, in April that her father did not end up attending, she was accused on Twitter of acting like the U.S. secretary of state.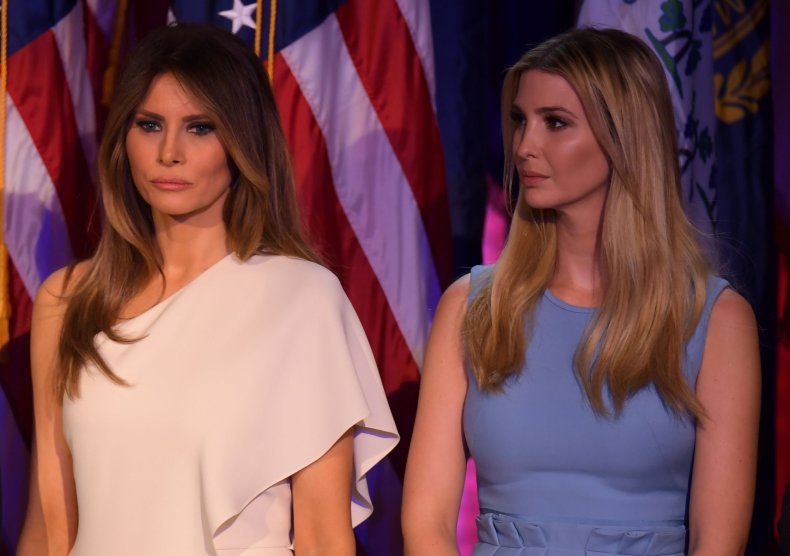 Melania Trump has been more active as a first lady this year than her husband's inaugural year. However, most of her work in public has focused on pushing her "Be Best" initiative aimed at helping children, rather than delving into major policy issues.
German Chancellor Angela Merkel topped the list for the eighth straight year and 13th time in total. British Prime Minister Theresa May came in second, just as the previous year.