Ivanka Trump 'Is Running for President or Something' While Father's Scandals Mount: Morning Joe Co-Host
First daughter Ivanka Trump's Instagram posts with photo ops across the country show she is living in a "parallel reality" as scandals around her father, President Donald Trump, mount, a co-host on MSNBC Morning Joeopined on Friday.
Mika Brzezinski said that the president's daughter and her husband Jared Kushner, both senior White House advisers, are among his few confidants "who are, I guess, still in there" as his legal troubles worsen with his onetime campaign manager's criminal conviction and former lawyer's guilty plea.
"I think Ivanka is running for president or something," Brzezinski said. "You see on Instagram she's hopscotching the country as if nothing is wrong, doing little selfies and pictures of herself in Iowa and Indiana, and wherever else, connecting with people—sort of.
"It's an incredible parallel reality going on there with his inner circle," she added.
Ivanka Trump traveled to Iowa with her father late last month to promote legislation offering incentives to technical colleges with science, technology, engineering and mathematics (STEM) courses.
"Perkins Career and Technical Education Act passed the Senate last week, passed the House this week and will be signed into law by the president after over a decade of languishing," she said in a video clip she posted on Instagram.
Her clip cut out an awkward moment when her father joked, "Maybe I'll veto it."
Earlier this month while promoting a White House initiative around workforce development, Ivanka Trump posed as Rosie the Riveter with a girls robotics team that used the feminist icon as their logo.
An Instagram post of her mimicking the pose drew praise from some social media users, but also criticism that she has failed to follow through on her promises to advocate for women when it comes to issues like equal pay.
The watchdog group Democracy Forward recently concluded based on documents obtained through a public records lawsuit that Ivanka Trump was more than just supportive of the Trump administration's rollback of an Obama-era equal pay rule—she was included in meetings on the decision and her chief of staff took part in emailed discussions.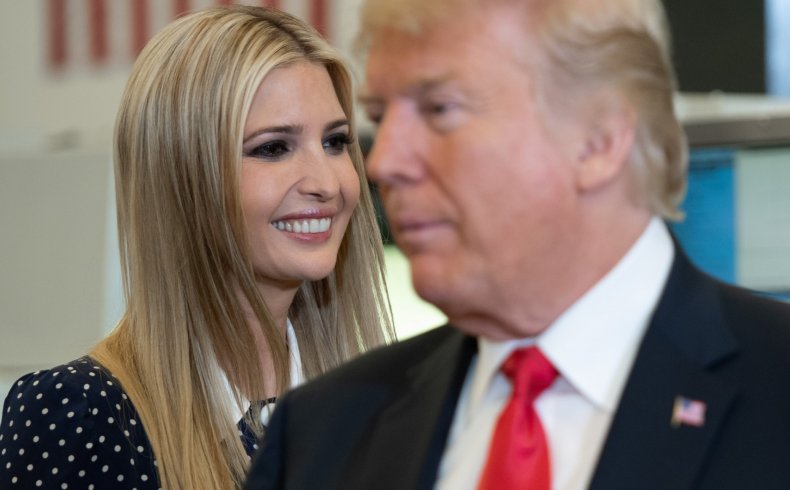 Donald Trump's former campaign manager Paul Manafort was convicted of eight felonies at about the same time last week as his former "fixer" Michael Cohen pleaded guilty to eight criminal counts and directly implicated the president in campaign finance law violations.
The president has continued to deny any wrongdoing and Ivanka Trump, as Brzezinski noted, has not addressed the legal developments as she speaks across the country.
"It seems like the smartest people got voted off the island and this is the worst case of 'Survivor' you will ever watch," Brzezinski said. "Because you know how it ends—very badly."