Ivanka Trump Says Georgia Will Decide Whether America Remains 'Land of the Free'
President Donald Trump's daughter Ivanka said the future of the nation rests on the unprecedented double Senate runoff elections in Georgia next month.
"Georgia will decide whether our children will grow up under an oppressive government or whether America will remain the land of the free," she said Monday at a rally for Republican Senators David Perdue and Kelly Loeffler.
Trump added, "With your help, your voice and critically your vote, Georgia—Georgia will save America."
All eyes are on the Peach State, as the runoff races will determine which party has majority control of the Senate. Loeffler and Perdue will face Democrats Raphael Warnock and Jon Ossoff on January 5.
Republicans are now set to control at least 50 seats in the upper chamber, while Democrats will have 46 seats. Two independent senators caucus with the Democrats, bringing their total vote power to 48.
If Perdue and Loeffler hang on to their seats, Republicans will have a majority, with 52 seats. But if they're defeated, control of the chamber will be split 50-50, and Democratic Vice President-elect Kamala Harris would be responsible for casting any tiebreaking votes.
In her speech Monday, Trump said the election of Loeffler and Perdue is essential to "keep our economy going, to keep delivering on the president's plans and to keep our schools open."
More than 1.4 million residents have already cast their ballots in the two races, according to data from the election website Georgia Votes. In-person early voting in Georgia started on December 14 and will continue until December 31 in some counties.
The latest polling showed the Republican incumbents gaining ground on Ossoff and Warnock. A survey conducted last week by the Trafalgar Group found Loeffler with a 6-point advantage and Perdue a 2-point lead among likely voters.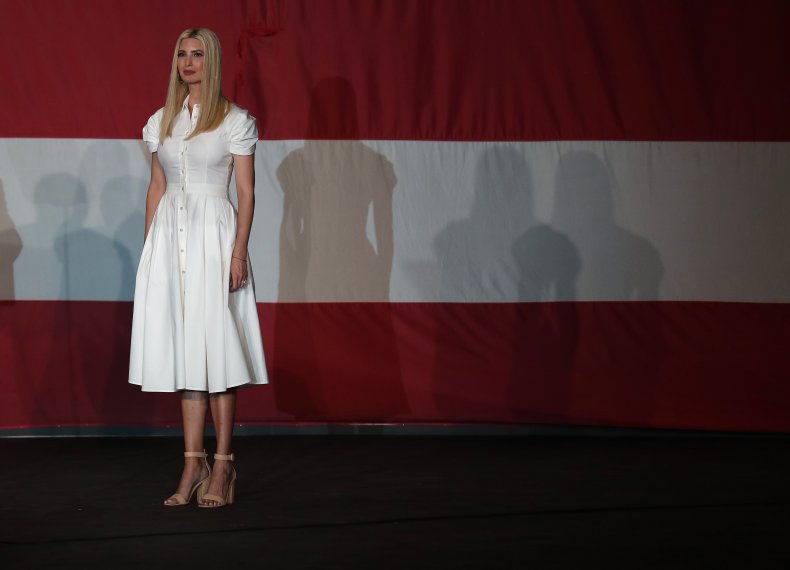 In her pitch to voters on Monday, Loeffler described Perdue and herself as "political outsiders" and businesspeople while criticizing her Democratic opponents as "radical candidates."
"We're going to show America this is a red state," Loeffler said, "and we're going to keep fighting for President Trump every single day."
Newsweek reached out to the Warnock and Ossoff campaigns for comment but did not hear back in time for publication.
Harris was also in Georgia on Monday, to stump for Ossoff and Warnock. During a drive-in rally in Columbus, the next vice president highlighted the national implications of the runoff outcomes.
"Let's get this done," Harris said. "I'm not here to tell you what is in your best interest. I am here to say that the decision you make, the work that you put into it, will impact people who you may never meet, people who may never know your name. But because of what you have done and are prepared to do, their lives will forever be better."