Ivanka Trump Says University Path 'Failing Many Students' After Father Threatens Tax-Exempt Status
Ivanka Trump on Tuesday announced the launch of "Find Something New," a campaign aimed at encouraging Americans who are either unemployed or unsatisfied with their current jobs to seek other employment opportunities.
Trump said the campaign, which was cultivated by the American Workforce Policy Advisory Board with the support of the White House, was created in part due to the lack of success many American students have in finding high-paying careers after pursuing four-year degrees.
"Too often companies, workers, parents and policy makers assume that a university degree is the only path to a good paying job," Ivanka Trump said during a virtual campaign announcement. "Employers and job seekers lack sufficient awareness that there are multiple career pathways and skill development opportunities available outside traditional four-year degrees."
Though Ivanka Trump acknowledged that most college graduates report higher incomes than Americans who do not continue their education after high school, she said that "overgeneralization" does not account for the student debt that many Americans deal with after completing their degrees or the struggles they face in finding their ideal jobs.
"We should encourage a college education, of course, and we should celebrate it," she said. "But we have to stop telling students and workers that this is the only viable option. For too long, this country has adopted a one-size-fits-all approach to preparing Americans for the future: Go to college, get a degree, work for a single employer and retire."
According to Trump, this educational pathway "is really failing too many students who aren't going down this pipeline."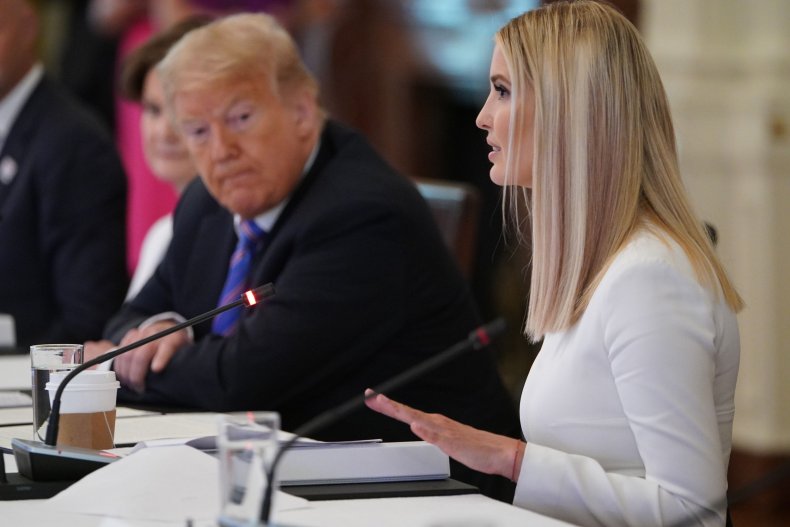 The campaign announcement came two years after President Donald Trump introduced the American Workforce Policy Advisory Board, which his daughter Ivanka co-chairs alongside Department of Commerce Secretary Wilbur Ross. The advisory board was created to "encourage the private sector and educational institutions to combat the skills crisis" by using "demand-driven education, training, and re-training" to attract workers.
Ivanka Trump said the campaign's goals were to evolve the American workforce to meet changing workplace settings. "Today's factory floors look very different than those of decades ago: They're state-of-the-art tech centers and require very specific skills," she said. "Ultimately, we need to reform education in this country, and a lot of it starts with how we talk about it."
The "Find Something New" campaign doubles down on that commitment, with video interviews from American workers who successfully made career changes, a list of jobs that don't require four-year degrees and recommendations for how to make a career change all included on its website.
In the wake of the coronavirus pandemic, more Americans have filed for unemployment than ever before. Recent surges in new COVID-19 cases forced many states to roll back their reopening efforts, requiring businesses to close their doors once again and raising concerns that more employers would initiate layoffs.
Though several media outlets criticized the messaging of the campaign in light of the continuing threats posed by the pandemic, Ivanka Trump said on Twitter that "there's never been a more important time" for investment in skilled workers. The key to helping Americans explore other career paths was to "challenge" the perception that the only way to find a good, high-paying job was to go to college, she said.
The U.S. Department of Education's press secretary, Angela Morabito, told Newsweek the new campaign has the department's full support.
"Secretary [Betsey] DeVos has long said that there are multiple pathways to success after high school and that lifelong learners should have several on-ramps and off-ramps to education throughout their careers," Morabito said. "At the same time, she has encouraged employers to look past credentials to see the real knowledge and skills that a candidate brings to the table. The Department of Education fully supports the Find Something New initiative and every student's unique pathway to success."
While the Trump administration has in recent days expressed the importance of returning children to school as quickly as possible, the president has expressed frustration with universities that he said promote "radical left indoctrination." The president last week said he instructed the U.S. Department of Treasury to review some universities' tax exemptions, though he did not specify which educational institutions were on that list for review.
This story has been updated with a response from the U.S. Department of Education.