Ivanka Trump Secured $50 Million for Women's Empowerment in Japan - But Her Comments on Sexual Harassment Raised Eyebrows
Ivanka Trump secured a $50 million commitment to a women's entrepreneurship fund from Japanese Prime Minister Shinzo Abe on the first day of her visit to Japan on Friday.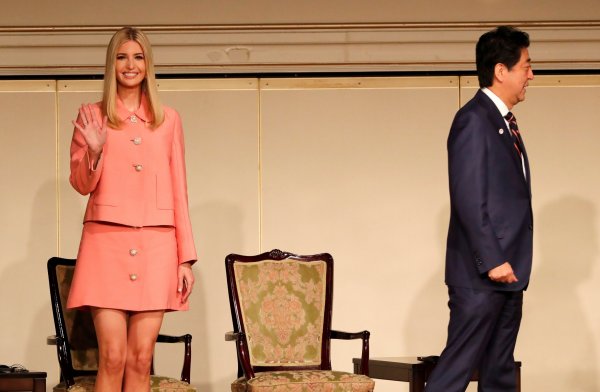 However her comments condemning sexual harassment have raised eyebrows - with her father, U.S. President Donald Trump, boasting of sexually assaulting women in tapes released during the 2016 presidential campaign and accused of sexual offences by multiple women.
Ivanka Trump, who serves as an informal adviser to her father, appeared at the World Assembly for Women in Tokyo Friday, ahead of President Trump's first visit to Asia.
She spoke of the boosting the role of women in the economy, at the event where rows of empty seats were blamed by Japanese authorities on security arrangements.
"All too often, our workplace culture fails to treat women with appropriate respect.
"This takes many forms, including harassment, which can never be tolerated," she added, and urged the world to boost women participation in the so-called STEM fields - science, technology, engineering and maths.
Ivanka Trump, a successful entrepreneur, has taken part in a series of summits promoting women's rights since her father took office – but these efforts have been overshadowed by accusations leveled against her father.
Accusations of groping, forced kissing, and walking into the changing rooms of beauty pageants unannounced were directed at Trump when he was running for president. He denies all accusations.
In the notorious Access Hollwood tapes he had been recorded boasting of grabbing women "by the pussy."
Prime Minister Abe opened the event by saying his government is boosting attempts to increase the number of women in the workforce before pledging a $50 million donation to the Women Entrepreneurs Finance Initiative championed by Ivanka Trump.
Ivanka Trump noted "significant improvement" in the treatment and position of women in Japanese society in recent decades, adding, "it will continue to grow in great measure due to Prime Minister Abe's vision," in comments quoted by the Japan Times.
Japan ranked 114 out of 144 in the World Economic Forum's 2017 Global Gender Gap report, which was released ahead of Ivanka Trump's speech.
The issue of sexual harrassment has dominated media discussion in recent weeks, after multiple accusations of rape and sexual assault were made about Hollywood producer Harvey Weinstein. Weinstein denies the accusations.
In the wake of the allegations about Weisntein being made public, women have shared stories of sexual harrassment and assault on social media under the #MeToo hashtag.
{{#isDisplay}} {{/isDisplay}}