Ivanka Trump Says It's 'Inappropriate' to Ask Her About Sexual Assault Accusations Against Her Father, Despite Being a Government Employee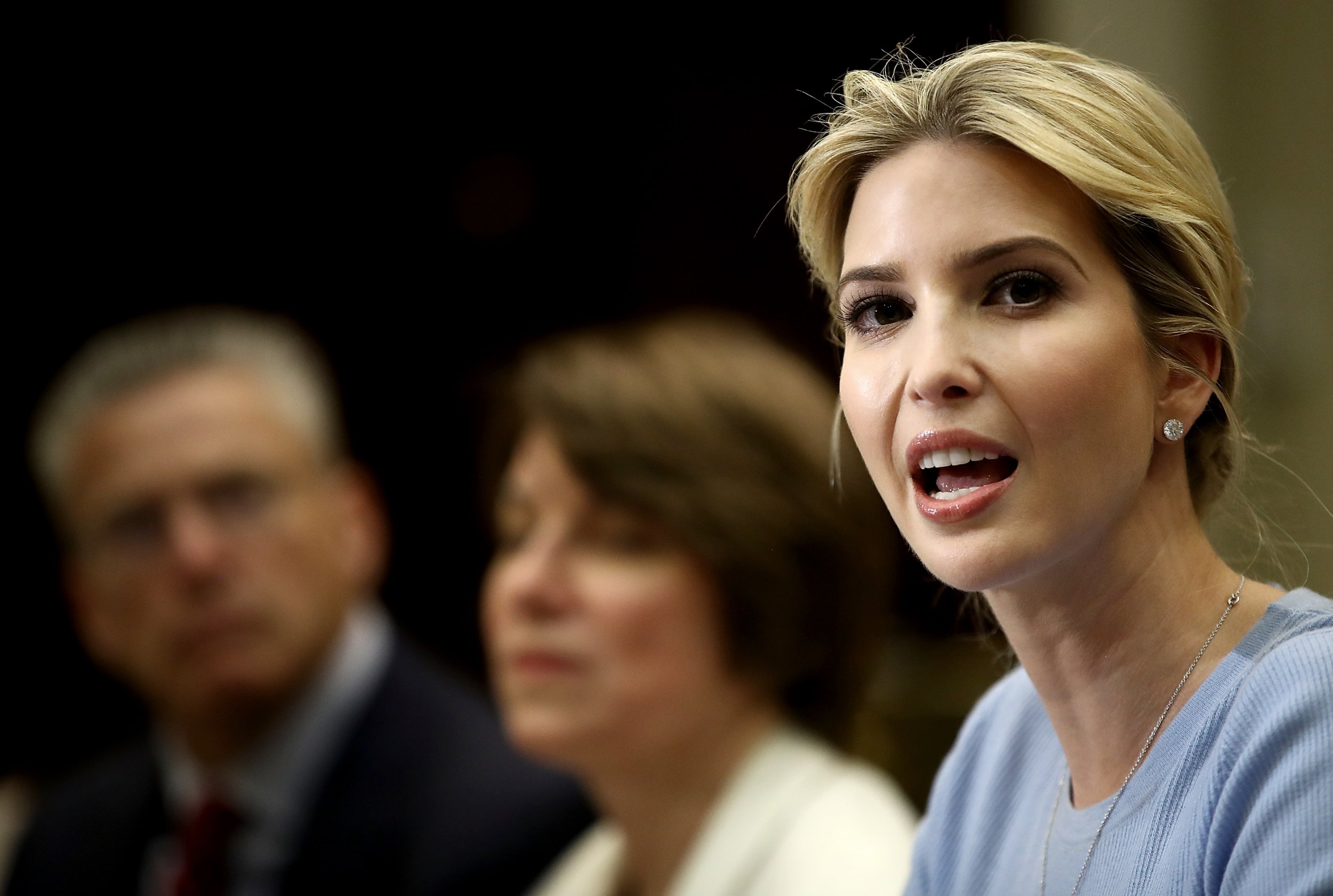 Ivanka Trump has little patience for anyone who asks her about the 19 sexual assault allegations against her father—in fact, she says it's "inappropriate" to pose the question at all.
"I think it's a pretty inappropriate question to ask a daughter if she believes the accusers of her father when he's affirmatively stated there's no truth to it," the first daughter and senior adviser to the president said in a Monday interview with NBC's Peter Alexander.
"I don't think that's a question you would ask many other daughters," she continued. "I believe my father, I know my father, so I think I have that right as a daughter to believe my father."
However, Ivanka finds herself facing a question Alexander might not "ask many other daughters" because few other daughters find themselves in her position: working for her father, the president, who has been accused of sexual misconduct by more than a dozen women.
Still, the first daughter has managed to dodge questions about her father's alleged misdeeds and treatment of women many times before, most notably at April's G-20 summit in Berlin, when she came to her father's defense on a panel where she identified herself as a feminist.
"I certainly heard the criticism from the media, and that's been perpetuated. But I know from personal experience, and I think the thousands of people who have worked with and for my father for decades when he was in the private sector are a testament to his belief and solid conviction in the potential of women and their ability to do the job as well as any man," Ivanka told the crowd. Her response was met with boos, hisses and laughs.
Ivanka's stance on the sexual misconduct allegations against her father—which, as she notes, he denies—has earned her criticism for being a "fake feminist," especially as she continues to voice her support for the #MeToo movement.
In November, just weeks after the accusations against Harvey Weinstein emerged, she spoke at a women's conference in Tokyo to condemn workplace harassment. The first daughter delivered her speech to a half-empty room and was later called a hypocrite for saying that harassment "can never be tolerated" while continuing to work for her father.
And just last month, Ivanka's praise for Oprah Winfrey's rousing speech about putting an end to sexual assault rang empty to those who find her staunch defense of the president indefensible.
"Just saw Oprah's empowering & inspiring speech at last night's Golden Globes," Ivanka Trump wrote at the time. "Let's all come together, women & men, & say #TIMESUP!"