Ivanka Trump Silent on Malia Obama Attacks While Former First Daughters Come to Her Defense
Some of the younger first daughters came to the defense of ex-President Barack Obama's 20-year-old daughter Malia Obama when she was photographed and recorded drinking wine with her friends in Miami, but first daughter Ivanka Trump was not one of them.
Malia Obama, who was caught on camera by The Daily Mail on Sunday sharing rosé with friends, was subsequently criticized on social media for drinking while underage and for leading a privileged life.
Former President Bill Clinton's daughter Chelsea Clinton tweeted in Malia Obama's defense on Monday night. "Malia Obama is a private citizen," she said. "No part of her life should be anyone's clickbait."
Ex-President George W. Bush's daughter, Jenna Hager Bush, then quote-tweeted Chelsea Clinton while also coming to Malia Obama's defense.
"Hesitant to add anything to such a nothing-story, but agree with @ChelseaClinton whole heartedly," she tweeted Monday night. "Please don't click on silly stories and let's give Malia privacy."
Ivanka Trump remained silent, prompting speculation she did not have Malia Obama's back, at least in this incident.
President Donald Trump's eldest daughter defended Malia Obama back in November 2017, when a website published a report on an Instagram video in which Malia Obama appeared blowing smoke rings. "Malia Obama should be allowed the same privacy as her school-aged peers," said the senior White House adviser via Twitter. "She is a young adult and private citizen, and should be OFF limits."
At the time, Chelsea Clinton also tweeted a message very similar to her latest one.
"Malia Obama's private life, as a young woman, a college student, a private citizen, should not be your clickbait. Be better," Clinton wrote.
Ivanka Trump's silence may speak volumes, given she is a member of the "First Daughters Club," which includes daughters of presidents exclusively, and is an informal support system for the women and girls who face tremendous public scrutiny as the offspring of the country's leaders.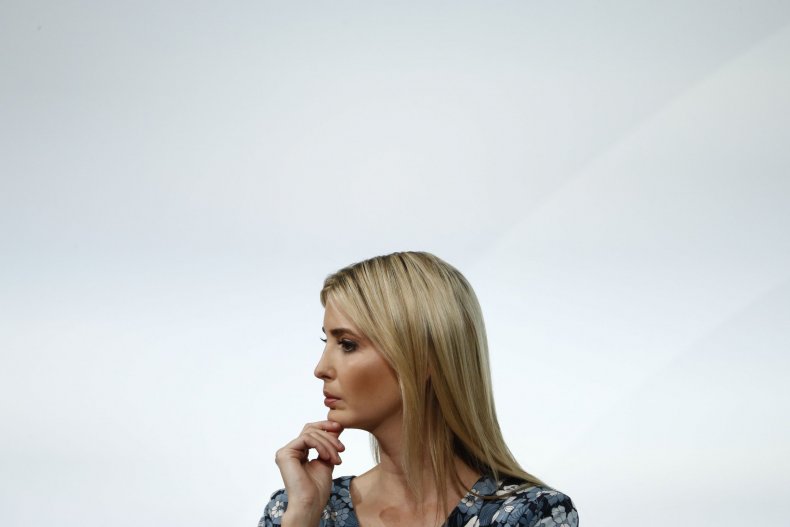 Ivanka Trump's silence is also noteworthy given the message she tweeted in her own defense after an art gallery in Washington, D.C., featured a performance piece allowing visitors to throw crumbs at a lookalike using a vacuum cleaner.
"Women can choose to knock each other down or build each other up," Ivanka Trump tweeted in response to the exhibit. "I choose the latter."
Ivanka Trump's sister Tiffany Trump, 25, also remained silent regarding Malia Obama, but that is characteristic of the younger current first daughter, who has kept a low profile throughout her father's presidency.
Correction (02/21/19, 5 p.m. ET): In an earlier version of this story, Malia Obama was incorrectly referred to as Malia Cohen in two instances. This has been corrected.