Ivanka Trump in South Korea Treated to Reception Fit for a Head of State
Ivanka Trump arrived in South Korea on Friday to lead the U.S. delegation to the Winter Olympics closing ceremony
The first daughter and special advisor to President Donald Trump, who is set to announce new sanctions against North Korea, will dine at the presidential Blue House in the evening, where chefs prepared a Kosher, vegetarian menu, Yonhap news agency reported.
South Korean President Moon Jae-In usually reserves this treatment to foreign heads of state. Out of the numerous foreign dignitaries visiting South Korea during the Olympic Games, only Vice President Mike Pence and the North Korean delegations featuring the country's nominal head of state Kim Yong Nam and Kim Yo Jong, the North Korean leader's sister were treated to a meal with the president, local media noted.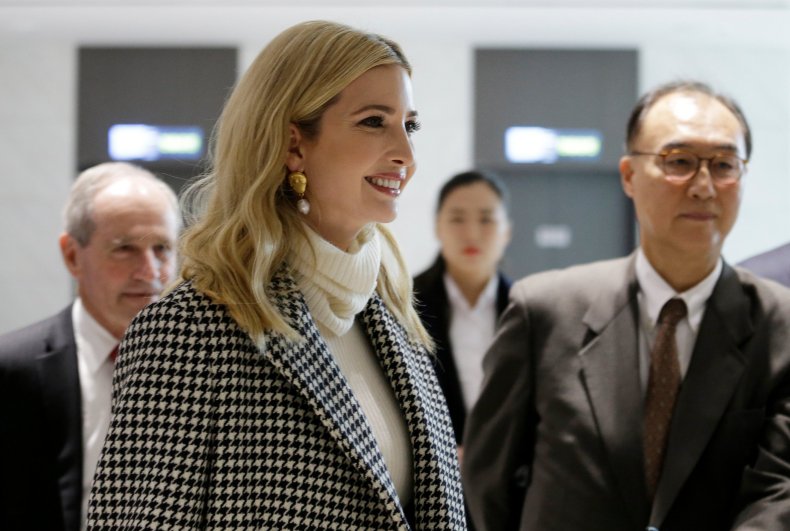 Some conservative newspapers criticized the government for what they call "rolling out the red carpet" for the first daughter. "Seoul has no diplomatic obligation to roll out the red carpet for the child of a U.S. leader," an article in the right-wing newspaper Chosun Ilbo this week read. "[President] Trump runs the White House like a private fiefdom and has levered both Ivanka and her husband Jarred [sic] Kushner into ill-defined foreign-policy roles," it added, in a rare criticism of the Trump administration.
The South Korean government, however, regards the first daughter as a key intermediary between the Blue House and the White House in setting up inter-Korean talks. North Korea decided to send one of its top generals, Kim Yong Chol, to the closing ceremony—a controversial choice as the man was linked to deadly attacks against South Korea in 2010 and the 2014 hacking of Sony Pictures Entertainment—but a meeting between the U.S. and North Korean delegation appears unlikely.
"There is no plan, nor will there be a chance, for a meeting between the North and the U.S. during their visit to South Korea for the closing ceremony," a presidential official told Yonhap on condition of anonymity. "Their paths at the closing ceremony will not cross."
While Pence was clear about wanting to oppose North Korea 's so-called charm offensive at the Olympics to highlight the country's appalling human rights record and was due to meet North Korean officials for secret talks before a last-minute cancellation, Ivanka avoided any mention of the regime. "It is a great honour to be here in South Korea with the U.S. delegation. We are very very excited to attend the 2018 Winter Olympic Games, to cheer for team USA and to reaffirm our strong and enduring commitment with the people of the Republic of Korea," she said arriving at Incheon airport.
The first daughter leads a delegation that includes White House press secretary Sarah Sanders, U.S. Forces Korea General Vincent Brooks, as well as the U.S. Embassy Seoul Chargé d'Affaires Mark Knapper and former olympian Sergeant Shauna Rohbock, who is currently a Team USA coach and a member of the U.S. Army National Guard.