Ivanka Trump Spoke About Women's Empowerment In Japan And Hardly Anyone Showed Up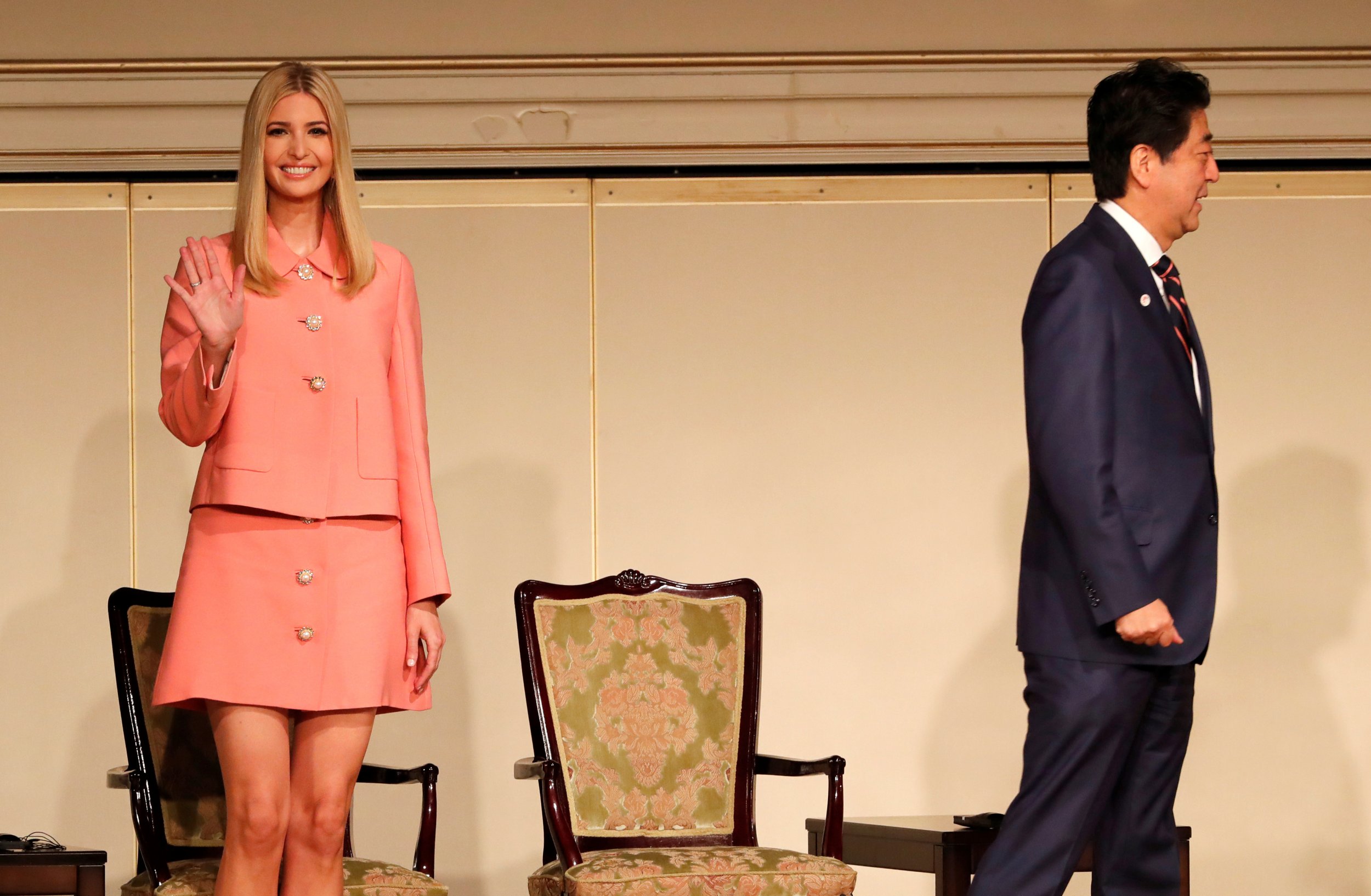 Ivanka Trump's long-anticipated speech at the World Assembly for Women in Japan failed to draw in crowds, according to reporters that attended the event.
Several who attended the final day of the three-day symposium described the room as "half empty" when the first daughter and advisor to the president arrived accompanied by Japan's Prime Minister Shinzo Abe, who invited her to deliver a speech on women's participation in the economy.
Trump arrived in Japan Thursday, ahead of President Donald Trump and First Lady Melania Trump's visit to the country as part of an Asia tour.
Her speech came at a sensitive time in which several companies in the U.S. and in the rest of the world—including the British parliament—are confronted with allegations of sexual harassment and sexual assault in the workplace. The social media hashtag #MeToo allowed women to discuss their experiences and trauma in the wake of the Harvey Weinstein scandal.
Trump addressed the issue in her speech. "All too often, our workplace culture fails to treat women with appropriate respect," she said, quoted in AFP.
"This takes many forms, including harassment, which can never be tolerated," she added.
When her father President Donald Trump was caught boasting about committing sexual assault in the 2005 Access Hollywood tape, Ivanka took two weeks before formally condemning his remarks in a statement issued to Fast Company in which she branded the comments "inappropriate and offensive" before praising him for his "immediate" apology after the tapes were released in October 2016.
In her speech in Tokyo, Trump spoke about supporting working mothers, whether that work happens in an office or at home, in relation to her father's tax reform plans. She did not mention the Trump administration's plan to deprive working women of access to free contraception via their employers.
Trump describes herself as a feminist and has taken up the cause of women's economic empowerment in her foreign trips. But her indefatigable defense of her father has sometimes placed her in an awkward position. A crowd at the W20 Women's Summit in Germany hissed at her when she referred to President Trump as "a champion of supporting families."
Trump's own credential as a champion for women's economic empowerment has come under scrutiny due to the poor conditions of workers in the Asia-based factories producing clothes and accessories sold under the "Ivanka Trump" label, The Washington Post reported in July.
"As the first daughter goes around touting herself as a champion of women," Sarah Newell, a representative for International Labor Rights Forum told Newsweek, "women are literally facing abusive conditions as they stitch her [name] into her products, and they aren't being provided a structure where they can advocate for themselves."